Pop LPs
odd pop, strange, weirdbeard, singers, instrumental, puppet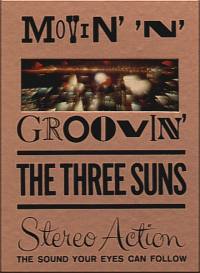 The Word: Everything from select top pop and rock (instrumental and vocal) of the usual kind to "incredibly strange" classics and unknowns, including private-press or micro-label oddballs, spoken (literature, instruction, product-promotional, etc.), occult curios, perky percussion, cheesecake jackets, ham-fisted amateurism, greasy kid stuff, and other manna for the adventurous and absurdist.
Got puppet? Below and on a special page: Little Marcy
Something hipper, worthy of a DJ set, more to your taste? Moog and production (sound library)
Other pages: Pop 45s | Rock/Vocal 45s
Discount: usually free mailing offered; possibly more for multi-item orders
Images: may not be the exact copy listed/purchased (but usually is)
---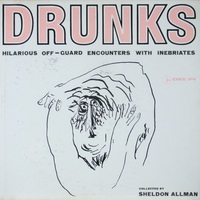 Sheldon Allman: Drunks; Del-Fi DFLP-1217; 1st/deep groove V+/E- $30 -- spoken/comedy/interview; "A Del-Fi OFF GUARD Recording Vol. 1" captures mock-interviews/scenes with actual vintage boozers; "hilarious off-guard encounters with inebriates" and probably the best, first, and most interesting of all such man-on-the-street, audio-verite interview records; rare & all the better for being collected/conducted by Sheldon Allman (it takes a funny man to cope with funny drunks); great jacket art and it's the scarce California surf label, probably a one-time chance!
[The] American Patrol; Warner Bros. WS-1653; gold label E/E S $20 -- Mexicali brass ("Ameriachi") by James Last!; "the hit instrumental sound of today" is a Herb Alpert cash-in but a GOOD, swinging one, as you'd expect from WB and a young James Last; definitely rare, rarer still in stereo; American Patrol, Tico Tico, Delicado, Cherry Pink, La Bamba, Greensleeves, Passion Flower, Granada, Wheels, Mexico City (w/car sounds!), La Paloma, Mexican Hat Dance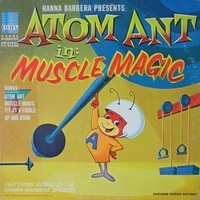 Atom Ant in Muscle Magic; Hanna-Barbera Cartoon Series HLP-2041; 1965; deep groove E-/E- S $150 -- one of the top "kids records" collectors items (we've seen priced up to $400 but we're far gentler); great jacket; the music and stories with music are pretty exciting, too; some standard wear but it looks and plays very well--extraordinary as these things go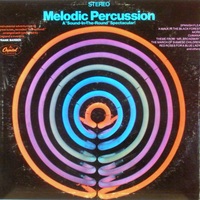 Frank Barber: Sound in the Round (Melodic Percussion); Capitol ST-2794; V+/N S $25 -- percussion; "A sound-in-the-round spectacular arranged and conducted by England's inventive Frank Barber; equal at least to any of the better stereo-demonstration, exotic-percussion LPs (Manny Albam, Bobby Christian, Dick Schory, Terry Snyder, etc.), it's all the more special for being very rare in the US, and serves well as prequel to the better-selling "Deep Percussion" LP (and that's about all you get in the US of Frank Barber, unfortunately); Spanish Flea, March of the Siamese Children, Creole Carnival, Las Vegas, Theme from "Mr. Broadway," Red Roses for a Blue Lady, A Walk in the Black Forest, More, Jordu, Busy Lizzie, Peace Pipe, Cumana

Frank Barber: Deep Percussion .... Moog (good record!)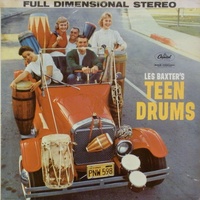 Les Baxter: Teen Drums; Capitol T-1355; E/N- $45 -- percussion and how!/so much more; one of his best and rarest (a mid-career masterpiece, like Jungle Jazz); it's "teen" only thanks to Capitol's silly excuse for a marketing department; the music's instead a powerhouse of percussion-featured Baxteria: Brasilian, Afro-Cuban, calypso, and Mid-East but mainly the kind of crime/spy bongo stuff you wish Mancini had done more of on "Touch of Evil" (in fact "Boomada" is a highlight of the beatnik-noir comp LP "Swing for a Crime"); killer percussion, with Chico Guerrero, Chino Pozo, Domingo Dariea, Aime Vereicke, Oswaldo Oliveira, Milt Holland, and Plas Johnson; ; terrific loud sound!; Ting Ting Ting, Brazil Nuts, Take One, Boomada, Uncle Tom Tom, Barbarian, Chom Chom, I Dig, Ooch-I-Baba, Calypso, Bom Bom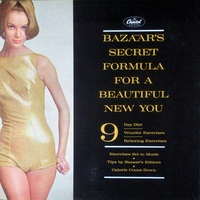 Harper's Bazaar Exercise Album (Bazaar's Secret Formula for a Beautiful New You); Capitol WAO-1522; N-/E $20 -- instructional/exercise/self-image; why drive yourself nuts listening to brash noise trying to become a hard Zumba girl when you can set your sights differently, more on the level of a second-rate Bond girl lounging by the pool in a Mad Men scene?; NY fashion mag hires an accented voice to tell you how to exercise...the sophisticated way: with gentle Continental or celestial music (a far cry from today's aggressive power workout!); but wait there's more: the inner leaves give you valuable illustrated text -- your vintage custom workout includes reading breaks!; 23-skidoo--it's charming, genteely dated, and a little hard to get -- in other words, so very very you!

Beat poets & all things beatnik .... beatnik-crime-spy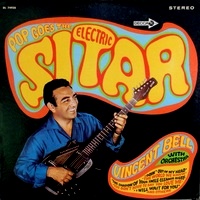 Vinnie Bell: Pop Goes the Electric Sitar; Decca DL-74938; promo E+/N S $75 (or E+/N- S $65, specify) (or hole-cutout E/E+ S $50, specify) -- sitar; famous for the artist, jacket, title, and the feature in or on "Incredibly Strange Music" but perhaps the most significant aspect --at least for guitar heads-- is the liners, which show and tell about the Coral Electric sitar --a major part of guitar (and pop/rock) history-- as well as offer a bio of first-call, superstar session-guitarist Vinne Bell; Goin' Out of My Head, The World We Knew, That Happy Feeling, You Don't Have to Say You Love Me, Lara's Theme, More, Eleanor Rigby, Shadow of Your Smile, Somethin' Stupid, I Will Wait for You, Quiet Village(!!!)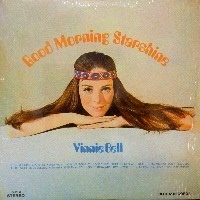 Vinnie Bell: Good Morning Starshine; MCA/Decca DL-75138; N/N shrink S $25 (or cutout N/N- shrink S $20, specify) -- guitar/sitar/Moog; desirable at least for the 2 "Hair" cuts (with sitar & Moog!!!) which probably are leftovers from the historic "Pop Goes the Electric Sitar" session; Aquarius, A Sinner Kissed an Angel, Good Morning Starshine, Because of You, Romeo & Juliet theme, I Hear a Rhapsody, Love Me Tonight, I Didn't Know What Time It Was, Les Bicyclettes de Belsize, If I Only Had Time, Hey Jude
Vincent Bell: Airport Love Theme; MCA/Decca DL-75212; 1970; E+/N shrink S $15 -- guitar; the material is soundtracks but it's really a showcase for the new "water sound" guitar, as introduced in Midnight Cowboy (no sitar but you might think this is way better); Airport Love Theme, Nikki, Marilyn's Theme, The Damned theme, Sunflower theme, Anne of 1000 Days theme, Everybody's Talkin', Darling Lili theme, Romeo & Juliet theme, Shadow of Your Smile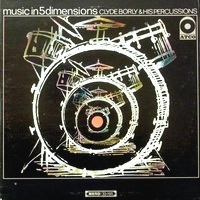 Clyde Borly & his Percussions: Music in 5 Dimensions; Atlantic/Atco 33-195; 1966; 1st/blue-tan cutout E/N $40 (or same but E-/E- $25, specify) -- pop/jazz/drums/Afro; very good, exotic, percussive-pop legend from France; several great originals and more by major names such as Sascha Distel, Jobim, Lecuona..); sends up spies and more (something like Michel Magne); Afromania (way-out original--essential!), Roses de Picardie, Bahia, La Valse des Lilas, S.O.S. Force de Frappe, Paris en Septembre, Carioca, Taboo, La Belle Vie, Fever, Original, Caminho de Pedra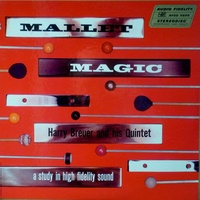 Harry Breuer & his Quintet: Mallet Magic; Audio Fidelity AFSD-5825; 1958; gatefold; silver/deep groove w/catalog insert E+/N- S $25 (or same but E+/E $20, specify) -- percussion; superior precursor to "Mallet Mischief" is the ultimate in rinky-dink percussion, truly terrific!; Bumble Bee Bolero is just one of several great cuts by the associate of Jean-Jacques Perrey; dynamic sound more lively than RCA's Stereo Action, Time, or Command and it's a lot more creative, upbeat, and interesting than most in those series; Mosquitos Parade March, Flapperette, Bumble Bee Bolero, Chinese Doll, Chiapanicas, Maxixe Mambo, Samba Macabre, Maple Leaf Jump, Tulip Polka, Buffoon, Glockenspiel Gavotte, La Rosita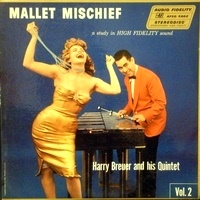 Harry Breuer & his Quintet, Vol. 2: Mallet Mischief; Audio Fidelity AFSD-5882; 1958; gatefold; E+/N $30 (or E-/N- S $20, specify) -- percussion/bongos; fantastic, rinky-dink, non-drum-kit percussion, capped off by hall-of-fame cheesecake/space-age-bachelor-pad jacket; a must-have for all percussion (if not also Jean-Jacques Perrey) fans, especially in combinaion with Mallet Magic; Farmerette, Pavanne, Dainty Miss, Fiesta de Oro, Fiesta Waltz, Hora Staccato, Paloma Beguine, TV Funeral March, Down Home Rag, Minute Merengue, Tropicale Stephanie, Boomerang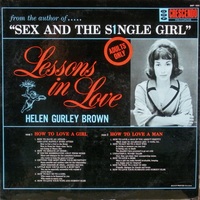 Helen Gurley Brown: Lessons in Love; GNP/Crescendo 604; N-/E+ $40 -- sex instruction/spoken; hilarious, camp advice from the author of Sex & the Single Girl (recently reprinted --finally!-- thanks to trendiness of "Sex & the City") and the modernizer of Cosmopolitan magazine as we know it today; even as an octagenarian she was still going strong and preaching the gospel of better living through regular tango of the boudoir; get it if you've always been a fan of the late HGB if you want, or because you've heard all the fuss about the cracker made good who annoyed a lot of feminists, but anyone would love the LP knowing nothing about her; it's that good and so was she!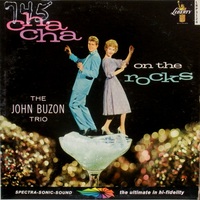 The John Buzon Trio: Cha Cha On the Rocks; Liberty LRP-3124; white-label promo, deep groove E-/E- $30 -- like the later Three Suns (Hammond, sax/flute/clarinet, drums); the rarer LP by the intriguing trio featuring a Cuban horn man; great jacket of couple dancing on/in a cocktail (this one has it all and actually delivers on the promise); Don't Worry 'Bout Me, When It's Sleepy Time Down South, When My Sugar Walks Down the Street, Blue and Broken Hearted, A Ghost of a Chance, Cha Cha on the Rocks, I Can't Believe That You're in Love with Me, Does Your Heart Beat for Me?, Down by the Station, Stars Fell on Alabama, It Must Be True, Squatty Roo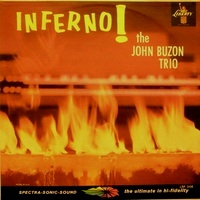 The John Buzon Trio: Inferno!; Liberty LRP-3108; white-label promo, deep groove E+/N $30 -- classic LP by the trio featuring a Cuban horn man; like the better, later Three Suns (Hammond, sax/flute/clarinet, drums) & "Jungle Exotica" nightclub music if it was as first-rate as this; Caravan, Ill Wind, Smoke Rings, Mambo Rock, Mr. Ghost Goes to Town, Moonlight, Tzena Tzena Tzena, Blues in My Heart, Sheik of Araby, Idaho, Diga Diga Doo, Love's Serenade; jacket back stained but hard to beat otherwise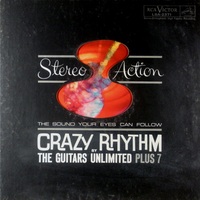 [Al Caiola &] The Guitars Unlimited Plus 7; RCA Victor Stereo Action LSA-2371; 1961; die-cut, deep groove E-/E+ S $25 -- guitar; instrumental; one of the best, most swinging in the series (hey, it's GUITAR!!!) and one of the harder ones to find; Expresso (GREAT!), Diga Diga Doo, Lady of Spain, Anitra's Dance, This Can't Be Love, The Donkey Serenade, Nola, La Rosita, Glow Worm, Air Mail Special, Puppet on a String, Crazy Rhythm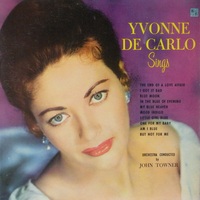 Yvonne de Carlo Sings; Masterseal (no #); 1957; deep groove E+/E+ $30 -- celebrity/golden throat/female vocal/torch singer; with John Towner; long before the late actress became Lily Munster, just before even her role in the classic Ten Commandments epic, she made this minor collectors item; beautiful jacket, romantic singing, essential in any collection of female vocalists or celebrity records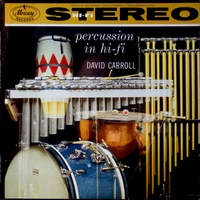 David Carroll: Percussion in Hi-Fi; Mercury SR-60003; 1st, deep groove E+/E+ S $15 -- percussion/instrumental; the only David Carroll LP we offer, not only because it's his best and one of the best of its kind, but it has two standouts we consider essential: "Cricket" (very Harry Breuer-esque, original, insect tune!) and "Hell's Bells" (both orchestrated by Mike Simpson of the same Chicago school of famed percussionists that includes Bobby Christian and Dick Schory); also notable: "Malaguena" (scored by Carl Stevens), the original version of the "Discussion in Percussion" suite (title of a later LP), and exotica (Jungle Drums, Bali Ha'i)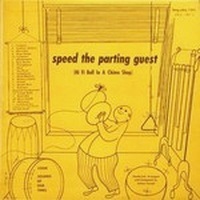 Jimmy Carroll [& the Percussionists]: Speed the Parting Guest (Hi-Fi Bull in a Chime Shop) 10"; Cook 1041; E+/E+ $50 -- percussion; one of the all-time classics of odd-pop percussion and a prize of the quirky Cook label, it features nice jacket art (sketch, session notes, photos) and a seriously long list of instruments, including a "Quoddyhead Horn" courtesy of the US Coast Guard; Speed the Parting Guest, Tinkle Tinkle Little Bell, Hong Kong Local, Drummers' Parade, Happy Little Woodpile; in the best shape we've ever seen (no wear; noise only a little in the last cut)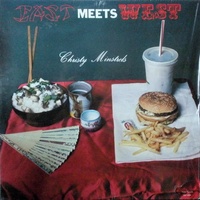 Christy Minstrels: East Meets West; Karan AW-14304; 1979; sealed S $100 -- pop rock/vocal; no mention anywhere of this impossibly rare (private press?) Tennessee-made oddball (no relation to the New Christy Minstrels), no doubt either a studio one-off that didn't sell or perhaps was withdrawn or forced into a name change to avoid conflict; we chanced it for the superbly tacky jacket art (rice bowl with burger-fries-soda combo) and then were pleased to hear it it has something going for it inside too! (we're keeping 1 of 2 sealed copies; this one can be yours); features great group singing (even some hip vocalese!) but with some funky Nashville touches, such as a couple of clean drum intros, it's more like "Hair" than anything more easily defined; You Need Someone to Love, Make it With You (Bread), Wig Wam, Because (Beatles), Turtles & Trees, Brother, Close to You (Carpenters), Hard to be Without You, South American Getaway (best cut--mod wordless vocalese, like Novi Singers!), East Meets West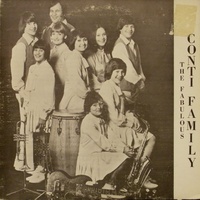 The Conti Family; Sounds of America CF-3220; V/V S $30 -- lounge act; 1 of the big 2, for the The Conti Kids' "Hey Boogie Mama" (funky); low-priced for condition--some wear & noise but well worth it (or get all 3 Conti LPs for $50 postpaid US)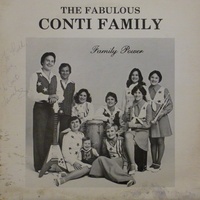 The Conti Family: Family Power; Seabird KM-2387; AUTOGRAPHED V+/E- S $15 -- lounge act; whie not one of the famous 2 earlier ones, it's signed, has a group photo & liners, and "You've Got Me Goin' Baby" (Gino Conti solo, disco-funk w/synth) is the best cut; some other interesting moments, such as "Be Careful Boy" sung by the girls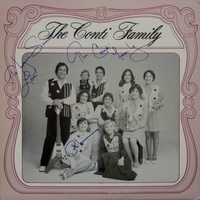 The Conti Family; Seabird [no #]; AUTOGRAPHED N/N S $15 -- reissues "Family Power" but with different liner notes & a different jacket photo (tho from the same session, looks similar)--just what you need to demystify/enshrine the group!

Jack Costanzo (Mr. Bongo) .... beatnik-crime-spy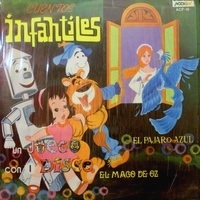 Cuentos del Tio Quico: El Mago de Oz (Wizard of Oz)/El Pajaro Azul/Safari board game; Accion ACP-18; 1976; a "Disco Juego" from Mexico w/insert N/N shrink $30 -- kids/Spanish-language spoken; wow! incredible Mexican kids record features 28.5-minute Side 1 (Oz, Mexican style!); Side 2 is El Pajaro Azul (some Blue Parrot story); insert instructions are for the jacket-back board game--for hours of bonus entertainment!; full-color, as new, rare as blue-parrot teeth
Lenny Dee: Dee-Licious!; Decca DL-8275; deep groove E-/E $15 -- Hammond "Hi-Fi Organ Solos with a Beat"; this masterful, early, pre-stereo wonder is one of his scarcest; Delicious, Fan Tango, Stompin' at the Savoy, Diane (I'm in Heaven When I See Your Smile), Honky Tonk Train Blues, Alabamy Bound, Tarragona, At Sundown, Jersey Bounce, Hawaiian War Chant, What is This Thing Called Love, Toot Toot Tootsie Goodbye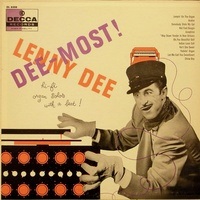 Lenny Dee: Dee-Most!; Decca DL-8308; black label E/E- $15 -- Hammond; a great early one by the master--not only at his freshest and hardest-working but --especially these days-- hard to find; Jumpin' On the Organ, Avalon, Somebody Stole My Gal, Hot Foot Boogie, Josephine, Yodelin' Organ, 'Way Down Yonder In New Orleans, Oh You Beautiful Doll, Indian Love Call, Ain't She Sweet, Yodelin' Organ, Let Me Call You Sweetheart (I'm In Love With You), China Boy (Go Sleep)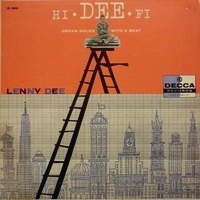 Lenny Dee: Hi-Dee-Fi; black label E/E- $15 -- Hammond; another great early one by the master--hard to find!; This Can't Be Love, I'll See You in My Dreams, Tara Lara, Goodnight Sweet Love, In the Mood, Stormy Weather, Undecided, Rose Room, If You Knew Suzie (Like I Know Suzie), My Blue Heaven, HighTide Boogie, Dream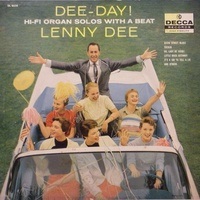 Lenny Dee: Dee-Day!; Decca DL-8628; cutout E-/V+ $15 (or black deep groove E-/V+ $15, specify) (or UK import Brunswick LAT-8258 E/V+ $15, specify) -- Hammond; one of the rarest early Lenny Dee LPs; Satan Takes a Holiday (Spooky Takes a Holiday), Basin Street Blues, Big Boogie Dee (an early incarnation of Plantation Boogie!), Side by Side, Cecilia, Oh Lady Be Good!, Little Rock Getaway, Where or When, Sleep, It's a Sin to Tell a Lie, Spring Beautiful Spring, When Day is Done, Nobody's Sweetheart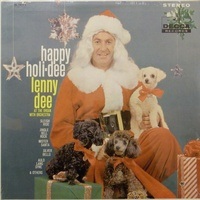 Lenny Dee: Happy Holi-Dee; Decca DL-74146; sealed cutout S $25 -- Hammond/Christmas; the Anita Kerr Singers add punch to 3 songs, but wow!--Dee is at his best & getting some wild tones on some rockin', uptempo zippers; you'll want to mix this w/the Three Suns (their good Xmas LP, that is), Esquivel, and any other primo space-age Xmas pop you can wangle into your stocking; Sleigh Ride, Xmas Song, Rudolph, Let it Snow, Mr. Santa, Jingle Bells, Jingle Bell Rock, Silver Bells, Parade of Wooden Soldiers, Santa is Comin' to Town, Xmas Time is Here, Auld Lang Syne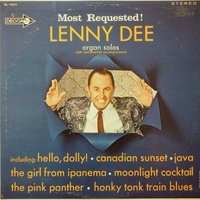 Lenny Dee: Most Requested; MCA/Decca DL-74572; cutout E-/N- S $15 -- Hammond; some great tunes make it essential for the Dee fan, which everyone should be; Hello Dolly!, Canadian Sunset, Girl from Ipanema (dreamy!), Baby Elephant Walk, Bluesette, Moonlight Cocktail, Java, Summertime in Venice, Cafe Oriental (exotic), On Green Dolphin Street, The Pink Panther, Honky Tonk Train Blues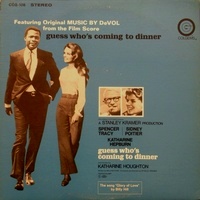 Frank DeVol: Guess Who's Coming to Dinner ST; Colgems COS-108; 1968; 1st/deep groove E/N- S $20 (or mono COM-108 N/N- shrink $20, specify) -- mod/sitar; many are the attractions: rare label/ST, great film/stars (Poitier, Hepburn..), jacket stills, liners by the superlatively crazy Mort Goode, but you need it for two valuable instrumentals: "Drive In" (swinging mod) and "Groovy Delivery Boy," a dynamite, tho not-so-well-known, mod-soul/boogaloo with sitar(!) mover that's perfect for DJs (sounds a bit like Shocking Blue crossed with a swinging Euro spy ST); and with all that going for it, it's dead cheap, so GET IT!!!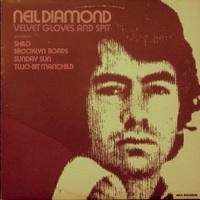 Neil Diamond: Velvet Gloves & Spit; MCA 37056 (reissues Uni 73030); sealed S $25 (or sealed cutout S $20, specify) -- hip, weirdbeard Neil Diamond LP!; legendary for the nutty 4-min. wonder "The Pot Smoker's Song," which features confessional interview-narratives by young hipster-dopers punched up by Neil's inscrutably chirpy chorus!--"hip, hip, you want to be hip--you're nowhere at all if you don't take a trip"--the idea seems to be that hard drugs are bad so Neil wants you to stick to pot; also: Shilo, Two-Bit Manchild, Holiday Inn Blues, Brooklyn Roads, Sunday Sun, Practically Newborn..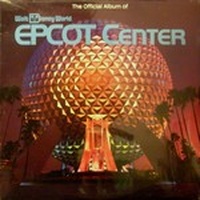 Walt Disney World Epcot Center, The Official Album of; Disneyland 2519; 1983; sealed S? $20 -- souvenir; the Orb, the Orb, how can you resist the Giant Orb? HEAR the Mighty Orb!!! BEHOLD the Dazzling Orb!!! ENTER the Life-Changing Orb!!!

Disney: Official Album of Disneyland/Walt Disney World .... Moog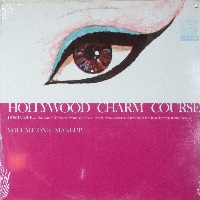 Dominique: Hollywood Charm Course Volume One: Makeup; Venise 7027; sealed $25 -- instructional/narrative/beauty; "Dominique...Hollywood's Foremost Beauty and Charm expert reveals secrets and techniques for enhancing your natural beauty"; Boy are you in luck! Now, with the help of this seriously rare old treasure, you can learn to paint your face perfectly in much less time than it takes to watch "The Tyra Show"--just buy this lovely record and then you can go out and GET A JOB!!!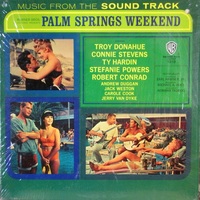 Troy Donahue/Connie Stevens/Ty Hardin/Stefanie Powers/Robert Conrad: Palm Springs Weekend ST; Warner Bros. W-1519; cutout N/N shrink $30 (or stereo WS-1519 cutout E-/N- S $30, specify) -- twist/crime/mod/golden throat/bossa/folk; rarest and best of the great WB ST series (Hawaiian Eye, Cricket, Poncie Ponce are others); it's very upbeat for the most part, with real twist and electric-guitar solos, like a great beach-movie ST or anything you'd want from the period should be (even the folk is good); Live Young, Hurricane Twist, Ox Driver, Shilly-Shally, What Will I Tell Him, Palm Canyon Bossa Nova, Hurricane Twist (2), Go Go Devil, Bye Bye Blackbird, Palm Springs Scramble, Prescription for Recovery, A Little Bit of Give, Live Young (closing)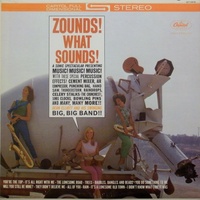 Dean Elliott: Zounds! What Sounds! Capitol T-1818 N-/N- $75 (or E+/E+ $65, specify) (or 1st V+/E- $40, specify) -- odd pop/percussion; one of the top incredibly strange/"space-age bachelor pad" holy grail LPs; legendary, one-off, powerhouse album of hot big-band jazz material with super-slick arrangements featuring incredible "found" industrial and domestic sounds; as if Esquivel did "Music from a Surplus Store" (or Michel Magne/Andre Popp stuff) but WAY OUT, on steroids!; probably the best oddball thing on Capitol of the period; great jacket of women on cement mixer with instruments top it off; YOU NEED THIS!!! (mono despite image shown)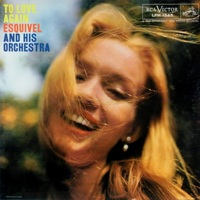 Esquivel & his Orchestra: To Love Again; RCA Victor LPM-1345; 1957; 1st press N-/N- $75 (or E+/E+ $50, specify) -- wordless chorus/Latinate pop; what a prize!; easily his best mono LP and you'd have to compile the best things from all of his later stereo LPs to rival it for sheer mastery; everything you'll ever get from the slicker later LPs is here (ok, except two-channel sound), but this is when he's fresh, young, hungry, and so far a sensation only in Mexico--not yet in the US (which is why it's so rare, too!); snap it up!!!; To Love Again, Port-Au-Prince, Amor, Moonlight Enchantment, Nightingale, Nocturnal, Jungle Drums, Vereda Tropical, Hornblowers Serenade, Besame Mucho, Siboney, Nothing Ever Changes My Love For You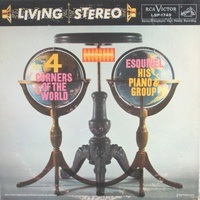 Esquivel, his Piano & Group: Four Corners of the World; RCA Victor LSP-1749; 1958; 1st press V+/E+ S $25 (or mono LPM E-/E+ $15, specify) -- Latin piano with bongos; on the heels of the wildly expensive, fairly successful (a best-seller for Esquivel, anyway) "Others Sounds, Other Worlds" this far rarer outing features Esquivel in a sparer (which is to say, typical) setting highlighting his playing, which means tons of bongos and a flute here and there rather than the ample strings and effects of his other work; Dark Eyes, Blue Danube, Domino, Oye Negra, My Silent Love, Hungarian Rhapsody #2, Tico Tico, April in Portugal, In a Persian Market, Torna a Sorrento, El Carro del Sol, Cielito Lindo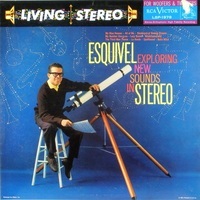 Esquivel & his Orchestra: Exploring New Sounds in Stereo; RCA Victor LSP-1978; 1959; E/E+ S $25 (or E-/E S $20, specify) -- wordless chorus/odd pop; one of his rarest and most sought-after for several reasons: 1) different arrangements than the mono counterpart! (in other words, Exploring New Sounds in Hi-Fi is a different record altogether--YOU NEED BOTH!!!), 2) some of his strongest tunes, 3) more than his usual quota for far-out instruments and exotic touches, such as theremin and mouth harp; My Blue Heaven, Bella Mora, Boulevard of Broken Dreams, Lazy Bones, Spellbound (theremin!), All of Me, Esquivel, Whatchamacallit (new version, previously only on mono 45!--which we may also have available), La Ronde, My Number One Love, The Third Man Theme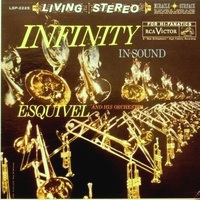 Esquivel: Infinity in Sound; RCA Victor LSP-2225; 1960; deep groove N-/N- S $30 (or mono LPM-2225 E/E- $15, specify) -- instrumental/wordless chorus; "For Hi-Fanatics"; the Mexican maestro's two "Infinity" volumes epitomize the sensationally inventive, "Space-Age Bachelor Pad Music" (SABPM) pop sound as well represent his own peak of making VERY expensively produced US LPs (his Mexican recordings tend to be a little different); if you've heard a couple of cuts on compilations be assured the rest of the tunes are just as worthy and you definitely need vinyl for the total SABPM experience!; Softly as in a Morning Sunrise ("Quedo"), Music Makers, My Reverie, Johnson Rag, Harlem Nocturne, Take the "A" Train, Macarena (La Virgen de la Macarena), Autumn Leaves, Frenesi, Marie, Let's Dance, So Rare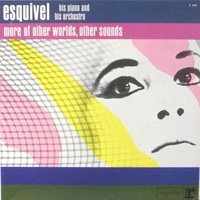 Esquivel: More of Other Worlds, Other Sounds; Reprise R-6046; 1961; deep groove N-/E $50 -- instrumental/wordless chorus; one of his greatest and scarcest (traditionally this one fetched more than any of his US LPs, but times have changed); on the newly formed Sinatra label, no less; GREAT SOUND!!!; The Breeze & I, Chant of the Night, Canadian Sunset, Street Scene, I Get a Kick Out of You, Primavera, Street of Dreams, La Mantilla, One for My Baby (And One More for the Road), Dancing in the Dark, Snowfall, Travelin'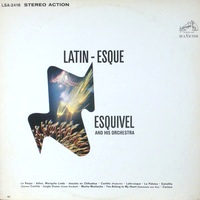 Esquivel: Latin-Esque; RCA Victor Stereo Action LSA-2418; 1962; non-die-cut reissue/repress E/E+ S $25 -- instrumental/wordless chorus/whistling; awesome!; pride of the "Stereo Action" series (scored for channel separation and totally kick-ass about it), it cost a fortune to record in two separate studios with two whole orchestras going at once; the arrangements, creativity, and sound are superb (Esquivel at his peak); finally, you have many of his best hits: La Raspa, Adios Mariquita Linda, Jesusita en Chihuahua, Cachito, Latin-Esque, La Paloma, Estrellia, Cachita, Jungle Drums, Mucha Muchacha, You Belong to My Heart, Carioca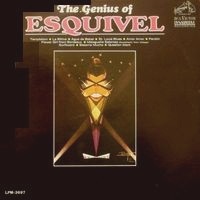 Esquivel: The Genius of Esquivel; RCA Victor LPM-3697; 1967; 2s press E+/N- $90 (or 1s press E/V+ $20, specify) -- instrumental/wordless chorus; "A Masterpiece in Sound by Esquivel"; his last and rarest US Victor LP (other than the very first one, recorded in Mexico) has a spare, swinging mod sound and fantasticly futuristic jacket art (painted in 1964 Mexico, no less); altogether an extraordinary marvel no Esquivel fan or Space-Age-Bachelor-Pad-Music buff can do without; St. Louis Blues, Agua de Beber, Question Mark, Temptation (3 parts), Amor Amor, Flower Girl from Bordeaux, La Bikina, Surfboard, Malaguena Salerosa, Besame Mucho (in 2 parts); NOTE: the $20 copy is graded for the first cut, N- otherwise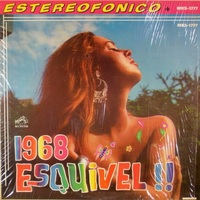 Esquivel: Esquivel 1968; RCA Victor Mexicana MKS-1777; 1968; 1st (only?) press V+/E S $80 -- a top score in Esquivel LPs/rarities!; not an easy find, by any means, and with great tunes (done at a very exciting time!) you don't find on comps and elsewhere; on back there's a nice jacket photo of Esquivel and his group at the time; YOU NEED THIS!!!; Todavia, Speak Low, Guantanamera, Lamento Borincano, Melancholy Baby, Yeyo, Mini Skirt, Esta Tarde vi Llover, El Cable, Walking Happy, Guanacoa, Tengo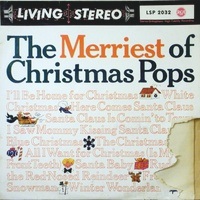 Esquivel/Various: The Merriest of Christmas Pops; RCA Victor LSP-2032; 1959; German pressing V-/V+ S $35 -- Christmas; one of his two rarest US Victor LPs (we haven't had it in several years), it's half Esquivel (6 of 12 cuts) with vocals on 2 by the Skip-Jacks; the rest is Ray Martin (with and without childlike singer Mimi Hines); Blue Christmas, I Saw Mommy Kissing Santa Claus, Santa Baby, Rudolph, Frosty the Snow Man, Winter Wonderland, White Xmas..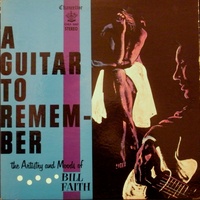 Bill Faith (w/Frank Hunter): A Guitar to Remember; Chancellor CHLS-5007; deep groove N-/E- S $15 -- guitar/exotica/chorus; very rare, small-label Philadelphia LP featuring striking jacket art (beatnik-worthy); Faith plays pop-jazz guitar in the cafe style of late-'50s, small-group Caiola, Mottola, Burrell, Lowe, etc.; also impressive are Frank Hunter's backgrounds, w/voice on a couple of cuts (things get ethereal here in a way that presages his legendary exotica masterpiece, "White Goddess")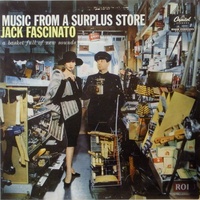 Jack Fascinato: Music from a Surplus Store; Capitol T-1225; E/N- $50 -- odd pop/percussion; "a basket full of new sounds"; well-loved, scarce, unique treat featuring zippy musical arrangements augmented by hardware-store gear such as saw, brushes, broom, oil cans...; rare industrial-themed novelty "concept album" surpassed only by Dean Elliott's "Zounds What Sounds!" (also on Capitol); truly one of the finest examples of space-age bachelor pad music; Oily Bird, Pixie Pipes Parade, Sweepy Time, Rub-A-Dub, Chinatown Bricklayer, Adios Castenets, Latin Hardware, Spring Sprang Sprung, Makin' Tracks, An Old Saw, Basket Weaving, Foggy Recollections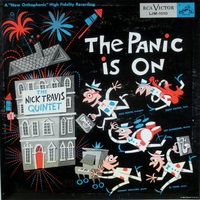 [Jim Flora jacket:] The Nick Travis Quintet: The Panic is On; RCA Victor LJM-1010; 1954; gatefold 1st press, deep groove E/E- $50 -- great rare jazz LP with Al Cohn, but listed here as it will end up with a Jim Flora collector, no doubt; Flora's jacket art is very impressive, looks great--only flaw some very tiny white spots just in the black background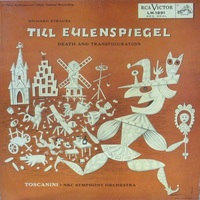 [Jim Flora jacket:] Toscanini/NBC: Till Eulenspiegel; RCA Victor LM-1891; Red Seal E/E $25 -- very nice jacket for the Jim Flora jacket collector and plays well too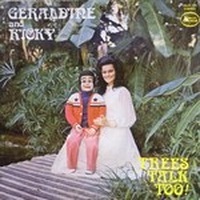 Geraldine & Ricky: Trees Talk Too!; World WLP-1011; blue label E-/N- S $50 -- puppet; live comedy; easily the greatest of all puppet records, and rare, yet priced no higher than a typical good record; listening to this is an event, an experience; we dare say if you're going to have just ONE puppet record in your collection, this is the one!!!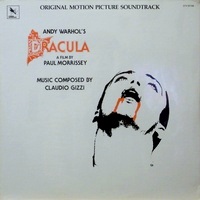 Claudio Gizzi: Andy Warhol's Dracula ST; Varese Sarabande STV-81156; 1982; sealed S $100 -- "Andy Warhol Presents Blood for Dracula--A Film by Paul Morrisey"; rare, uncut, unopened, and we're including a note from the designer of the jacket (our source for this last sealed copy); liners by Morrisey plus 9 b/w stills from the film; Gizzi's other scores include movies by Roman Polanski and Luchino Visconti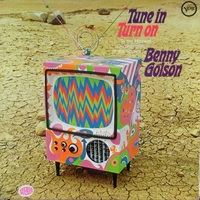 Benny Golson: Tune In Turn On to the Hippest Commercials of the Sixties; Verve V6-8710; 1st N-/V+ S $15 -- mod/commercials; great unique concept; clean disc but noise on some tracks so priced low (the famous jacket alone is worth it); w/Benny Golson, Art Farmer, Eric Gale, Bernard Purdie..; Music to Watch Girls Go By, Wink, The Dis-Advantages of You, No Matter What Shape (Your Stomach's In), Right Any Time of the Day, Music to Think By, The Swinger, The Magnificent Seven, Cool Whip, The Golden Glow, Fried Bananas, Happiness Is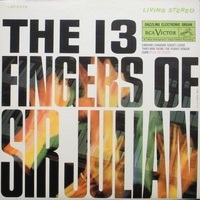 Sir Julian Gould: The 13 Fingers of Sir Julian; RCA Victor LSP-2372; E+/E S $20 -- "Dazzling Electronic Organ"; not the earliest pressing but a good value; Caravan, 3rd Man, Sir Julian's Mambo, Peanut Vendor, Lover, Bach Goes Berserk..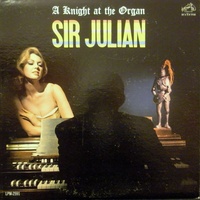 Sir Julian Gould: A Knight at the Organ; RCA Victor LSP-2591; E/E- S $20 -- second of two for the label, much rarer than the first and quite exciting for its sparser arrangements (in which bongos figure prominently); Boulevard of Broken Dreams, Isle of Baion..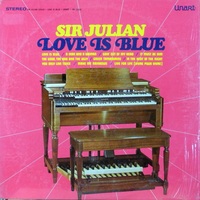 Sir Julian Gould: Love is Blue; UA/Unart MS-21029; 1968; N/N shrink S $20 -- organ/mod; last of his 3 LPs and the only on UA; You Only Live Twice, The Good/Bad/Ugly, A Man & a Woman, Goin' Out of My Head, Green Tambourine, Live for Live, Love is Blue..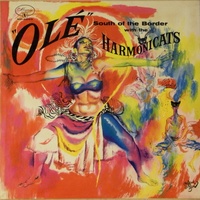 The Harmonicats: Olay (Ole) 10"; Mercury MG-25193; deep groove N-/V $20 -- rare!; priced for the sensational jacket only but Harmonicats fans will probably be excited about the early "South of the Border" theme, liner notes (with photo), and of course the rare jacket art; El Coco, Inspiration, Amampola, Maria Elena, Valencia, La Rosita, Mambo Jambo, Peanut Vendor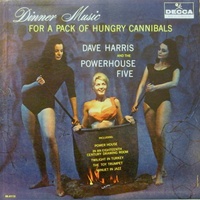 Dave Harris & the Powerhouse Five: Dinner Music for a Pack of Hungry Cannibals; Decca DL-4113; deep groove/1st press N-/E+ $90 -- very rare, excellent Raymond Scott Quintet tribute (all their greatest hits covered in modern, hi-fi style) led by the featured sax soloist of the original Quintet; the sensational jacket steals the show, however; very slight dishpan warp does not affect play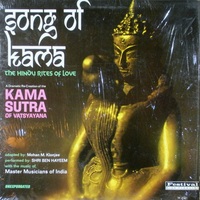 Shri Ben Hayeem: Song of Kama--the Hindu Rites of Love (Kama Sutra); Jubilee/Jay-Gee/Festival M-6701; 1966; N/E- shrink $60 -- sex ed/Indian; spoken w/music; beautiful exotic jacket; top performance ("with the music of Master Musicians of India") makes it one of the very best records on sex in general and of course an exciting addition to your collection of Kama Sutra LPs (collect them all!); rare!

Mel Henke (La Dolce Henke & Dynamic Adventures in Sound) .... beatnik-crime-spy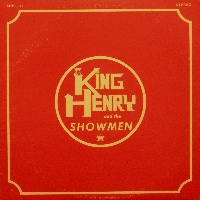 King Henry & the Showmen Volume VIII; King Henry Productions KHP-376; E-/E- S $20 -- lounge act/spy/disco/Moog-ondioline/CB/trucker; private press; one of the most enduring local true lounge acts of the PA-NJ-NY region (here based in Easton, PA and rec. at Virtue Studios), King Henry covers the entire '70s here; notable cuts are Goldfinger, Pinball Wizard, Who Put the Shark, More, and "Roger Dee & the CB Band" (one of the rarer CB-era raps)

Dick Hyman .... moog
Bill Irwin & Group: Organ Mistique (a.k.a. Seduction); Stereo Sounds SA-9 (reissues HIFI/Life L-1022); N-/N S $30 -- Hammond organ/exotica; terrific, swinging, instrumental organ exotica similar John Buzon Trio's Inferno; produced by Rod McKuen; born in NY, Irwin used to give concerts for the Hammond company and had a radio show in Pennsylvania before arriving in Hollywood; this version is perhaps even rarer than the original and highly desirable for being in top shape, stereo, and with different jacket art (although on both editions the tune order is different than as printed on the jacket); Romance in the Tropics, Song of India Bossa Nova, Claire de Lune, Desert Sands (Mid-East), La Paloma, Montana Magic (best cut, an original mambo like Tequila), Seduction, A Swingin' Samba, Fascination, Wistful, Chopin's Nocturne in Eb, Voyage to Hawaii (Aloha Oe)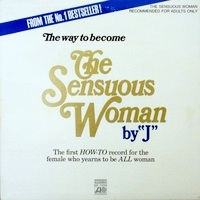 "J" (Connie Z.): The Way to Become the Sensuous Woman; Atlantic SD-7209; 1971; E/E- S $20 -- sex-ed; the classic, ernestly camp/funny/gassy instructional LP (based on the 1969 best-selling book) that influenced all subsequent sex-ed LPs and inspired several spoofs/tributes, not to mention the zillions of formerly inhibited housewives who found their groove with the help of this LP (or book, or both) and of course the Pill and the mad '60s; essential, hilarious, FUN! (and get the Helen Gurley Brown LP too)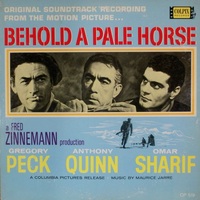 Maurice Jarre: Behold a Pale Horse ST; Colpix CP-519; 1964; white-label promo V+/V+ $15 -- rare Western ST, not bad at the price; Main Title, Paco Leaving Spain, Paco at the Frontier, Paco Arrives in Pav, Spanish Streets, Manuel's Decision, Manuel and Girl in Cafe, Manuel Crossing Pyrenees, Manuel in San Martin, Father Francisco in Hospital, Father Francisco's Conscience Struggle, Manuel Studies Map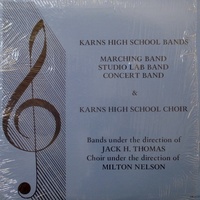 Karns High School Bands: Marching Band/Studio Lab Band/Concert Band/Karns High School Choir; Director DR-8237; N/N- shrink S $15 -- stage/school (mod rather than funky); custom pressing; a rare find for the stage/school collector; dir. by Jack H. Thomas & Milton Nelson; the marching band is also called the "Academic Sinfonians"; Blue World--Phoenix, Stormy, Traces, The Horse, Festivo, Theme for Tomorros (sic), Aquarius/Let the Sunshine In, Waters Ripple & Flow, Three Songs of Parting, You're a Good Man Charlie Brown, Much Ado About Nothing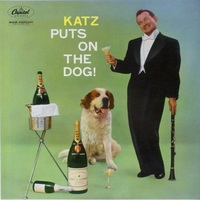 Mickey Katz: Katz Puts on the Dog!; Capitol T-934; 2nd N/E+ $25 -- parody; a classic, with the great Jack Costanzo, Si Zentner, etc.; funny liners "There's a lot of entertainment in this thing."; hard to find (we suspect it's his most-wanted title, and this is top shape!); Hey Jealous Lover, You're a Doity Dog (spoofs Hound Dog), Sweet and Gentle, Moscovitz Ramble, Tico Tico, Feet Up Pat him on the Pippick, Schleppin My Baby Back Home, Nature Bocher (Nature Boy), Sin, Schvitzburgh PA, Murietta Hot Springs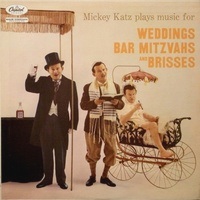 Mickey Katz: Katz Plays Music for Weddings, Bar Mitzvahs, & Brisses; Capitol T-1021; E+/E+ $20 -- instrumental; all the tunes from the rare early 10" LP "The Family Danced" (Capitol H-457) get a welcome update here in hi-fi plus you get four more tunes (50% more!) from the same session, apparently; Katz plays clarinet with Ziggy Elman, Mannie Klein, Si Zentner, Benny Gill, Nat Farber, Sam Weiss, Larry Breen, Lou Singer--great arrangements/playing--such a terrific record you won't miss the humor!!!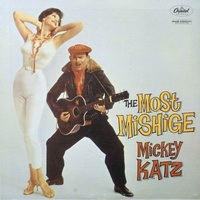 Mickey Katz: The Most Mishige; Capitol T-1102; E+/E+ $25 (or E+/V+ $20, specify) -- considered by many to his best and most desirable LP (as pictured in Incredibly Strange Music), it's a time-tested asset to the FUN bar mitzvah but difficult to find in top shape; terrific spoofs of great pop and rock hits, and the liner notes live up to the promise of the title and jacket; The Barber of Schlemiel, The Poiple Kishke Eater, Yiddishe Mambo, Downtown Strutters' Ball, Holidays, Nudnick the Flying Schissel, Knish Doctor, K'nock Around the Clock, Where is My Pants?, Chinatown My Chinatown, It's a Michaye in Hawaii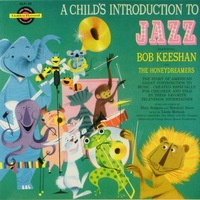 Bob Keeshan & the Honeydreamers: A Child's Introduction to Jazz; Golden GLP-29; 1958; N/N- $30 -- kids/jazz/golden-throat; Captain Kangaroo's greatest LP with jazz stars (Don Elliott, Dick Hyman, Allen Hanlon, Mundell Lowe, Hal McKusick, Sonny Igoe, Teddy Sommers, Sonny Russo, George Duvivia, Jack Zimmerman) on a seriously entertaining, comprehensive tour-de-jazz for the wee set (but all can enjoy); much loved (winsome jacket art too) and worth revisiting for new generations; the trick with this title is finding it clean--it's a bit rare, but getting it unworn is very challenging!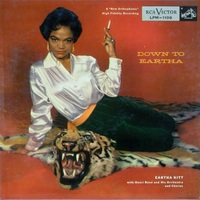 Eartha Kitt: Down to Eartha; RCA Victor LPM-1109; 1955; 1st press/deep groove E+/E $20 -- torch; collectors item!; marvelous early classic that blends cocktail culture and first-rate female vocal pop-jazz (well, you know, EARTHA KITT!!!); I Wantcha Around, Do You Remember, Looking for A Boy, I've Got that Lovin' Bug Itch, Oh John!, Strangers in the Starlight, The Day that the Circus Left Town, Apres Moi, The Heel, Mambo de Paree, My Heart's Delight, Hey Jacques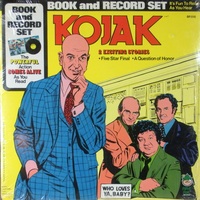 Kojak Book & Record Set; Peter Pan BR-518; 1977; sealed $20 -- spoken/kids; inspired by the Telly Savalas TV show; "It's fun to read as you hear...The Powerful Action COMES ALIVE As You Read"; comic-book style color jacket art; "2 Exciting Stories: Five Star Final, A Question of Honor"; always a treat but sealed perfection is a prize--"Who Loves Ya, Baby?"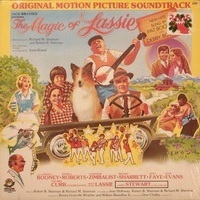 Irwin Kostal: The Magic of Lassie ST; Peter Pan Orange Blossom Series 155; 1974?; sealed S? $30 -- rare OST offers extensive liner notes, stills from the movie, and brief updates on the actors (Jimmy Stewart, Mickey Rooney, Alice Faye, Pernell Roberts, Stephanie Zimbalist, Lane Davies, Mike Mazurki); new, original music by Mike Curb Congregation, Pat Boone, Debby Boone, Mickey Rooney, Jimmy Stewart; don't miss this once-in-a-lifetime opportunity to get it still unopened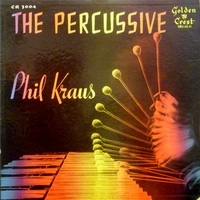 Phil Kraus: The Percussive Phil Kraus; Golden Crest CR-3004; rare color jacket E+/E- $25 (or standard b/w jacket E+/V- $15, specify) -- percussion/exotica/jazz/vibes; early, exotic, amd easily his best (tho more prolific as a first-call sideman), with a spectacular, dramatic jacket too!; best LP on the seldom-scene, tiny NY label that boasts "High Fidelity in Good Taste"; Hindustan, Kashmiri Song, Buffoon, March of the Siamese Children, Nola, In a Persian Market, Liza, Just Flippin', Dizzy Fingers, Japanese Sandman, Chinese Lullaby, Jan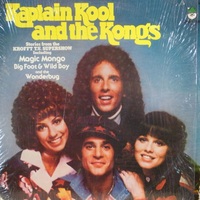 The Kroft Supershow (Captain Kool & the Kongs); Peter Pan 8221; 1978; N/E- shrink $30 -- spoken/kids; they started out as a glam-rock band, and there was even a Kaptain Kool & the Kongs turntable(!), but by the time they made LPs it was this and another on Epic, both super rare; on this one it's narrated "adventures" with groovy sound effects (Moog and space sounds, for instance); the best piece is "The Adventures of Bigfoot and Wild Boy" which somehow involves not just Sasquatch but also space aliens (Bigfoot to the rescue of the planet); anyone remembering the show will get a kick out of it, and for others it's further puzzling evidence of the drug abuse that ruled the '70s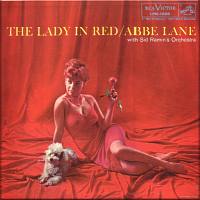 Abbe Lane: The Lady in Red; RCA Victor LPM-1688; 1958; deep groove E/E- $30 (or E-/V+ $25, specify) -- female vocal/torch; very rare (stereo is super impossibly rare); w/Sid Ramin orchestra; Cugat wife without him here (her Victor LPs are great, his are not!); In a Little Spanish Town, Do it Again, No Good to Me, The Lady in Red, Ain't Misbehavin', Breezin' Along with the Breeze, You're Driving Me Crazy, Femininity, All of Me, I Get a Kick Out of You, It's Been a Long Long Time, We're Not Children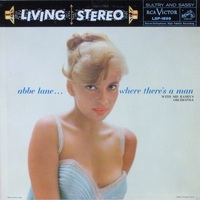 Abbe Lane: Where There's a Man; RCA Victor LSP-1899; 1959/1958; deep groove E/E S $50 (or mono LPM-1899; 1st press E-/N- $35, specify) -- female vocal/torch; "Sultry and Sassy"; with Sid Ramin orchestra and even hubbie Cugat himself on the novel last song (titled "Oh, Cugie.." on the mono, "Go to Sleep, Go to Sleep, Go to Sleep" on the stereo)--worth it just for that, if not the soft-focus, scrumptious cheesecake jacket that many have paid a lot more for!; A Little Girl from Little Rock, No Man Gets Me Right Away, The Man I Love, Any Man Can Be Had, I'm in Love with the Honorable Mr. So and So, A Good Man is Hard to Find, What is a Man, Where There's a Man, The Gentleman is a Dope, A Man and His Dream, I Must Have That Man, Go to Sleep-Go to Sleep-Go to Sleep (a.k.a. "Oh Cugie")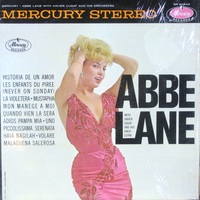 Abbe Lane w/Xavier Cugat: Abbe Lane; Mercury SR-60643; 1st, deep groove N/N- shrink S $40 -- female vocal/torch; Volare, Adios Pampa Mia, Mustapha, Mon Menage a Moi, La Violetera, Hava Nagila, Never on Sunday, Historia de un Amor, Uno Piccolissama Serenata, Quando Vien La Sera, Malaguena Salerosa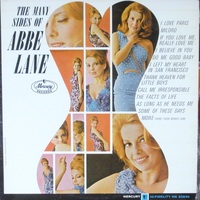 Abbe Lane: The Many Sides of; Mercury MG-20930; deep groove E-/V+ $20 -- female vocal/torch; her last LP, very swingin' and not any easier to find than the earlier ones, perhaps harder; Some of these Days, The Facts of Life, More, I Love Paris, Call Me Irresponsible, Milord, I Believe in You, I Left My Heart in San Francisco, Do Me Good Baby, As Long as He Needs Me, If You Love Me Really Love Me, Thank Heaven for Little Boys

Katie Lee .... beatnik-crime-spy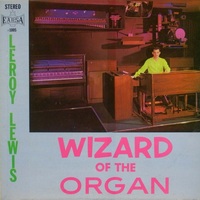 Leroy Lewis: Wizard of the Organ; Earsa 1005-S; AUTOGRAPHED E+/E S $15 -- organ; local Pennsylvania pipe organist made several LPs, some Panamanian; this one notable for (aside from the supremely dorky jacket) a nutty version of "These Boots are Made for Walking" with all kinds of sound effects, such as car horn (Lee Hazlewood would groan but it's fun); Who Can I Turn To, Winchester Cathedral, Lindo Panama, Baby Elephant Walk, Somewhere My Love, "K" Street Hop, Stranger on the Shore, Compadre Pedro Juan, Shadow of Your Smile, Tijuana Taxi--Mexican Flea (Spanish Flea), Call Me, These Boots are Made for Walking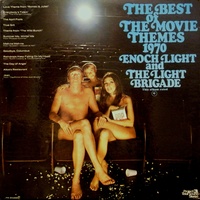 Enoch Light & the Light Brigade: The Best of the Movie Themes 1970; Command/Project 3 PR-5046SD; 1970; gatefold E+/N- S $15 -- pop; hard to find & much wanted for the great version of Mah-Na Mah-Na (best known from the Benny Hill Show & the Muppets); jacket of nude family w/popcorn in empty cinema ain't bad either; Ma-Na Ma-Na, Everybody's Talkin', Goodbye Columbus, Alice's Restaurant, True Grit, The Wild Bunch..

Little Marcy (evangelical puppet) .... special page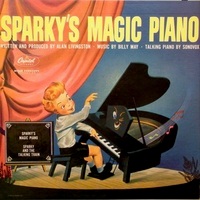 Alan Livingston/Billy May: Sparky's Magic Piano; Capitol J-3254; N/E $25 -- classic kids set (originally a 78 album) similar to "Rusty in Orchestraville"--hard to find on LP in top shape; features Henry Blair & cast, Billy May, Ray Turner (piano), Verne Smith (narrator), & talking piano by Sonovox; Side 2 is another tale: Sparky & the Talking Train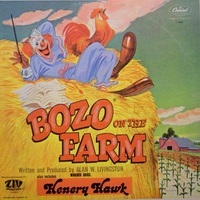 Alan Livingston/Billy May: Bozo on the Farm/Henery Hawk; Capitol/ZIV International L-6959; 1975; sealed $50 (or E+/E+ $40, specify) -- classic Capitol kids sets (originally 78 albums) reissued in hi-fi (all the wacky words & music w/out noise & inconvenience); Bozo on the Farm (Pinto Colvig--crazy--the best!); Side 2 w/Mel Blanc is "Henery Hawk's Chicken Hunt" & "Henery Hawk"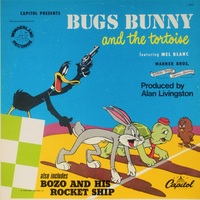 Alan Livingston/Billy May: Bugs Bunny & the Tortoise/Bozo & his Rocket Ship; Capitol/Wonderland L-6962; 1975; E+/N- $50 -- classic Capitol kids sets (originally 78 albums) reissued in hi-fi (all the wacky words & music w/out noise & inconvenience); Mel Blanc's in charge of side one, which is the Looney Tunes version of "The Tortoise & the Hare" (Henery Hawk makes an appearance); Pinto Colvig's Side 2 is a very politically incorrect tour of the world (Bozo's rocketship doesn't leave the atmosphere, apparently) & some of its, er, cultures; very sampladelic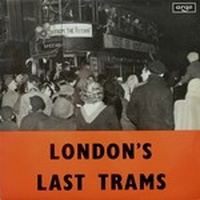 London's Last Trams; Argo DA-78; 1967; deep groove yellow-silver label (U.K. import) E/E $25 -- spoken/documentary; John Holmes narrates the closing of the London tramways in 1950-52 (the tapes were made in what could be the UK's first amateur use of a portable tape recorder); of narrow interest perhaps but definitely a rare find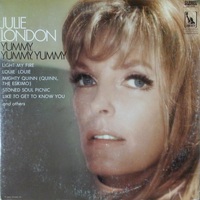 Julie London: Yummy, Yummy, Yummy; Liberty LST-7609; 1969; V/E S $25 -- torch; one of her rarest, always in high demand not only for the famously obscene title cut (the way she sings it, it is) but also Light My Fire, Louie Louie, Stoned Soul Picnic, Mighty Quinn, And I Love Him..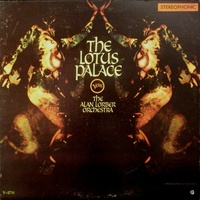 The Alan Lorber Orchestra: The Lotus Palace; Verve V6-8711; gatefold; deep groove cutout E/N- S $30 (or deep groove cutout E-/N- S $25, specify) -- indo-jazz/sitar/gamelan/tabla, etc.; top producer (Ultimate Spinach) made just this one, classic entry in the tiny idiom of pop-jazz with sitar--played by Vinnie Bell with Collin Walcott, Don Robertson, Jerome Richardson, Hugh McCracken, Irving Spice..; great psychedelic jacket art (looks like the Heavy Water Light Show) and mood/sound/quality (well, except a few of the cheesiest tracks); Mas Que Nada (groovy!), The Flute Thing, Up Up & Away, Lucy in the Sky w/Diamonds, Roopala Dha Teri Dhin Dhin, Within You Without You, The Look of Love, Where?, Hang On to a Dream, Djellaba (The Hooded One)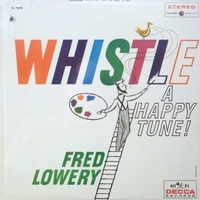 Fred Lowery w/Anita Kerr Singers: Whistle a Happy Tune; Decca DL-78995; 1959; sealed cutout S $75 (or E/N S $60, specify) (or mono Decca DL-8995; pink-label promo 1st/deep groove DL-8995 E/E+ $40, specify) -- whistling; the all-time greatest whistler ever's highly desirable, all-fantastic 2nd of 2 LPs for the label (which are his only secular LPs) & the ONLY secular Fred Lowery LP in stereo; w/organ & steel guitar in the backing group as well as chorus; a thrilling pop wonder w/excellent hi-fi production!; Over the Rainbow, William Tell Overture, Estrellita, Marie, Tammy, Mockin' Bird Hill, Whispering..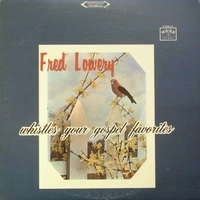 Fred Lowery Whistles Your Gospel Favorites; Word WST-8326; color label E-/V+ S $35 -- whistling; his later gospel whistling LPs are even rarer than the secular turns for Decca & Columbia!; a few marks & noise but not bad, and it's not so gospel (there is some churchy organ in spots) that the world's greatest whistler isn't heard to great advantage; jacket shows a robin on a white picket fence, with branches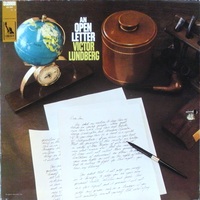 Victor Lundberg: An Open Letter; Liberty LST-7547; sealed $30 (or N/N shrink S $25, specify) (or E/E S $20, specify) -- political/commentary/humor/strange; spoken w/music; wow! hilarious & "smart," like a right-wing answer to John Rydgren's Silhouette Segments, as if Charlton Heston were channelling Art Linkletter; "To the Flower Power" is the favorite piece; frightening as it sounds, we love it for being hysterically funny or insightful (or both) & always entertaining; plus the man's voice is compelling (as w/Ken Nordine & Rydgren); WAY TOO HIP FOR TODAY'S "CONSERVATIVES"; you need this!

Henry Mancini .... beatnik-crime-spy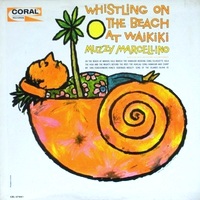 Muzzy Marcellino w/Charles "Bud" Dant: Whistling on the Beach at Waikiki; Coral CRL-57441; 1964; E+/N- $40 -- whistling; very rare must-have for all whistling fans by the #2 virtuoso whistler of the golden age of recorded music; Hawaiian standards --from chestnuts to scarcer tunes-- plus a new version of "The High & the Mighty" (which Marcellino whistled for John Wayne on the ST); all with Decca/Coral's high standards and Bud Dant's excellent production; On the Beach at Waikiki, The High & the Mighty, Hilo March, Hawaiian Wedding Song, Hawaiian War Chant, Beyond the Reef, Hukilau Song, My Tani, Silhouette Hula, Forevermore, King's Serenade, Song of the Islands/Aloha Oe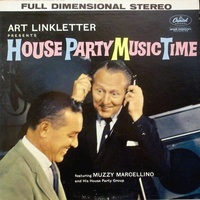 Muzzy Marcellino & his House Party Group: Art Linkletter Presents House Party Music Time; Capitol ST-1284; 1st press E/E+ S $50 -- whistling/odd pop/kids; great for both rare Muzzy Marcellino performances (the #2 whistler after Fred Lowery) & un-pc songs done originally for TV; Heap Big Chief, Hawaiian Calypso, Bob's Blues, Whistlin' Dixie, Get Happy, Time for the Kids, The High & the Mighty, Anitra's Dance, Freeway Jam, The Continental, Shoo Fly Pie & Apple Pan Dowdy, Barcarolle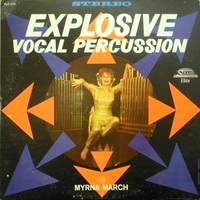 Myrna March: Explosive Vocal Percussion; Strand SLS-1033; deep groove V+/E- S $15 -- female vocal/bongos; "the beauteous Myrna March, five foot two, beautifully framed titian topped terror of the Sunset Strip"; one of our favorite obscurities languishing on a budget label (and it's rare), it's probably the only recording of a red-headed wildcat you'd swear was Ann-Margret in "Kitten with a Whip" mode PLUS the added sensations of Command-level stereo separation and orchestral effects (such as bongos); imagine Ann-Margret with Russ Garcia backing and you have it; best of all, the 12 cuts are unusual too: Love is Coming My Way, Mademoiselle de Paree, Fandango, It Was Written in the Stars, You Can't Have Love, Don't Introduce Me, I Leande on a Man, It Used to Be, Majorca, You Don't Know What Love Is, It's Love, Go If You're Going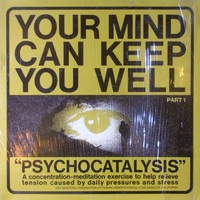 Roy Masters: Your Mind Can Keep You Well, Part 1 (Psychocatalysis Part 2); Foundation of Human Understanding ACA-4151; 1968; N/N- shrink $25 -- spoken/occult/stress-relief instruction; "A concentration-meditation exercise to help relieve tension caused by daily pressures and stress"; 49 minutes of glorious Los Angeles feel-good "alt.healing" jive; nifty jacket & extensive liners; cheaper than going to a doctor!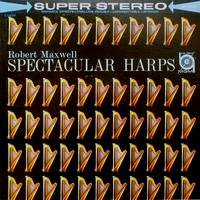 Robert Maxwell: Spectacular Harps; MGM SE-3836; 1st/deep groove E+/N- S $30 -- pop harp; very scarce in top shape/stereo, it's also one of the best in the MGM "Spectacular" series & one of Maxwell's most enjoyable/essential; the multi-dubbed "Caravan" is fantastic as is "Hong Kong Holiday"; also Limehouse Blues, Ebb Tide, Alice Blue Gown, Little David Play on Your Harp..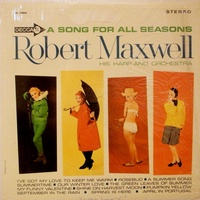 Robert Maxwell: A Song for All Seasons; Decca DL-74609; cutout N-/N- shrink S $20 -- harp; our absolute fave if only for the spectacular "September in the Rain," which ROCKS (like "Tequila" & the Fortune Tellers LP only better!!!) w/guitar & plunking rain sounds!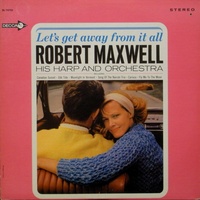 Robert Maxwell: Let's Get Away from It All; Decca DL-74723; cutout E+/E+ S $15 -- harp; one of the essential Decca LPs every Robert Maxwell fan needs; essential for the update of his classic, signature contribution to Odd Pop: "Song of the Nairobi Trio"; plus, four tunes featuring the abstract, ethereal (exotic!) voice of Lois Winter; Canadian Sunset, Yellow Bird, Lisbon Antigua, Clair de Lune, Moonlight in Vermont, Song of the Nairobi Trio, Sequoia, Carioca, Fly Me to the Moon, Malaguena, Ebb Tide, Let's Get Away from It All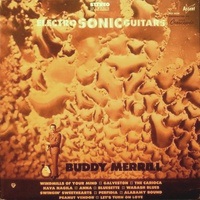 Buddy Merrill: Electrosonic Guitars; GNP/Accent ACS-5028; white-label promo cutout N/N S $20 -- guitar; some of his best work (even if the title is a bit misleading to those of who expect something worthy of the Moog page); Carioca, Galveston, Let's Turn On Love, Alabamy Bound, Anna, Bluesette, Perfidia, Windmills of Your Mind, Wabash Blues, Swingin' Sweethearts, Peanut Vendor, Hava Nagila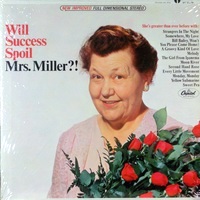 Mrs. Elva Miller: Will Success Spoil Mrs. Miller?!; Capitol ST-2579; 1st press N-/N shrink S $20 -- golden throat/put-on; ok, so it's not quite the pot-brownie one that everyone wants, but it's better/scarcer than "Greatest Hits" and not mono, cutout, worn, or reissue!; Strangers in the Night, Bill Bailey Won't You Please Come Home?, Somewhere My Love, A Groovy Kind of Love, Melody, The Girl from Ipanema, Yellow Submarine, Every Little Movement, Moon River, Second Hand Rose, Sweet Pea, Monday Monday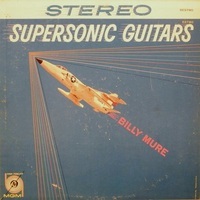 Billy Mure: Supersonic Guitars; MGM SE3780; 2nd/flat cutout V+/E S $15 -- guitar; exotic tunes by guitar god who learned at the knee of Roy Smeck (the original guitar god); far scarcer than the RCA LPs, this one has a great jacket of a navy jet ascending (a little rub wear on this copy, which keeps the price low); Hindustan, Lover's Guitar, Limehouse Blues, Marie, Pagan Love Song, Tiger Guitars, Guitars in Space, Granada, Pennies from Heaven, El Cumbanchero, High Tide Boogie, Linger Awhile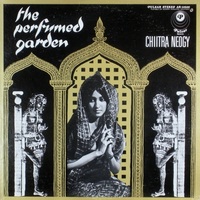 Chitra Neogy: The Perfumed Garden; Mercury/Pulsar AR-10600; cutout E+/N- S $30 -- sex instruction/spoken/sitar/psyche; terrific update of ancient tales for moderns (it beats even the great Kama Sutra LPs); Neogy lived in psychedelic, swinging Chelsea (London) at just the right time to make this artifact of gender, cultural, and sexual liberation on the adventurous, weirdbeard Pulsar label; one of the hippest highlights of the sex-ed idiom typified by "How to Become the Sensuous Woman" (Neogy's Indian accent and sultry voice --on topics rarely dealt with even in Bollywood films-- is indeed a rare treat); The Invocation, The Hymn of Praise, Advice to the Lovelorn, Woman Is Like a Fruit, The Encouragement of the Lusty Wife, The Blue Sari, Leilla the Flatterer, The Story of Mocailama & Chedja, Krishna & the Lovely Cowgirls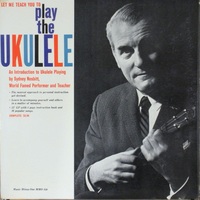 Sydnet Nesbitt: Let Me Teach You to Play the Ukulele; Music Minus One MMO-150; 1961; with all inserts E/E+ $25 -- uke instruction/spoken w/music; a real treat for the ukulele learner/player, this is yet another now-obscure uke hero with a voice as affecting as that of Cliff Edwards or Arthur Godfrey; hailing from England and later Canada and known as the "Flying Minstrel" for pre-War piloting, he had a respectable Vaudeville-era career, putting out his first instruction-book and record for uke some 35 years before this one; Music Minus One always does fine stuff, and this is one of the best, as it's a very intimate session with a lost master, including inserts; recommended along with Roy Smeck, Ohta-San, and all the other uke masters available here, right now!; see YouTube for an example drawn from this very rare LP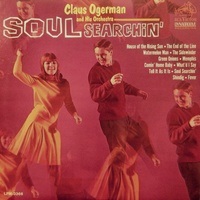 Claus Ogerman: Soul Searchin'; RCA Victor LPM-3366; 1965; deep groove Dynagroove N/N- shrink $75 (or N-/N- $60, specify) -- mod/soul/organ; scarce first title in a GREAT series of four LPs --all essential-- goes straight for the white go-go boots with its emphasis on hip soul boogaloo/mod soul jazz (many will find these versions more spinnable now than the jazz and soul originals); tho great and should have been a best-seller, it's far rarer than the two similar, mega-selling "More (Mondo Cane)" LPs he did with Kai Winding on Verve; others have priced it as high as $150; Soul Searchin', What I'd Say, House of the Risin' Sun, Comin' Home Baby, The End of the Line, Tell It As It Is, Green Onions, The Sidewinder, Fever, Memphis, Watermelon Man, Shindig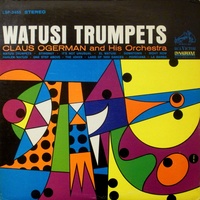 Claus Ogerman: Watusi Trumpets; RCA Victor LSP-3455; 1965; E/N- S $30 (or mono LPM-3455 E-/E+ $20, specify) -- mod; best-of-breed mod LP features THE sound of the swingin' high '60s, like Lalo Schifrin; absurd as the title sounds, it means the "watusi" and other '60s dances done with mod, mod brass (trumpet, etc.); decked out in groovy, hall-of-fame, Mondrian-esque jacket!; w/Dick Hyman's great Lowrey organ, it truly swings; El Watusi, The Joker (absolutely awesome!), Stingray (hip original), It's Not Unusual, Harlem Watusi, Land of 1000 Dances, Downtown, Right Now, La Bamba, Poinciana, One Step Above, Watusi Trumpets (original)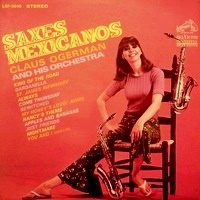 Claus Ogerman: Saxes Mexicanos; RCA Victor LSP-3640; 1966; N/N- S $30 (or E/E- S $20, specify) -- mod; "Guaranteed Danceable"; great series of 4 LPs, all essential!; THE sound of the swingin' high '60s (and it really swings!); often overlooked bc of the title, it's strictly mod--and a very valuable sequel to the heralded Watusi Trumpets! (rather than anything to do with Mexican saxophones); with Dick Hyman's great Lowrey organ; King of the Road, Dardanella (terrific!!!--best cut), St. James Infirmary, Bewitched, My Honey's Lovin' Arms, Apples and Bananas, Nightmare, Nancy's Theme, Always, You and I (Voce e eu), Come Thursday, Just Friends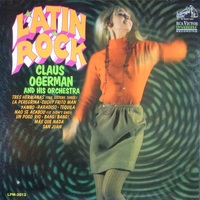 Claus Ogerman: Latin Rock; RCA Victor LSP-3813; 1967; E+/E S $40 (or mono LPM cutout N-/N- $40, specify) -- Latin soul/mod Latin; last but far from least in the terrific series of four LPs; often overlooked bc of its misleading title--it's really mod Latin soul, as you can see from the titles; liner notes by the best in the business, Mort Goode: "It's the latest, freshest, spiciest rhythm yet concocted for hot-blooded hombres and modern-day maidens."; Tequila, San Juan, Bang Bang! (Joe Cuba's), Nao se acabou (It Didn't End), La Peregrina, Un Poco Rio, Yambo, Tres Hermanas, Cuchy Frito Man (rare Latin soul by Ray Rivera!), Paradiso, Mas Que Nada
Eddie Osborne: Percussive Baldwin Organ & Bongos; Audio Fidelity DFM-3004; 1960; (jacket: AFLP-1974; 1962) deep groove N-/N $15 -- organ/bongos (good for collectors of either); jacket features photo of conga player; as with Lenny Dee's early LPs, you have some Vaudeville-era tunes but done in a modern style; here the percussion (bongos) & bass are emphasized; the organ sound is a bit like Dick Hyman's later Lowery (organ fans may disagree, but the tone is distinctive & unlike the ubiquitous Hammond); El Cumbanchero, South of the Border, Frenesi, Muskrat Ramble, Sid's Blues, Ma He's Making Eyes at Me..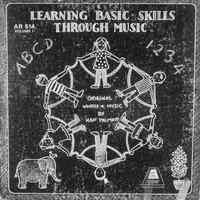 Hap Palmer: Learning Basic Skills Through Music Volume One; Activity Records AR-514; 1969; non-gatefold 2nd press w/insert N/V+ S $15 (or gatefold 1st V/V $15 -- kids; groovy folk-rock stuff for your inner child, featuring such memorable engagers as What Are You Wearing?, What is Your Name?, This is the Way We Get Up in the Morning, Growing, The Birds (with bird sounds), Colors, Put Your Hands Up in the Air..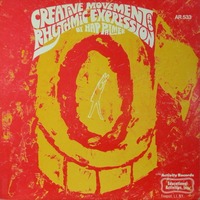 Hap Palmer: Creative Movement & Rhythmic Exploration; Activity Records AR-533; 1980/1971; E+/E+ $15 -- kids; groovy folk-rock stuff for your inner child with a few standouts: the rhythm instrumental "Percussion Instruments" and a real Elvis-y mover "How Many Ways"; or you might dig "Out to the Country" or "Fishing Trip" and others; in any case, it's pretty cool!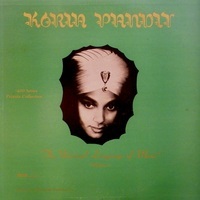 Korla Pandit: Virtuoso (The Universal Language of Music, Vol. 1); India 400 Series Private Collection; AUTOGRAPHED E/E- $75 -- organ/piano/exotic; signed "Best Wishes to Rose" in Glendale, CA on 11/18/66; 1st of 3 vols., deadly rare (private press) and featuring some of his most interesting, varied work (just look at the titles); The Banjello, Claire de Lune, Stormy Weather, Over the Rainbow, Samba, Trance Dance, Theme from Tchaikovsky's 5th Symphony, Aicha's Dance (Moghul Suite), Intermezzo, Beyond the Sunset, Chopin's Waltz in A Major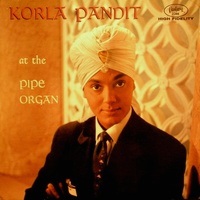 Korla Pandit at the Pipe Organ; Fantasy 8018; tan ('70s pressing) E-/E+ S $30 -- organ; for reliable pressing quality (noisefree sound), the classic, early Fantasy LPs usually are best had in stereo reissues from the '70s, which this is!!!; we love the liner notes telling a whopper about Pandit being from India but at least each of the tunes is described poetically too; some noise (inescapable with Fantasy red vinyl); Greensleeves, Jalousie, Tales of the Vienna Woods, Secret Love, Someday, Autumn Leaves, Tenderly, Moonlight & Shadows, Song of Songs, Come Back to Sorrento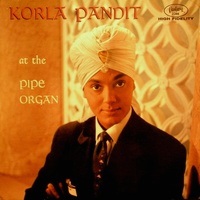 Korla Pandit at the Pipe Organ; Fantasy 3286; red vinyl, deep groove N-/V+ $20 -- organ; some noise (inescapable with Fantasy red vinyl) but at least it's the original; we love the liner notes telling a whopper about Pandit being from India but at least each of the tunes is described poetically too; Greensleeves, Jalousie, Tales of the Vienna Woods, Secret Love, Someday, Autumn Leaves, Tenderly, Moonlight & Shadows, Song of Songs, Come Back to Sorrento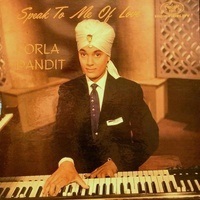 Korla Pandit: Speak to Me of Love; Fantasy 3293; red vinyl N/E+ $35 -- organ; we love the liner notes telling a whopper about Pandit being from India; Korla calling...feel the love!; If I Loved You, No Love is Lost, Once Again, Because, Sometime But When, Mona Lisa, Speak to Me of Love, Yours is My Heart Alone, One Night of Love, My Hero, Rose of Descanso, Ah Sweet Mystery of Life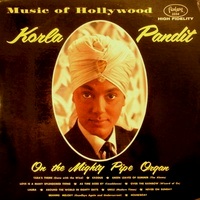 Korla Pandit: Music of Hollywood; Fantasy 3334; red vinyl E+/E+ $30 -- organ; the turbaned hypnotist to housewives hangs his hat in Tinseltown this time: Tara's Theme (from Gone with the Wind), Exodus, Green Leaves of Summer (the Alamo), Love is a Many Splendored Thing, As Time Goes By, Over the Rainbow, Laura, Around the World in 80 Days, Smile, Never on Sunday, Brahms Melody, Houseboat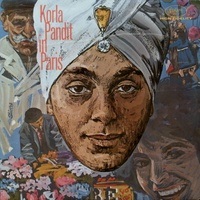 Korla Pandit in Paris; Fantasy 8347; 1963; blue "full radial stereo" N-/N- S $40 (or flexi, later pressing E+/N- S $30, specify) -- organ/piano; rare in gorgeous stereo!; Gaite Parisienne, La Vie en Rose, April in Paris, Musetta's Waltz, Gavotte, Moulin Rouge, Darling Je Vous Aime Beaucoup, French March Melody, Paris in the Spring, La Seine, C'est Magnifique, Under Paris Skies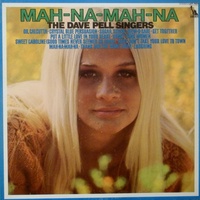 The Dave Pell Singers: Mah-Na-Mah-Na; Liberty LST-7631; promo E/N- S $30 -- mod/vocal; "You will remember them! You will enjoy them! Listen to them!!"; we've hoped for ages to have this rarity for sale, and here it is at last; wanted chiefly for the juicy cover of the famous "Ma Na Ma Na" hit (Benny Hill, Sesame Street) but you also get covers of other hits: Oh Calcutta, Crystal Blue Persuasion, Sugar Sugar, Ruby Don't Take Your Love to Town, Put a Little Love in Your Heart, Keem-O-Sabe, Mah-Na-Mah-Na, Laughing (The Guess Who!), Thank God the War is Over, Get Together, Honky Tonk Women, Sweet Caroline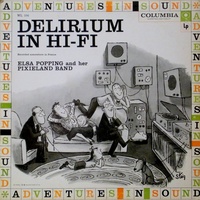 [Andre Popp/Pierre Fatosme as] Elsa Popping & her Pixieland Band: Delirium in Hi-Fi; Columbia Adventures in Sound WL-106; 1958; 1st/gold/deep groove N-/N- $30 -- experimental pop/avant garde madness made weirder by tape manipulation and much more (somewhat a primer for Perrey and Magne!); it's still wild after all these years and part of the essential odd-pop canon; someone once compared finding this original to winning the lottery--we just say we're glad to offer it clean and cheap, and pretty steadily; Perles de Cristal, Java, La Paloma, Beer Barrel Polka, Java du diable, Jalousie, La Polka du roi, Java des bombes atomiques, Adios Muchachos, La Polka du colonel, Java Martienne, La cumparsita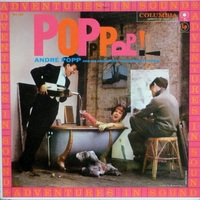 Andre Popp: Popppppp!; Columbia Adventures in Sound WL-130; deep groove N-/N- $25 (or E/N- $20, specify) -- acclaimed experimental/avant garde pop in the "Delirium in Hi-Fi" vein (something of a sequel), including the original "Washerwomen of Portugal"; La Bardinette, Sexy Sax, La Pendule, Ma Nounou du Tanganyika, Musique Mecanique, Les Lavandieres du Portugal, Du vent dans les voiles, Melodie du Sud, French Dondon, Tunisia Waltz, Danse de l'ours, Tango militaire

Production (sound library) .... Moog page, Production LPs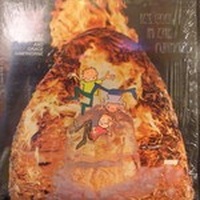 Buryl Red & Grace Hawthorne: It's Cool in the Furnace; Word WST-8580; 1973/1972; no book N/E- S $25 -- religion/part-spoken; "a children's musical about Shadrach, Meshach, & Abednego"; w/Harold Bradley, Charlie McCoy; one of the hipper things on the label; pops in 1st few seconds of Side 2, otherwise perfect; Shadrach, Jerusalem Town, It Pays to Remember, Tra-La, Show Us the Dream, The King's Decree, Know When to Say No, It's Cool in the Furnace, Let the People Praise

Alvino Rey (Esquivel guitar) .... truck/c&w/steel guitar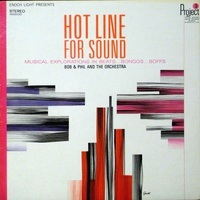 Bob Rosengarden & Phil Kraus: Hot Line for Sound; Project 3 PR-5002-SD; 1966; gatefold; sealed cutout S $25 (or N-/N- S $20, specify) (or E+/E+ S $15, specify) -- mod/bongo/percussion; "Musical Explorations in Beats...Bongos...Boffs"; we stock it so much because it really is a good, early one on Project 3 (when Command tried to get hip and sometimes did); Rosengarden & Kraus always deliver, but we like for at least four standout cuts, although the whole thing is impressive and freshly scored for stereo exaggeration in glorious sound (recorded on 35mm film); besides the ballyhooed bongos, other interesting instruments (including Lowrey organ, mbira, "congo" drums..), and the usual Enoch Light bunch (Lew Davies, Mottola, Bodner..); Blowin' in the Wind, Big Spender, Bangles Baubles & Beads, America, Michelle, I've Got a Right to Sing the Blues, Taste of Honey, Riddle Me This, Pussyfoot, The Telephone Song, Feelin' Good, Out of Nowhere
Jimmie Ruth & "Rusty": Stories & Songs for Children Featuring; Melody Mark 810624 (reissues Diadem DLP-282) E+/N- $30 -- puppet/religion/kids; difficult to find, harder still to get in top shape; jacket stickered "stereo" but it's a mono recording; David & Goliath (story), Only a Boy Named David, If the Lord Makes You a Plumber, Gideon (story), We've Got a Great Big Wonderful God, Jesus Loves Me, When He Cometh, Adam & Eve (story), Into My Heart

Raymond Scott .... jazz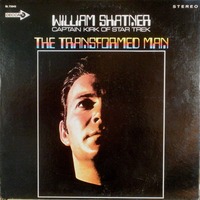 William Shatner: The Transformed Man; Decca DL-75043; 1969; E+/E+ S $90 (or cutout V+/E- S $40, specify) -- golden throat; very hard to find in top shape (even clean/unworn discs have slight noise--inevitable with spoken/quiet passages); what a triumph to be able to play the legendary "Mr. Tambourine Man" and "Lucy in the Sky with Diamonds" exactly as did people catching Star Trek in its original run (budding Trekkies who foolishly did not run out and buy this LP in the great numbers they would if they could today!); music by the great Don Ralke; not-quite-modest liners by the unstoppable William Shatner himself; HEAR...OWN...BEHOLD his AWESOME POWER!!!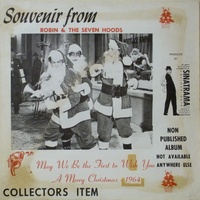 Frank Sinatra/Dean Martin/Sammy Davis, Jr.: Souvenir from Robin & the Seven Hoods; unpublished promo deep groove E-/E $300 (or offer) -- live recording of comedy and songs produced by Bill Rodstein of the Sinatrama Room in the Latimer Cafe in Philadelphia ("A shrine dedicated to the life & works of Frank Sinatra"-Earl Wilson); "May We Be the First to Wish You A Merry Christmas-1964"; jacket (just 1 face, pasted over old LP jacket) of the three in Santa suits in front of a stage; "Non Published Album Not Available Anywhere Else COLLECTORS ITEM"; rarest of the 3 versions of "Summit Meeting at the 500, Atlantic City, NJ"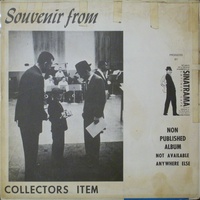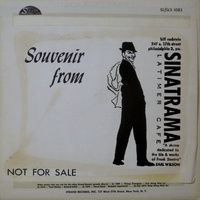 Frank Sinatra/Dean Martin/Sammy Davis, Jr.: Souvenir from Sinatrama Latimer Cafe; unpublished promo deep groove E-/E- $30 (book value $250-350) -- live; more common versions of "Summit Meeting at the 500, Atlantic City, NJ" (the Christmas version is by far the rarest)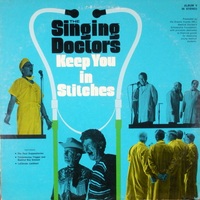 The Singing Doctors Keep You in Stitches; American Artists Custom Records AAS-1052; E/E S $20 -- novelty/humor; just what it seems: licensed Missouri croakers (sorry, "professional healers") in a wounding and not particularly infectious live performance, but it is the classic doctors-at-play LP (for something better look to Katie Lee's Songs of Couch and Consultation on the beatnik page); "Featuring: The Four Suppositories, Trichomonas Trigger & Bashful Boy Emmett, LaCaruso Lockhart"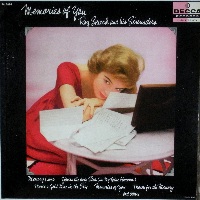 Roy Smeck & his Serenaders: Memories of You; Decca DL-8674; deep groove N-/E+ $20 -- steel guitar; top copy of an early classic (mono only--predates stereo); hear the guitarist that did everything earlier and better that Les Paul (and Jimi Hendrix) took credit for "inventing"; Roy Smeck was the original guitar god!!!; In My Bouquet of Memories, Memory Lane, You're the Only Star, Just a Melody, Carry Me Back to the Lone Prairie, The Lamp of Memory, Memories, Take Me Back to My Boots and Saddle, Red River Valley, There's a Gold Mine in the Sky, Memories of You, Thanks for the Memory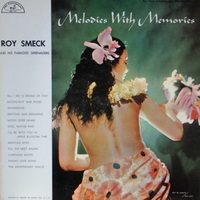 Roy Smeck & his Paradise Serenaders: Melodies with Memories; ABC-Paramount ABC-174; deep groove E/E- $15 -- steel/guitars (mono only--predates stereo); All I Do is Dream of You, Moonlight and Roses, Whispering, Drifting and Dreaming, Moon Over Miami, Steel Guitar Rag, I'll Be With You in Apple Blossom Time, Mexicali Rose, Till We Meet Again, Carolina Moon, Pagan Love Song, Anniversary Waltz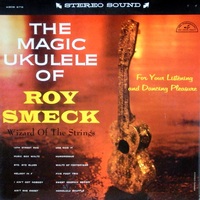 Roy Smeck "The Wizard of the Strings": The Magic Ukulele of Roy Smeck; ABC-Paramount ABCS-279; cutout N-/E- S $20 -- ukulele/guitars; THE classic uke LP with guest guitarists Joe Puma, Tony Mottolo, Al Casamenti, George Barnes (Milt Hinton bass, Osie Johnson drums); if you're going to have just one Smeck LP, this is probably the one: Twelfth Street Rag, Music Box Waltz, Bye Bye Blues, Melody in F, I Ain't Got Nobody, Ain't She Sweet, Uke Said It, Humoresque, Waltz of Yesteryear, Five Foot Two, Sweet Georgia Brown, Honolulu Shuffle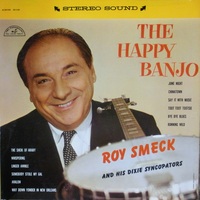 Roy Smeck & his Dixie Syncopators: The Happy Banjo; ABC-Paramount ABCS-309; deep groove N-/E+ S $20 -- pop banjo/guitar; "for your dancing and listening pleasure"; classic banjo and one of the essential Roy Smeck LPs; June Night, Chinatown My Chinatown, Say It With Music, Toot Toot Tootsie, Bye Bye Blues, Running Wild, The Sheik of Araby, Whispering, Linger Awhile, Somebody Stole My Gal, Avalon, Way Down Yonder in New Orleans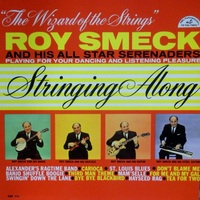 Roy Smeck "The Wizard of the Strings" & his All Star Serenaders: Stringing Along; ABC-Paramount ABC-412; N/E+ $20 -- guitars; late great one!; jacket shows four photos: banjo, ukulele, guitar, and steel which echo his breakthrough "soundie" film recording in which he ABSOLUTELY beat Les Paul to the multi-track/dubbing punch (that's right, guitar wonks: ROY SMECK WAS FIRST!!!); all instruments are electric (amplified and wired to the mixer), and of course Smeck was earlier than Les Paul at that as well; 3rd Man theme, Alexander's Ragtime Band, Bye Bye Blackbird, St. Louis Blues, Don't Blame Me, Hayseed Rag, Swingin' Down the Lane (steel guitar), Banjo Shuffle Boogie, Tea for Two, Carioca, Mam'selle, For Me & My Gal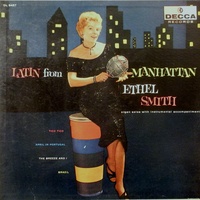 Ethel Smith: Latin from Manhattan; Decca DL-8457; 1st/deep groove E/E $15 -- Hammond "organ solos w/instrumental accompaniment" gone Latin; one of her most desirable LPs; with new artwork and liners, it reissues the classic "Souvenir Album" 10"/78 set (for the first time in superior hi-fi sound!) and adds four more tunes: Brazil, April in Portugal, Cose Cose Cose, Hernando's Hideaway; the original set: Tico Tico, Lero Lero/Bem Te Vi Atrevido, Toca Tu Samba, Dinorah, Alla en el Rancho Grande/Las Altenitas, Breeze and I, The Parrot, Paran Pan Pan/Cachita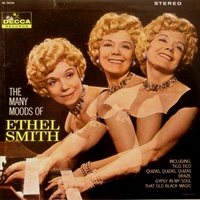 Ethel Smith: The Many Moods of Ethel Smith; Decca DL-74145; cutout N/N S $20 -- Hammond organ; perfect! late enough to be in true stereo but not too late to be great; the highlight is "Smithtown Special," a train number co-written with Don Sebesky that really moves; also there's an update of her signature samba "Tico-Tico"; Tico-Tico, I've Found a Brand New Baby, Carnival (theme), Carinhoso, Honeysuckle Rose, Ethel Meets the Count (another with Don Sebesky), Quizas Quizas Quizas, That Old Black Magic, Love for Sale, Brazil, The Gyspy in My Soul, Smithtown Special

Ethel Smith EPs (45s) .... pop 45s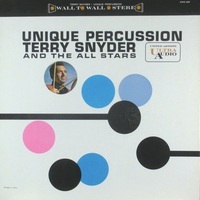 Terry Snyder & All Stars: Unique Percussion; United Artists WWS-8500; 1961; gatefold N/N S $15 -- percussion; it's in exactly the same vein as the Command/Time stuff, but a little better, as a percussion feature (exotica and bongos, baby!); note that it was issued first as Mister Percussion, same number, nearly same jacket art (this one's better!), but changed possibly to avoid conflict with another "Mr. Percussion" LP; Puttin' On the Ritz, Softly as in the Morning Sunrise, The Man I Love, Get Out of Town, Deep Night, Colonel Bogey March, Once in a While, Ev'rything I've Got, Out of this World, Binga Banga Bongo, Picnic, Oye Negra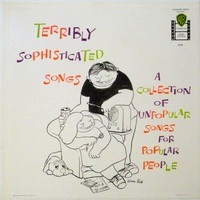 Irving Taylor: Terribly Sophisticated Songs--A Collection of Unpopular Songs for Popular People; Warner Bros. B-1254; 1958; deep groove N-/N $45 (or deep groove E/E $30, specify) -- novelty; scarce, terrific Spike Jones/Mickey Katz-worthy spoofs of LA music and employment by the man behind Kookie Byrnes and other WB greats!; crazy gags in high style cowritten in many cases with Henry Mancini (DJs can slip in with "serious" songs of the same style); nice jacket art too; When the Crab Grass Blooms Again, In a Cafeteria with You, I'm Filled with that Empty Feeling, Myrtle, All of the Time, I'll Never Forget Those Unforgettable Never to Be Forgotten Memories, Pachalafaka (Pronounced Pachalafaka), Anywhere on Earth (The Geography Song), Just My Sol, I'll Write a Symphony, We Did the Samba in Shamokin, Brooklyn Beguine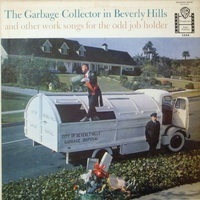 Irving Taylor: The Garbage Collector in Beverly Hills [& other work songs for the odd-job holder]; Warner Bros. B-1254; 1959; deep groove white-label promo E/E $25 (or deep groove E-/E+ $25, specify) -- novelty; terrific Spike Jones/Mickey Katz-worthy spoofs of LA music and employment by the man behind Kookie Byrnes and other WB greats!; first-rate, smartly planned, well-produced, crazy gags in high style (DJs can slip in with "serious" songs of the same idiom): The Garbage Collector in Beverly Hills, Hawaiian Worm Raiser, Marriage Counselor in a Turkish Harem, Russian TV Performer, Cab Driver in Venice, Prison Interior Decorator, Honest John Henry, Postman in Paree, Rock & Roll Vocal Coach, Department Store Santa Claus, Cop in a Nudist Colony, German Car Designers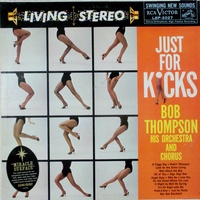 Bob Thompson, his Orchestra & Chorus: Just for Kicks; RCA Victor LSP-2027; 1959/1958; 1st press N-/N S $40 (or 1st E/E- S $20, specify) -- wordless chorus; "Swinging New Sounds"; titled by the wife and nominated for a Grammy in 1959, it is the best of the three very essential LPs by "the poor man's Esquivel" (although most Esquivel LPs on RCA are far more common and cheaper); strong bongos, voices, brass; great leggy jacket!; On the Street Where You Live, A Foggy Day, Just for Kicks, Makin' Whoopee, Look for the Silver Lining, Mad About the Boy, Angel Eyes, Peek-a-Boo, It Might as Well Be Spring, All of You, It's All Right With Me, Diga Diga Doo, Bye Bye Blackbird, Why Do Love You, Just for Kicks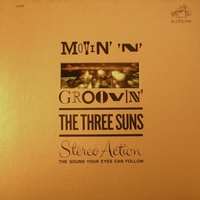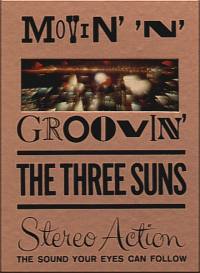 The Three Suns: Movin' & Groovin'; RCA Victor LSA-2532; 1962; deluxe die-cut N-/N S $30 (or die-cut E/E+ S $25, specify) (or non-die-cut reissue E-/E+ shrink S $20, specify) -- in "Stereo Action--the sound your eyes can follow"; their most prized LP in a DIZZYING exploration of channel separation (one of the very best Stereo Action LPs); chockablock enough with wacky instruments (jaw harp is one), ideas, and creativity doubtless to appall even longtime Three Suns fan Mamie Eisenhower; YOU NEED THIS!!!; a few cuts have achieved latterday fame thanks to CD comps--but here you can get them all, the way they were meant to be heard!: Stumbling, Caravan, Jungle Drums, Danny's Inferno, Movin' & Groovin', April Showers, Autumn Leaves, Dancing with Tears in My Eyes, Anniversary Song, Beyond the Sea, Some of These Days, The Vagabond King Waltz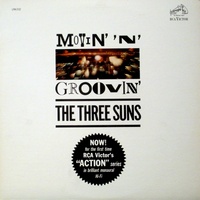 The Three Suns: Movin' & Groovin'; RCA Victor LPM-2532; 1962; deep groove N-/E+ $20 -- "Now! for the first time--RCA Victor's 'ACTION' series in brilliant monaural Hi-Fi" (or, as we like to say, "the sound your glass eye can follow"); reissued way back when in non-die-cut, seriously rare mono -- finally, you can go ahead and be a total weirdo: get it without the intense channel separation--see if the music holds up minus the gimmick!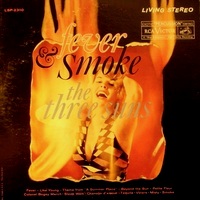 The Three Suns: Fever & Smoke; RCA Victor LSP-2310; 1961; deep groove E/E S $20 -- "Exotic 'Percussion' Swing"; one of their Big Three LPs (the other two are A Ding Dong Dandy Xmas & Movin' & Groovin'); essential at least for the famously nutty, gong-break-in version of "Tequila," which is comparable to their version of "Caravan" on Movin' & Groovin' and makes this LP totally necessary--this means you!; Fever, Like Young, Theme from A Summer Place, Tequila, Beyond the Sun, Petite Fleur, Colonel Bogey March, Sleep Walk, Chanson d'mour, Volare, Misty, Smoke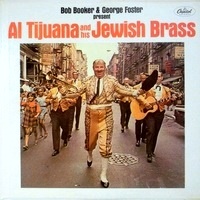 [Bob Booker and George Foster Present] Al Tijuana & his Jewish Brass; Capitol ST-2596; 1966; E+/E+ S $20 (or cutout E+/E S $15, specify) (or mono T-2596; N-/E+ $15, specify) -- Mexicali brass/novelty/Jewish/comedy; thanks to top music and production values it's one of the best, most lovable spoofs of Herb Alpert (if not also Fiddler on the Roof and Zorba the Greek); stars Lou Jacobi (whose brief spoken introductions to some of the tunes are wonderful); music by Artie Butler; last but not least, a very memorable jacket!; Downtown, Strangers in the Night, What Now My Love, Malaguena, Peter Gunn, Tsena Tsena, The Yellow Rose of Texas, A Taste of Honey, It's Not Unusual, Never On Sunday, People, Chicken Fat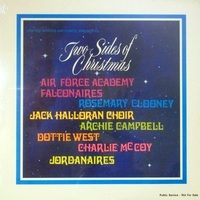 The United States Air Force Presents Two Sides of Christmas; USAF sealed S $15 -- military/Xmas/pop/country; "It's Christmas" side: USAF Academy Falconaires, Rosemary Clooney, Jack Halloran Choir; "Christmas at Opryland" side: Archie Campbell, Dottie West, Charlie McCoy, Jordnaires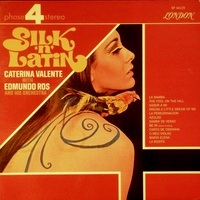 Caterina Valente w/Edmundo Ros: Silk 'n' Latin; London Phase 4 SP-44125; gatefold N-/E- S $15 -- famous for their version of Be In (Hare Krishna)--also done by Ros solo on "Hair Goes Latin"--, it's also their second of two very well-liked collaborations (Fire & Frenzy being the first); groovy mod jacket and good tunes make it work; La Bamba, Azulao, The Fool on the Hill, La Peregrinacion, Sabor a Mi, Dream a Little Dream of Me, Be In (Hare Krishna), Samba de Verao (Summer Samba), O Meu Violao, Maria Elena, La Rosita, Canto de Ossanha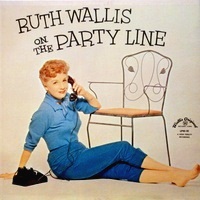 Ruth Wallis: Wallis on the Party Line; Wallis Original LPW-10; deep groove N-/N $30 -- vocal/torch/risque; A Man a Mink & a Million, Pink & Purple Pills, Letter from Bermuda, Vulture for Culture, The American Plan, Red Lights & Bells..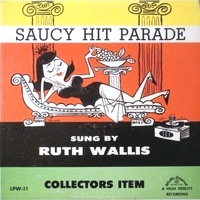 Ruth Wallis: Saucy Hit Parade; Wallis Original WLP-11; deep groove E-/E- $20 -- vocal/torch/risque; Men in My Life, The Dinghy Song, Senorita What's Her Name, Down in the Indies (an early calypso), Pull Down the Shade Marie, It's a Scream how Leveene Does the Rhumba, Life of Reilly, Oilman from Texas, Johnny Had a Yo Yo..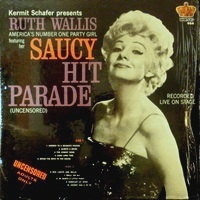 Ruth Wallis: Saucy Hit Parade (Live & Kickin'); King 904; N/E+ shrink $35 -- vocal/torch/risque; recorded live on stage in Australia!; unlike her other King LPs, which make a mess of reissuing her Wallis Original material, this one's a complete, unique LP basically unaltered from its rare WO version (except the jacket); 10 classic Wallis hits all given a lift thanks to a lively audience; one of the rarest & most exciting/unusual Wallis LPs, all the more so in such top shape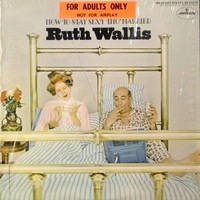 Ruth Wallis: How to Stay Sexy Tho' Married; Mercury SR-61210; 1st/only? cutout N/E- shrink S $25 -- vocal/torch/risque; scarce final LP, the only one for the label, & the only way to get such classics as "You've Got to Have Boobs," "The Sexiest Girl in Town," "Marriage Jewish Style," & "It's Great to Be a Broad"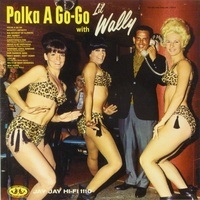 Li'l Wally: Polka A Go-Go; Jay Jay HI-FI-1110; N/N shrink $100 (or E/V+ $50, specify) -- polka/cheesecake/television/celebrity; "Be Happy & Gay with JAY JAY...featuring 'Mr. HAPPY MUSIC'"; rare!; hall-of-fame cheesecake jacket features spectacular, tassled, leopard-bikini go-go talent including...ready for this?...young Barbara Feldon (dancer at left), known to most as Agent 99 of the "Get Smart" TV show, and whom one can see yukking it up and even drumming with The Electric Prunes on an eleven-minute segment of the Mike Douglas Show on YouTube!!! (so posing for a polka album wasn't her least-likely or grooviest moment after all); what an age, when you can enjoy both this record and see Mike Douglas take Barbara's prune!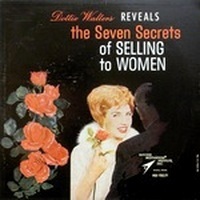 Dottie Walters Reveals the Seven Secrets of SELLING to WOMEN; Success Motivation Institute SMI-1345; E-/E- $25 -- spoken/sales/psychology; "80% of the Nation's Buying Power is Controlled by Women"; yes, now you too can learn (finally!) the seven secrets to duping (er, persuading) the female into buying all the junk she surely doesn't need--YOURS!!!; fans of this series (from wacky Waco, no less) will welcome the gender diversity, scarcity, and novelty of this one, not to mention the goofy jacket art, which emphasizes "SELLING...WOMEN"--hmm; plus it's full of juicy, sampleable quotes for the vinyl word-hound (that's why we bother, folks); and, last but not least: Ladies, have we mentioned how quickly and easily this wonderful new appliance will transform your life, enhance your already magnificent charms, and help you bring all salesmen under your power? Your eyes are getting heavy...so very very heavy...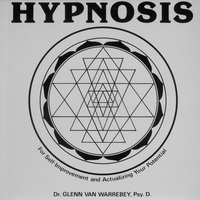 Dr. Glenn Van Warrebey: Hypnosis--For Self-Improvement & Actualizing Your Potential; [custom/private] LP-3079; 1977; N/E S $30 (or generic jacket E/V+ S $15, specify) -- occult/Moog/instruction; weird record fans take note! this is one to have; the voice and the hip Moog sounds are great; side-long titles: The Beginning Induction--An Oceanic Experience/The Deepening Induction--Hypnopsychic Transmutation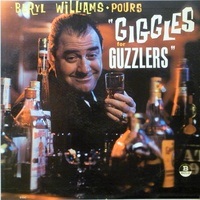 Beryl Williams Pours Giggles for Guzzlers; Bolo B-103-N; smiling-drunk-Beryl-w/bottles jacket E/E- $20 -- adult comedy; rare; one of Philly's own and quite funny, at least by the repressed-yet-decadent, politically incorrect standards of the time; also we love how the disc label reads "Lobo" instead of "Bolo"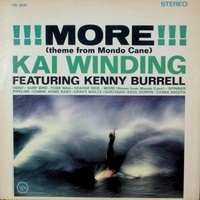 Kai Winding w/Kenny Burrell: Mondo Cane; Verve V6-8551; E+/E- S $15 -- mod/ondioline; sensational surf-themed classic by Claus Ogerman/Creed Taylor; awesome instrumentals --very hip-- about which the only complaint might be brevity, but that just leaves you hungry for "more" (sorry) which conveniently you can get with the sequel; but only this record has Kenny Burrell leading the pack, and its sound is different; Pipeline, Sukiyaki, Soul Surfin', Comin' Home Baby, Surf Bird, More, Hero, China Nights, Spinner, Hearse Ride..; looks perfectly clean but we heard a few clicks in one track, so it's a steal at the price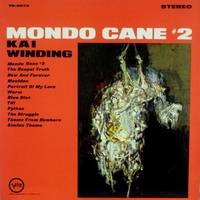 Kai Winding: Mondo Cane #2; Verve V6-8573; N-/N S $20 -- mod/ondioline; rarer than but at least as vital as the 1st "Mondo Cane" (aka "Soul Surfin'") LP (each an essential classic of both mod & the Moog-like electronic instrument, the ondioline); prod. by Claus Ogerman/Creed Taylor, so it's really of a piece with the great four LPs Ogerman did for RCA at the time (early-mid-'60s); Simian Theme (FANTASTIC!), Python, Theme from Nowhere, Blue Star/Medic Theme, Warm..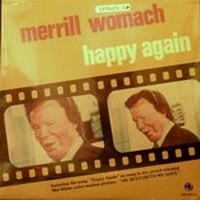 Merrill Womach: Happy Again; New Life NL-74-1-10; gatefold sealed S $20 -- religion/vocal/jacket; famous for "incredibly strange" film-still photos of his burned face before and after reconstructive surgery (a movie was made!), but also has some fervent music that in places is funky rock (waka guitar!); the singing and narrative also is pretty out there, somewhat like Heino on an upbeat religious kick; not rare but you won't find it unopened like this!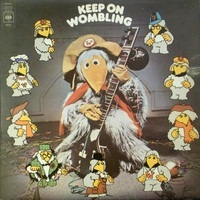 The Wombles: Keep on Wombling; CBS 80526; 1974; UK import E/N S $45 -- pop/television; rarer of at least 2 LPs by obscure, unimpressive Saturday-morning tv group (like HR Puffenstuff) starring fur-suited, rodent-like "Wombles"; Orinoco's Dream, Womble of the Universe, The Orinoco Kid, The Jungle is Jumping, Underground Overture, Hall of the Mountain Womble, Look Out for the Giant, The Wombling Twist, Tobermory's Music Machine, Wipe Those Womble Tears from Your Eyes, Invitation to the Ping-Pong Ball, Wombling Merry Christmas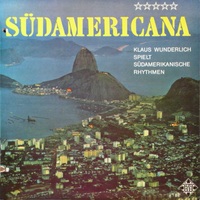 Klaus Wunderlich: Südamericana/South Americana--Klaus Wunderlich Plays South American Rhythms; Telefunken 6.21027 (licensed in Australia as Carinia SLE-14.415)cutout N-/E- S $30 -- organ/Latin/Brasil; look high and low, you won't find this easily in the US, at least (we've only ever seen this Australian pressing); 16 tracks of what you want most from KW in his pre-Moog period: mostly organ sambas and a few Latin organ hits (mainly as made famous by Perez Prado); good Klaus always gets us very excited, and this is one we've been dying to find again and make available; see Moog page for his later LPs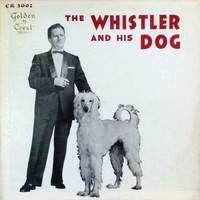 Jack Zimmermann: The Whistler and his Dog; Golden Crest CR-3002; 1956; 1st/gold label E-/E- $30 -- whistling; while it's hard to say that any real whistling LP isn't rare, one can easily spend years searching high and low for this one; it's not the very first or very best (Fred Lowery beat him to it on both counts), but it may be the first to lean heavily on multi-track recording (Zimmermann wanting by himself to creat "duets" and larger whistling ensembles that way), and for the collector of whistling records, it's a given, manna; The Whistler and his Dog, Sweet Leilani, Pick Yourself Up, Silver Moon, By the Waters of the Minnetonka, Mighty Lak(sic) a Rose, Solfeggio (aka Song of the Nairobi Trio --the Ernie Kovacs them-- by Robert Maxwell, w/Zimmermann's voice), Rio Rita, By Heck, Tumbling Tumbleweed, Blue Moon (four part harmony whistling), Clarinet Polka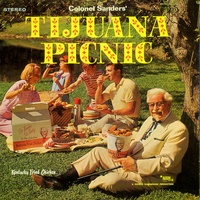 Uncredited: Col. Sanders' Tijuana Picnic; Mark 56 543; N-/V+ S $25 -- Mexicali/commerce; hall-of-fame concept/"incredibly strange" jacket (classic photo of Col. Sanders under a tree w/hokey "perfect" family enjoying a picnic just behind him); on back each tune is introduced with a priceless anecdote (some "memory" of the Colonel) relating the instrumental music (faithful Herb Alpert covers) to some item sold by KFC!; A Taste of Honey, Lonely Bull, Chili Verde, Spanish Flea, Our Day Will Come, Tijuana Taxi, Green Peppers, El Garbanzo, El Toro, Third Man Theme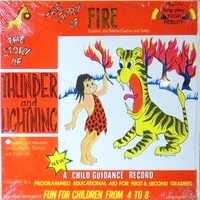 Uncredited: The Story of Fire/The Story of Thunder & Lightning; Famous Child Guidance Records CG-1001; 1967; sealed $20 -- kids; rare!; "Fun for Children from 4 to 8"; "Fascinating Gift for Nieces, Nephews, Grandchildren--Nationally Recommended by Parents and Educators"; part of a series of five (all pictured and described on the jacket back) produced in Philadelphia, highly unlikely to turn up [sealed] anywhere else; "Explains and Teaches Caution and Safety...Explains and Alleviates Child's Fear of Thunder and Lightning" (making it truly the album you've been looking for all your life)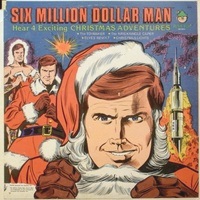 Uncredited: The Six Million Dollar Man [Hear 4 Exciting Christmas Adventures]; Peter Pan 8208; 1978; cutout E/N- $25 -- Christmas/spoken/kids/TV/sci-fi; how cool is this?; we just discovered it recently (scarce title) & were thrilled; totally over-the-top, hyper-dramatic, incredible stories--ideal for sampling or straight enjoyment; better still, it's in top shape (other than a little press bump); make your next Christmas bionic!; The Toymaker, The Kris Kringle Caper, Elves' Revolt, Christmas Lights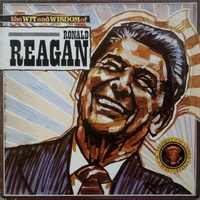 Uncredited: The Wit & Wisdom of Ronald Reagan; Magic Abra 1 (UK); E/moot $30 -- novelty; there's also one for Thatcher but this is the classic; the disc is present and clean, but "there's no there, there" as Reagan himself said (it's blank, which goes just one step farther than the famous, mostly silent Marcel Marceau mime LP); display it behind your vintage pet rock and other tributes to mindless commerce and mindless dead presidents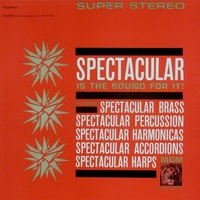 Various: Spectacular is the Sound for It; deep groove N-/N S $25 -- wow!; thick-vinyl, first (probably only) press, rarer (and probably better, given the disc in clean stereo) than the great records it comps, and truly comprehensive one-stop shop with all the essential, most happening, reason-to-love-it tracks from this series (instrumentals in a stereo showcase similar to RCA's Stereo Action or Command/Time): South of the Border, Small World, I Got Rhythm, The Bells of St. Mary's (Roger King Mozian), Caravan, Hong Kong Holiday (Robert Maxwell--FANTASTIC multidubbing), Jungle Fantasy, The Hot Canary (Charles Camilleri--unique accordion exotica), Skipping Along, Sabre Dance (harmonica)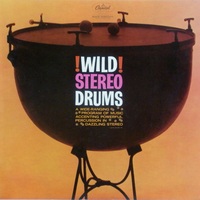 Various: Wild Stereo Drums; Capitol ST-1553; N-/N- S $25 -- bongo/drums/Latin/percussion; wow! what a fantastic record, taken for granted by most but once you know why it's important, you'll be glad you nabbed it; except two throwaway cuts from square records, it's drawn from three great collectors items, which are the best percussion LPs on the label!: (1) the super bongo/bongobop of Pepe Dominguin from the LP Rolley Polley: Mad Drums; (2) Les Baxter's Teen Drums; and (3) Dick Harrell's Drums & More Drums; get hip with this inexpensive gem while drooling perhaps forever in anticipation of the individual LPs, which are RARE; Tri-Fi Drums, Bangkok Beat, Blue Rhumba, Drummer Boys, Ting Ting Ting, Uncle Tom Tom, Rocket Racket, Bongo Bash, Drivin' Around the Block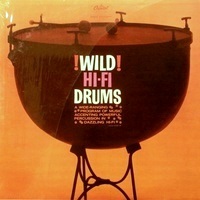 Various: Wild Hi-Fi Drums; Capitol T-1553; N/E- shrink $15 -- bongo/drums/Latin/percussion; wow! what a fantastic record, taken for granted by most but once you know why it's important, you'll be glad you nabbed it; except two throwaway cuts from square records, it's drawn from three great collectors items, which are the best percussion LPs on the label!: (1) the super bongo/bongobop of Pepe Dominguin from the LP Rolley Polley: Mad Drums; (2) Les Baxter's Teen Drums; and (3) Dick Harrell's Drums & More Drums; get hip with this inexpensive gem while drooling perhaps forever in anticipation of the individual LPs, which are RARE; Tri-Fi Drums, Bangkok Beat, Blue Rhumba, Drummer Boys, Ting Ting Ting, Uncle Tom Tom, Rocket Racket, Bongo Bash, Drivin' Around the Block

Odd Pop 45s (and EPs) .... pop 45s
Wanted LPs:

Aki Aleong & the Nobles: Shambalor (surf)

Jack Burger: Progressive Bongo Instruction; Phonic JB-1001

John Buzon Trio: Nowsville

John Buzon Trio: Times Three Knock

The Coasters: On Broadway; King LP 1146; 1972 (or UK or Japan equivalents)

Esquivel (certain Mexican LPs, inquire)

Woody Leafer (any)

Kay Martin at the Lorelei & others (inquire; any rec. in Hawaii)

Libby Morgan: Ad-Libby

Ukulele Ike (Cliff Edwards): I'm a Bear in a Lady's Boudoir; Yazoo L-1047
© Hip Wax