On his first Capitol LP, Cleveland-born Mickey Katz is called a "world-famed dialect comedian who leaves audiences reeling in the aisles with his hilarious parodies and impish gestures." A veteran of the Spike Jones outfit -- as top dialectician, Katz is a master of parodies in song:


Revues such as "Borschtcapades" and "Farfel Follies" established him permanently on the Borscht Belt, or "Jewish Alps" (New York's Catskill Mountains), a famous resort area where most of the top entertainers of the day performed.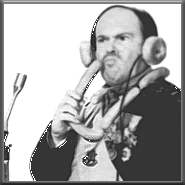 As with every Spike Jones veteran, behind all the yuks and grins is great music. The Katz orchestra included such luminaries as Mannie Klein, Nat Farber, Si Zentner, and Jack Costanzo. Ironically, the non-parody instrumental record, Katz Plays Music for Weddings, Bar Mitzvahs, and Brisses, is one of his best. (Less certain are the two comedy records, Borscht Jester and At the U.N., and Sing-Along with Mickele.) For help with the "not-very-Grimm" musical parodies of fairy tales on Katz Pajamas, credit is given to Katz' sister, Jean Schneider, a writer and amateur scholar in the language and literature of Yiddish. Mickey's son Joel Grey sang, danced, acted, and recorded the Capitol LP Songs My Father Taught Me.
If you like humor and great music together, and who shouldn't, Mickey Katz is King of the Katzkills, the Katz Pajamas, and the Most Mishige.