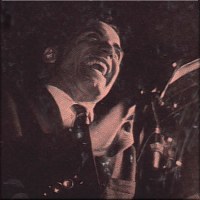 Jack Costanzo played bongos and other Latin percussion on hundreds of jazz, big band, and Latin recordings. At first, like the world's most famous Latin percussionist, Costanzo was a dancer. He and his wife Marda Saxon were an accomplished team, and the bongos helped them develop routines. Later, Marda and vocalist Kaskara (Manuel Ochoa) sang on some of Costanzo's albums. Costanzo also investigated the Caribbean origins of his instrument and learned about cult music firsthand.
First coming to recognition with the Stan Kenton Orchestra, he went on to make a number of solo records on Liberty and various small labels. He turns up as sideman on any number of "bongo bop" and pop albums recorded in California. He worked with such top names as Xavier Cugat, Frances Faye, Yma Sumac, Billy May, Dean Martin, Bing Crosby, and Peggy Lee. Also he worked with extensively with the Hollywood film industry, even teaching percussion to actors and musicians (Marlon Brando, Gary Cooper, Carolyn Jones, Hugh O'Brian, June Allyson, Ricardo Montalban, Harry James, etc.). His career is marked by great stylistic variety (flexibility), an always-evident sense of humor, and enough talent both to play with the best and to make a cheeky bongo-instruction record.
Buying: A reliable asset on any LP, Mr. Bongo's own LPs mainly are singular. Viva Tirado, his second with former "Playboy" Playmate Gerrie Woo, is his fantastic, funky, "rare-groove" holy grail. The Googie Rene and Tubby Hayes jazz LPs rate even higher.