Latin 3 (of 3)
Latin & Cuban LPs 45s 78s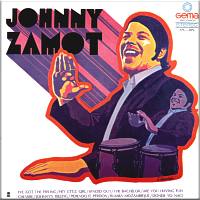 The Word: See the top of the Latin 1 page for an introduction.
3 pages of Latin LPs, listed by artist:
Latin LP A-K

Latin LP L-R
Links: are to artists bio/discog pages in the Hyp Records guide:

Images: accurately represent items but are not always the exact copy listed/purchased
Discount: ALWAYS try to buy more than one item at a time
---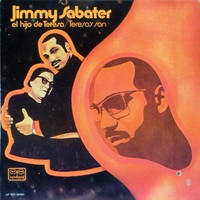 Jimmy Sabater: El Hijo de Teresa/Teresa's Son; Tico SLP-1211; cutout (hole) N-/N $100 -- Latin soul/Latin/breaks; it's the second solo album by the great voice of the Joe Cuba group, and as on so many great Latin-soul LPs, the ever-funky Marty Sheller and the great Louie Ramirez take the arranging credit; this is one of those Tico LPs that rarely turns up, and when it does it's never even close to this fine, but here you go!; the big payoff for funky Latin-soul breakbeat hunters is "Kool It" (Right On!) which is awesome, and there's a lot more for everyone here (Sabater never lets you down); La Flauta, Now That You've Gone, Por Primera Vez, Kool It, La Peleona, Dona Teresa, Vida, Wichita Lineman, Yroco, El Albanil, Sufre Como Yo Sufri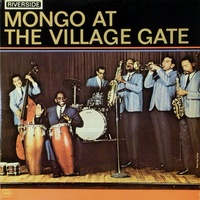 Mongo Santamaria & his Band: Mongo at the Village Gate; Fantasy/Riverside RM-3529; 1963; E+/E+ $25 -- Latin jazz; live, perhaps his best LP; w/Frank Hernandez (the fantastic El Pavo!), Pat Patrick, Bobby Capers, Marty Sheller, Rodgers Grant, Victor Venegas, Chihuahua Martinez, Julian Cabrera; El Toro, Fatback, Mongo's Groove, Creole, The Jungle Bit, My Sound (conga solo), The Morning After, Nothing for Nothing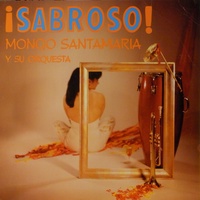 Mongo Santamaria: Sabroso!; Fantasy F-8058 (1987 OJC-281 REISSUE) N-/N S $15 -- when it comes to early Fantasy LPs, it always pays to get the reissue (early Fantasy originals are never noise-free); nice jacket!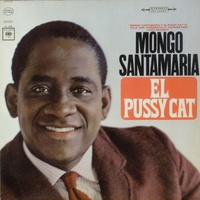 Mongo Santamaria: El Pussy Cat; Columbia CS-9098; N/N S $25 -- Latin soul/Latin jazz; a smokin' classic!!!; 2nd jacket (Mongo rather than dancer) but purrfect!; El Pussy Cat, Afro Lypso, Ah Ha, Together, Ritmo Negro, La Gitana, Cuidado, Sarai, Hammer Head, Black-Eyed Peas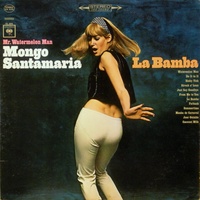 Mongo Santamaria: La Bamba; Columbia CS-9175; N-/E S $20 -- Latin soul/Latin jazz; of the earlier Columbia LPs, this is the smoker; Do It To It is an obscure killer; several others great too: Watermelon Man, Streak O'Lean, Ricky Tick, Coconut Milk, Fatback, Summertime..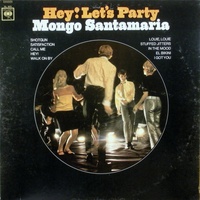 Mongo Santamaria: Hey! Let's Party; Columbia CL-2473; 1st/deep groove E+/N- $30 -- Latin soul/Latin jazz/Latin; all-star players, classic record, scarce mono 1st press!; Walk On By, I Got You (I Feel Good), In the Mood, Baila Dance, Louie Louie, Satisfaction, Hey!, Call Me, El Bikini, Shotgun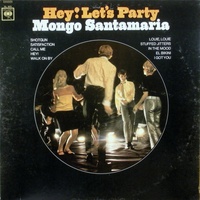 Mongo Santamaria: Hey! Let's Party; Columbia CS-9273; E/E S $15 -- Latin soul/Latin jazz/Latin; all-star players; Walk On By, I Got You (I Feel Good), In the Mood, Baila Dance, Louie Louie, Satisfaction, Hey!, Call Me, El Bikini, Shotgun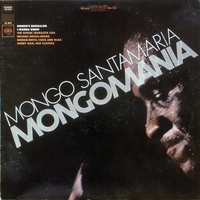 Mongo Santamaria: Mongomania; Columbia CS-9412; first press N-/N- S $20 -- Latin soul/Latin jazz; the killing all-star Mongo band (Marty Sheller, Rodgers Grant, Victor Venegas, Bobby Capers, Carmelo Garcia, Ray Maldonado, Wayne Henderson, Sandra Crouch, Fred Hill, Cuco Martinez) in top form, doing funky, jazzy Marty Sheller material, all making it one of his very best!; I Wanna Know, Mongo-Nova, Old Clothes, The Goose, Mamacita Lisa, Mongo's Boogaloo, Bossa-Negra, Funny Man, Melons, Cuca and Olga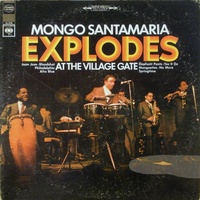 Mongo Santamaria Explodes at the Village Gate; Columbia CS-9570; V+/E+ S $15 -- Latin jazz/Latin soul; terrific, classic, essential live set featuring Hubert Laws, Rodgers Grant, Ray Maldonaldo all cooking & getting far away from standard pop covers; dynamite 10-minute "Afro Blue" (up there with Wali & the Afro Caravan & Dee Dee Bridgewater's versions) & super African fantasy "Elephant Pants"; further great stuff: Philadelphia, Juan Jose, Bloodshot, Yes it Do, Mongoettes, Springtime, No More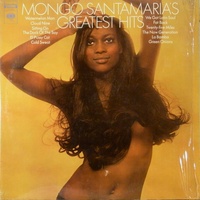 Mongo Santamaria's Greatest Hits; Columbia CS-1060; N/N shrink S $20 -- Latin soul/Latin jazz; hot, hot, essential compilation of the highpoints of his Columbia years (the best for DJs besides Explodes & Mongomania); girlie jacket but the music's the thing: We Got Latin Soul (stone-funky Latin-soul update of Dyke & the Blazers's gutbucket classic "We Got More Soul"--GREAT!!!), Fat Back, Watermelon Man, Cold Sweat, Green Onions, El Pussy Cat, La Bamba, The Now Generation, 25 Miles, Cloud Nine, Dock of the Bay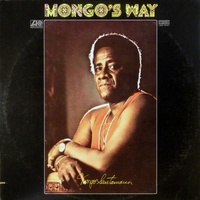 Mongo Santamaria: Mongo's Way; Atlantic SD-1581; 1971; cutout N/N S $30 -- Latin soul/soul jazz/funk; his last for the label is terrific! (ideal for DJs); Afro Walk, Congo Blue, Listen Here, Tell It, The Letter, Geechee Girl, Sometimes Bread, Saoco, Feathered Lane, Hippo Walk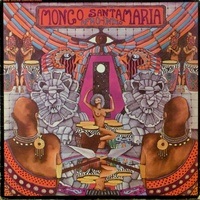 Mongo Santamaria: Afro-Indio; Vaya XVS-38; 1975; N-/E+ S $25 -- Latin funk/Latin disco; gorgeous jacket & hip!; his last great/essential LP & one of the nicest things on Vaya; Lady Marmalade(!), Funk Down, Creepin', Funk Up, Mambomongo, Los Indios..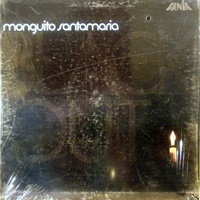 Monguito Santamaria: Blackout; Fania LP-382; N/E shrink $400 -- Latin soul/Latin jazz/Latin; perfect, uncut jacket still in the shrink (disc is nothing to sneeze at, either!); one of the absolute rarest of the very heavy Fania LPs; while it's always possible that the most lucky and aggressive of serious collectors will get another shot at it in his lifetime, we say: good luck beating this one!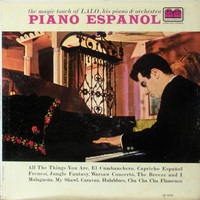 Lalo Schifrin: Piano Espanol--The Magic Touch of Lalo, his Piano, & Orchestra; Roulette/Tico LP-1070; 1959; black deep groove E/E+ $50 -- Lalo's historic first LP is rare and incredible!; tremendous Latin with all the touches of jazz & exotica you find in his best later work (though obviously unlike his funky STs of the following decades)--our favorite Latin piano LP; far better than the equally scarce Roulette LP "Lalole" too!; Frenesi, The Breeze & I, Capricho Espanol, My Shawl, Caravan, Malaguena, Cha Cha Cha Flamenco, Warsaw Concerto, Hulablues, Jungle Fantasy, All the Things You Are, El Cumbanchero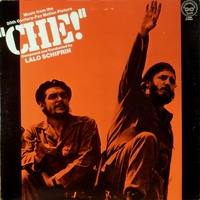 Lalo Schifrin: Che! ST; Tetragrammaton T-5006; E/N- S $25 -- Latin; terrific original music combines Cuban (tres & percussion) w/Bolivian sounds (in tribute to iconic revolutionary hero Che Guevara's last two campaigns); just check out the partial list of superstars: Francisco Aguabella, Mongo Santamaria, Chino Valdez, Armando Peraza, Jose Mangual, Bill Plummer, Kaskara, Bud Shank, Julio Collazo..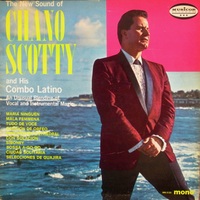 Chano Scotty & his Combo Latino: The New Sound of Chano Scotty & his Combo Latino; Musicor MM2120; 1967; N-/N $100 -- mod bossa organ/mod Latin/funky drums/breakbeats; "An Unusual Blending of Vocal and Instrumental Magic"; among the handful of fantastic Latin-soul LPs that Tito Rodriguez produced for the label, the pair by Chano Scotty are total delights; at the time of this first LP (hot swinging bossa rather than boogaloo), the Argentine percussionist Scotty had led his group for five years following work and travel with heavy names (Julio Gutierrez, Perez Prado, Cugat, Lecuona Cuban Boys, Josephine Baker..); here you have some awesome organ bossa by arranger Ruben Stefano including a killer Shorty Rogers track that makes this rare-groove LP a major find (and some of the other tracks are like pre-USA early Wanderley or the awesome Venezuelan bossa of Al Romero's Onda Nueva), plus some pretty funky kit drumming by Scotty (advanced for 1967!); Maria Ninguen, Mala Femmena, Tudo de Voce, Cancion de Orfeo, Winchester Cathedral, Consolacion, Siboney, Bossa A-Go-Go (belongs in the big leagues for swinging sixties rare grooves), Ciudad Solitaria, Selecciones de Guajira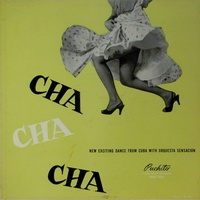 Orquesta Sensacion: Cha Cha Cha; Montilla/Puchito MLP-504; blue label, deep groove E-/V+ $20 -- Cuban; great group, great album; the real deal from Cuba!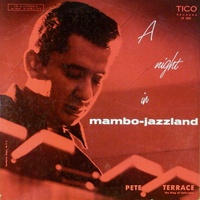 Pete Terrace: A Night in Mambo-Jazzland; Tico LP-1023; 1956; black/deep groove E/V+ $25 (or orange E/V+ $25, specify) -- Latin jazz/vibes; 1 side arranged with Charlie Palmieri; classic, beautiful record and wrapper (worth it just for the jacket, which in this case is the preferable second version--with liner notes and photos (including one of George Goldner--Cotique producer and original Tico owner); mild wear and plays with noise but priced accordingly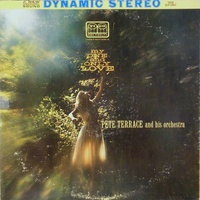 Pete Terrace: My One & Only Love; Roulette/Tico SLP-1057; 1959; black deep groove V+/E+ S $25 -- Latin jazz/vibes; terrific set that looks like it would be all romantic sleepers, but no, it has uptempo smokers too!; all his early stuff on Tico is wonderful, always some hot mambo-jazz; Chanchullo, Muchacha, Guaguanco in New York, Domitila..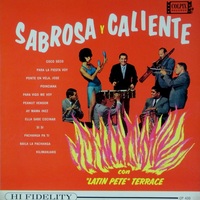 Pete Terrace: Sabrosa y Caliente (Hot & Spicy); Colpix CP-430; 1962; deep groove E+/E+ $50 -- rare first of a pair for the label (most Colpix is hard to find); Ella Sabe Cocinar, Ay Mama Inez, Para La Fiesta Voy, Coco Seco, Kilimanjaro, Si Si, Ponte en Vela Jose, Poinciana, Baila La Pachanga, Para Vigo Me Voy, Peanut Vendor, Pachanga Pa Ti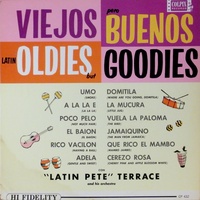 Pete Terrace: Viejos pero Buenos (Oldies but Goodies); Colpix CP-432; 1963; 1st press N-/N- $50 -- rare second of a pair for the label; mainly standards (big hits by Perez Prado, artists on Mardi Gras, etc.) but with some exciting cuts ("Umo/Smoke" and "A La La E)" that are more typical of both his best mambo jazz for Tico and some of the best hits by others on the smaller Fiesta label; La Mucura (Little Jug), Adela (Sweet & Gentle), Umo (Smoke), El Jamaiquino (The Man from Jamaica), Que Rico el Mambo (Mambo Jambo), Peco Pelo (Not Much Hair), Rico Vacilon, La Paloma (The Dove), El Baion, Domitila, Cerezo Rosa (Cherry Pink & Apple Blossom White), A La La e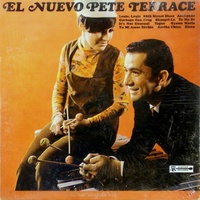 Pete Terrace: El Nuevo; Scepter S-539; 1965; N/N- shrink $150 -- Latin soul/Latin/vibes; rare/top shape/mono (there is no true stereo)!; his first boogaloo LP, from before Latin soul really took off; Louie Louie, It's Not Unusual, 88th St. Blues, Acabando, Garbage Can Frug, Shangri-La, Yo No Se, Yague, Oyeme Maria, Arriba Chico..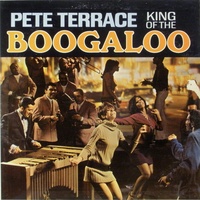 Pete Terrace: King of the Boogaloo; Alshire/Somerset SF-31400; 1967; N-/E+ S $75 (or E/E S $50, specify) -- Latin soul/Latin boogaloo/breakbeats; very exciting, live (and how!) boogaloo set and a major party album; also loved for the mod, discotheque jacket scene!; except as noted, tunes are originals by the surefire combination of Pete Terrace-Marty Sheller-Marty Wilson; El Pito (Joe Cuba-Sabater), Bang Bang (Joe Cuba), You're Looking Good, Boogaloo Lou, Oh Yeah (Sabater), Do the Boogaloo, No! No! No!, At the Party (Hector Rivera!), It's Boogaloo Time, D.M. Boogaloo, I'm Gonna Make It, Here Comes Pete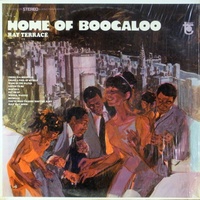 Ray Terrace: Home of Boogaloo; Tower ST-5105; cutout (staple holes/small hole) N/N shrink S $150 -- Latin soul/funk; Pete's percussionist brother Ray scores big on his 3rd of 3 scarce & wonderful Latin-soul LPs; Willie Torres sings, Marty Sheller arranged, & it's a MAJOR rare-groove legend; "Get On Up" is the classic pick among several for savvy DJs, but the rest is great too--this one REALLY SWINGS; Manteca (honking sax duel--in each channel!), Michelle, Listen to Me, Wiggle Waggle, Wade in the Water, You've Been Talking 'Bout Me Baby, Half Way Down..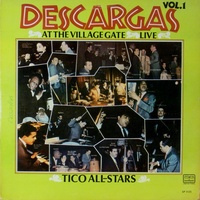 Tico All-Stars: Descargas at the Village Gate Vol. 1: Tico LP-1135; orange E/E $25 -- famous, terrific, lively live set w/Chocolate Armenteros, Ray Barretto, Cachao, Candido, Joe Cuba, Johnny Pacheco, Charlie Palmieri, Eddie Palmieri, Victor Paz, Chino Pozo, Tito Puente, Barry Rogers, Jimmy Sabater..; "Guajira Controversial" is a side-long boogaloo-descarga; Side 2: Cargasy y Descargas, Barguino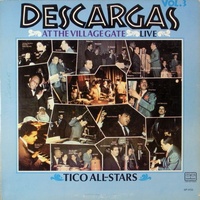 Tico All-Stars: Descargas at the Village Gate Vol. 3: Tico LP-1155; orange deep groove E/N- $30 -- Descarga de Contrabajos, Descarga Bugaloo, Descarga Pompo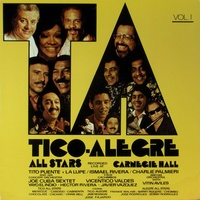 Tico All-Stars: Recorded Live at Carnegie Hall Vol. 1; Tico CLP-1325; 1974; gatefold w/inner-leaf poster N-/N S $30 -- live super set: Tito's Odyssey (Tito Puente cashing in on "2001: A Space Odyssey"), Sale El Sol--Dormi Contigo (Ismael Rivera), Son Tus Celos (Charlie Palmieri y Vitin Aviles), Boom Boom Lucumi (Joe Cuba), Chango (La Lupe), Confusion (Vicentico Valdez), Si You Encontrara Un Amor (Yayo el Indio), La Cosa--Alegre! (Alegre All Stars)--highlight of the LP

Cal Tjader (all: Latin jazz and jazz/soul-jazz vibes) .... jazz (search "tjader")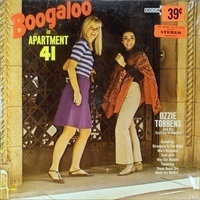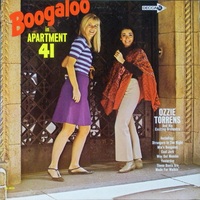 Ozzie Torrens & his Exciting Orchestra: Boogaloo in Apartment 41; Decca DL-4830 cutout N/N- shrink $150 (or uncut N/N- $150, specify) -- Latin soul; legendary groover supposedly directed by Symphony Sid's son but really it's an all-star set w/Manny Corchado, Louie Ramirez, Manny Duran, Charlie Palmieri, Richard Marin..; one of the most desired Latin-soul LPs/one of the biggies in the coveted Decca series; great treatments of popular hits plus very hip originals: These Boots are Made for Walkin', Cool Jerk, Day Tripper, Mia's Boogaloo, Way Out Mambo, Ozzaboo, Boogaloo in Apt. 41..
Joe Torres: Get Out of My Way (jacket: The Explosive New Band of Joe Torres: Latino Con Soul); Liberty/World Pacific WP-1857; E-/E+ $90 -- Latin soul/Latin jazz/mod; totally swinging, mostly instrumental rarity by West Coast timbalero Torres--one of the best things on World Pac!; those who've "heard it all" in NY Latin soul and Latin jazz should pounce on this relatively obscure, one-off California killer!; mostly originals with a great, loud, clear sound DJs will love, fully mod, hip, and swinging whether jazz or boogaloo; Get Out of My Way, Sunny, Devil Eyes, Oba!, Nightwalk, Eleanor Rigby, Soul Cha, Yo Sali, In a Greasy Bag, La Bruja Negra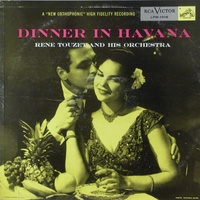 Rene Touzet & his Orchestra: Dinner in Havana; RCA Victor LPM-1016; 1954; deep groove E-/E $25 -- one of his earliest, distinguished for being on Victor and a top entry in the "Dinner" series; more unusual is the orchestra (strings, flute, even nice touches like whistling); very affecting and romantic; jacket even offers a recipe for Picadillo a la Criolla; tunes are mainly now-lesser-known classics plus evergreens Siboney & La Comparsa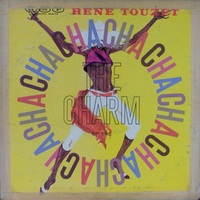 Rene Touzet, his Piano, Conjunto, & Orchestra; GNP-14; 1955; deep groove V/E $$25 -- fantastic, classic, early West Coast Latin presented by Gene Norman; with Jack Costanzo and other CA luminaries; the jacket titles it "The Charm of the Cha Cha Cha" but another version (probably earlier) has the jacket title "The Cha Cha & the Mambo" so go with the definitive disc label, please!; ten vital tracks in top sound, with both great originals (mambos attributed to Isabel Touzet) and exoticized/enhanced arrangements of standards, such as the exotica piece "Flamingo" (here given a chorus, not the case on most tracks); priced low for jacket wear and masking tape, making it a great bargain; Manengue, Love for Sale, Flamingo, Peanut Vendor, Mambo Crescendo, Laura, Mambo Guaguanco, Que Pasa con el Cha Cha Cha, Malaguena, Summertime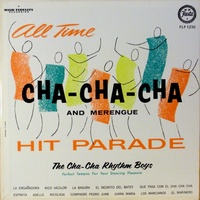 Rene Touzet & the Cha Cha Rhythm Boys: All Time Cha Cha Cha & Merengue Hit Parade; Fiesta FLP-1210; yellow deep groove N-/E- $25 -- rare (early one on very desirable 1950s NYC label); Los Marcianos, Compadre Pedro Juan, Nicolasa, Rico Vacilon, El Marinero, La Enganadora..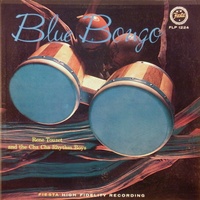 Rene Touzet & the Cha Cha Rhythm Boys w/the Malagon Sisters: Blue Bongo; Fiesta FLP-1224; yellow deep groove N-/E $30 -- GORGEOUS jacket (hall of fame), here original and in great shape tho someone has neatly clear-taped the top seam and spine; classic NY Latin LP; Lessons in Cha Cha Cha, Love for Sale, Mambo Negro, Serafin, Night and Day, a few Cole Porter tunes..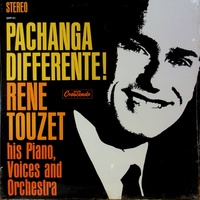 Rene Touzet, his Piano, Voices, & Orchestra: Pachanga Differente!; GNP/Crescendo GNP-61 (should be GNPS); orange N/N shrink S $45 (or silver V+/V+ S $30, specify) -- Latin; rare in stereo and one of his best!; both "Pachanga" volumes are great and fully consistent with his other LPs rather than the charanga-pachanga you don't want to hear!; not all pachanga (2 great son montunos, more) and even the pachanga is only in tempo; features Hector Rivera, Aguabella, Chino Pozo, Olguita, Johnny Rodriguez..; Pachanga Differente, Nadie Baila Como Yo, Pomona Cha Cha, Misty, Pachanga Pa'ti y Pa'mi, Buscando Chamba (Pachanga), Por todas mis Locuras, Mambo Guajiro, Tanga la Pachanga, Delirio, Pachanga Maracaibo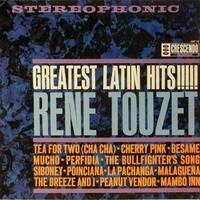 Rene Touzet: Greatest Latin Hits; GNP/Crescendo GNPS-74; E/N- S $25 -- compilation; welcome retrospective providing rare, clean stereo versions at a low price--woo hoo!!!; Tea for Two, Cherry Pink, Poinciana, Siboney, La Pachanga, Mambo Inn, Besame Mucho, The Breeze & I, Perfidia, Malaguena, Peanut Vendor, Virgen de la Macarena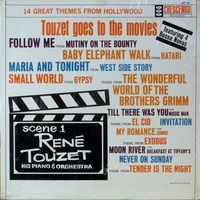 Rene Touzet, his Piano, & Orchestra: Touzet Goes to the Movies; GNP/Crescendo GNP-81; dark-red label deep groove N/N- shrink $35 -- a great later one celebrating Hollywood with fourteen tracks; "featuring 4 bossa novas"; Brothers Grimm, Tender is the Night, Small World, Maria, Baby Elephant Walk, Moon River, Follow Me (Mutiny on the Bounty), El Cid, My Romance, Never on Sunday, Til There Was You, Tonight, Invitation, Exodus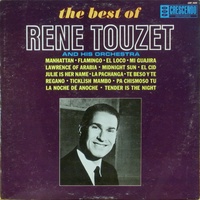 Rene Touzet: The Best of; GNP/Crescendo GNP-2000; white-label promo E/N $40 -- 14 classic cuts that really are much of his best and include all or nearly all of the most significant cuts, from "Julie is Her Name" to the first inklings of what would become known as Latin soul to the exotic standards of Hollywood and Latin: Manhattan, Te Beso y te Regano, Lawrence of Arabia (exotic!), La Pachanga, Julie is Her Name, El Loco Cha Cha (proto-boogaloo), Mi Guajira (proto-boogaloo from 1961 or so!), Pa' Chimoso Tu, Tender is the Night, Flamingo (exotic, vocal!), La Noche de Anoche, Ticklish Mambo, Midnight Sun, El Cid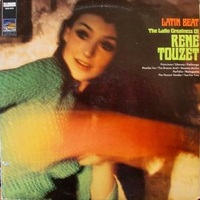 Rene Touzet: [Latin Beat] The Latin Greatness of Rene Touzet; Liberty/Sunset SUS-5213; E-/E- S $20 -- Latin; compilation; among the good things you're getting with this record is rarity (more so than the GNP originals), stereo (just try finding "La Pachanga" in stereo on GNP), and the different production values of Sunset; what's missing is the generous number of tracks on some of the GNP albums, but at least it's a solid purchase at a low price; Poinciana, Siboney, La Pachanga, Mambo Inn, The Breeze & I, Besame Mucho, Perfidia, Malagueña, The Peanut Vendor (El Manisero), Tea for Two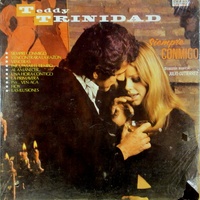 Teddy Trinidad w/Julio Gutierrez: Siempre Conmigo/Always Together; Teca LIS-715; sealed deep-groove cutout S $90 (or deep-groove cutout E+/N- S $60, specify) -- top artist backed by Julio Gutierrez!; we love this rare LP/label (he also had a couple on Fania International but this is the great one) with gorgeous color Teca inner sleeve showing thumbnails of other Teca LPs, such as Cachao's; vital for four uptempo, swinging, mod groovers (rare grooves!) and there are six ballads for those seeking his usual crooning; "La Primavera" even features a Chipmunks-esque break, a la Renato Carosone!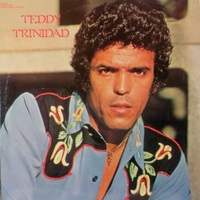 Teddy Trinidad; Fania International 0598; 1977 sealed S $20 -- Latin; ballads, as far as we know (hear a couple of them on YouTube); and we're pleased to offer this unopened original at a low, low price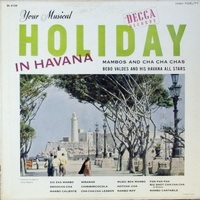 Bebo Valdes & his Havana All Stars: Your Musical Holiday in Havana; Decca DL-8134; E/V $20 -- Latin/Latin jazz; seminal work by the master, some of which really smokes; a major highlight of this early Decca series--excellent!; Zig Zag Mambo, Mambo Caliente, Miramar, Chiribiricocola, Cha Cha Cha Lesson, Music Box Mambo, Mambo Riff, Pan Pan Pan..; wear & some mild noise but plays well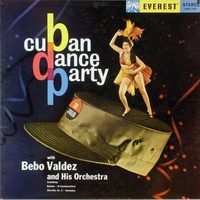 Bebo Valdes: Cuban Dance Party; Everest SDBR-1057; 1959; E/E- S $75 (or mono LPBR-5057 E/E $45, specify) -- Latin/Latin jazz; its rarity, the great Bebo Valdes (recently rediscovered by mainstream jazzbos & NPR), notes by Nat Hentoff, & an intriguing jacket (dancer upon a "26 Julio" Castro cap) should be ample reasons to want this, but what really makes it sensational is "Ita Morreal"--uptempo Latin jazz (like Dizzy Gillespie & Machito in a fever) featuring a tremendous, exciting, unbelievably rare, be-bop "scat" vocal!--YOU NEED THIS!!!; Babalu, Cha Cha #1, El Cumbanchero, Habana, A Quien Enganes, Ita Morreal (fantastic!), El Manisero, Cha Cha #3, La Feria de Los Siglos, Aquellos Ojos Verdes, Sasauma, Tu Sabes Bien que te Quiero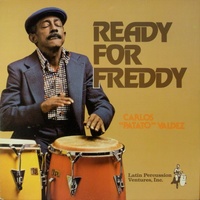 Carlos "Patato" Valdez: Ready for Freddy; Latin Percussion Ventures LPV-419; 1976; N-/N- S $30 -- a highlight of the great Martin Cohen series, by the master percussionist (title is one of his favorite expressions); La Ambulancia, Quedate Sin Amor, Canto a Chango, To y van Hecho, Como Suena Mi Son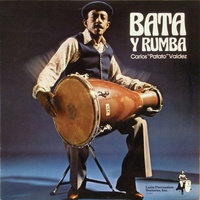 Carlos "Patato" Valdez: Bata y Rumba; Latin Percussion Ventures LPV-586; 1980; N-/N- S $60 -- scarce one in the great Martin Cohen series by the master percussionist; obviously, hearing Patata on da bata is like winning da latta...ry; a true score for the collector and fan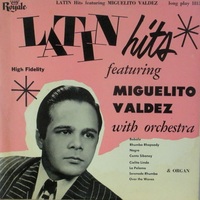 Miguelito Valdes: Latin Hits 10"; Royale 18138; E/V+ $25 -- Afro-Cuban; Valdes is on the first side only (four cuts: Babalu, Rhumba Rhapsody, Negro, Canto Siboney) but what cuts they are!; Side 2 is organ (Cielito Lindo, La Paloma, Serenade Rhumba, Over the Waves); good sound and jacket photo, not a bad addition to the MV collection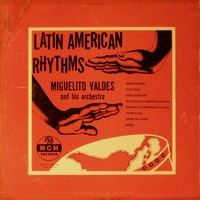 Miguelito Valdes: Latin American Rhythms 10"; MGM E130; deep groove V+/V- $25 -- Afro-Cuban; there's rare and there's rare, and it doesn't get much tougher than these old MGM discs (most will find all the other scarce MV titles before this one); here you have a fantastic early set--many say it's his best; excellent mix of the Spanish and the antero/African; be able to deal with "as is" wear/noise but it's priced low for it; Babalu, Sangre Son Colora, Lucumi (conga), Estampas Callejeras (mambo guaracha), Recuerden La Ola Marina (son montuno), Bongo Bongocero, Oh Mi Tambo (w/great tribute to "Minnie the Moocher!"), Rhumba Rhapsody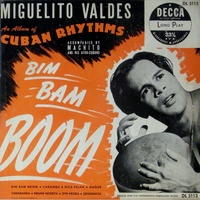 Miguelito Valdes w/Machito & his Afro-Cubans: Bim Bam Boom--An Album of Cuban Rhythms 10"; Decca DL-5113; (c)1949; deep groove E-/V+ $50 -- Afro-Cuban; classic rare set w/2 cuts by Chano Pozo(!); marks & noise throughout (as usual w/10" LPs) but well worth it; dramatic jacket!; Bim Bam Boom, Carambu, Rica Pulpa, Zarabanda, Nague, Drume Negrita, Oye Negra, Sensemaya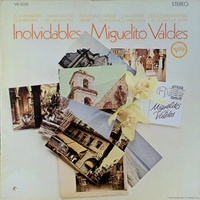 Miguelito Valdes: Inolvidables; Verve V6-5036; deep groove cutout N-/N- S $20 -- Afro-Cuban; vocal, excellent, classic; very welcome return of the greatest vocalist of Latin's classic (pre-1950) era; arranged & conducted by the late, great Chico O'Farrill; songs by Afro-Cuban heavies Valdes, Chano Pozo, Rafael Hernandez, Silvestre Mendez..; Guaguanco Africano, Negra Leono, Arinanara-Nague, Quimbamba, El Limpiabotas, Zarabanda, No Negrita No, Tambo..
Vicentico Valdes: Suave; Seeco SCLP-9249; 1963; E-/E $25 -- Latin/bolero (except as noted); top singer with the fabulous Joe Cain and his orchestra on a rare record (as just about everything on Seeco has become); Bendicion, Me Estas Envenenando (bolero-mambo), Quisiera ser Feliz, Como Decirlo, Mi Gente (son-montuno; by Hector Rivera!), La Noche Morena (bolero-moruno), Sintiendote Mia, Mi Dulce Amor (bolero-mambo), Pobres Besos Mios, Me Inventaste (bolero ritmico), Todo en la Vida Pasara (samba-pachanga), Si No Hay Razon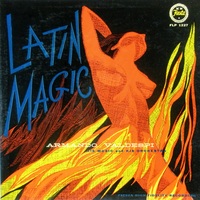 Armando Valdespie His Music & his Orchestra: Latin Magic; Fiesta FLP-1227; yellow deep groove N-/N $50 -- Latin; rare, great jacket, perfect opportunity for anyone trying to complete the label (these one-offs are TOUGH!!!)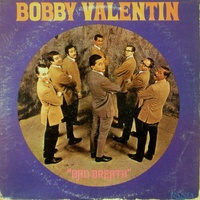 Bobby Valentin: Bad Breath; Fania LP-335; GOLD V/V $40 -- Latin soul/Latin jazz; one of his early legendary smokers; priced low for heavy surface wear but plays very well (Fania gold is known for its survival qualities)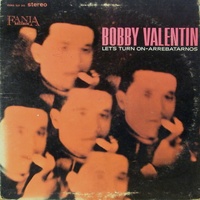 Bobby Valentin: Let's Turn On/Arrebatarnos; Fania SLP-343; GOLD V+/V+ S $200 -- Latin soul/Latin jazz; loaded with killer cuts: Use it Before You Lose It (people have paid $1,200.00+ for just the single on ebay! So we say: buy the rare LP before you miss it!), Yo, Pa' Eso Bebes, Keep the Faith, Yambu, Boogaloo y Shingaling, Margarito, Descarga en Mozambique, Funky Big Feet, Ki Ki Ri Ki; plenty of wear/marks but plays very well (some noise in the dead wax but the music is nearly noiseless); jacket not too shabby either; value if perfect: $400 or more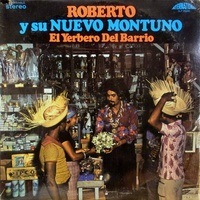 [Bobby Valentin as] Roberto y su Nuevo Montuno: El Yerbero del Barrio; Fania/International SLP-446; 1976; sealed S $60 -- flawless!; rare, as are all the great/necessary Bobby Valentin LPs, and here it's on the International division for being recorded in Puerto Rico; mostly uptempo hot salsa, with arrangements by Marty Sheller; Virazon, El Yerbero del Barrio, Montuno Dulzon, Mi Corazon Te Llama, Nacio Pa' Mi, Cafe (the hit Arsenio/Eddie Palmieri tune), San Lazaro, Corazon Fragil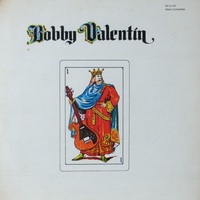 Bobby Valentin; Bronco BR LP-107; 1983/1978; E-/E- S $20 -- salsa; easy to do a lot worse than this!; the master, doing things like Tito Puente's "Mas Bajo" to great effect; just be glad we only get excited about the Fania records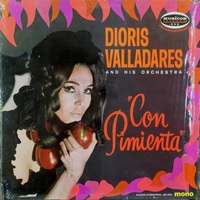 Dioris Valladares: Con Pimiento; Musicor MM-4040; 1968; N/N- shrink $90 -- Latin soul/merengue/Latin/cumbia; the "King of the Merengue" (the #1 Dominican singer/bandleader of his day--sings on many top LPs on significant labels) tackles Latin soul and more in this rarity prod. by Al Santiago (who earlier recorded him for Alegre); for Latin-soul fans (it's one of the handful of super-rare, hip Musicor Latin-soul LPs!), there's a great version of "Pata Pata," the son montuno "Como Esta Mi Conuco," and "Yo Bailo El Boogaloo" (merengue-boogaloo); the first-rate merengue and cumbia will appeal to Dioris Valladares fans; Pimienta en Salve, Pata Pata, La Canada, Como Esta mi Conuco, You Bailo el Boogaloo, La Madrugadora, Cumbia Callejera, Senorita Luna, Esther, La Mangulina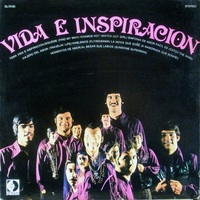 Vida E Inspiracion (Life & Inspiration); MCA/Decca DL-75183; cutout E+/E+ S $100 -- wanted especially for the strong Spanish cover of "Sunshine Superman," it's one of the rarest of the rare mysteries of the great Latin-soul-era Decca/Brunswick series (Zamot, Torrens, Panama, etc.); we suspect they're European but it's of US quality; mild water stain on jacket back, press bump in the last 2 seconds (tracks fine, barely heard)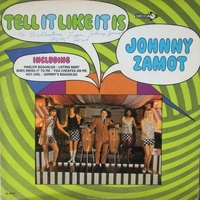 Johnny Zamot: Tell It Like It Is; Decca DL-4945; AUTOGRAPHED white-label promo E+/N $300 (or E-/N- $200, specify) -- Latin soul; canta Manny Roman; wildman Zamot's greatest LP is also the best all-around Latin-soul LP (has some very tough competition but we stand by the nomination); whole thing is strong as can be (a smorgasbord for DJs) but still we just have to single out the legendary masterpiece, "You Dig"--a wildly swinging, dirty-sax-infused, Mark Weinstein-penned, hipper-than-hip, quintessential, rare-groove Latin-soul anthem: "Make the scene...if you know what I mean...take a trip...if you wanna be hip...ya DIG?"; Baby Bring it to Me, Tu Baila Boogaloo, You Cheated on Me, Harlem Boogaloo, Muneca de los Ojos Verdes, Latino Baby, Caminando, Hey Girl, Johnny's Boogaloo, You Dig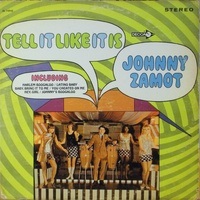 Johnny Zamot: Tell It Like It Is; Decca DL-74945; E-/E S $200 (or white-label promo V+/E- S $90, specify) -- stereo!!!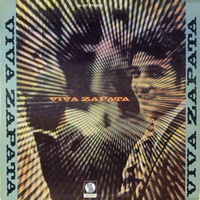 Milton Zapata: Viva Zapata; Speed SS-107; N-/N- S $200 (or E/E $150, specify) -- Latin soul/Latin jazz/salsa; one of the best on the tiny, short-lived, entirely awesome Speed label (& only the original LPs have GREAT SOUND!); dir. by Bobby Marin; highly desirable for the killer title descarga (nearly 7 mins.) as well as most of the other 7 cuts, which feature great singing & arrangements; Aqui Llego Zapata, Miltons Jala Jala, What a Fool, Aninere, Sweet Soul Music, Agua Sala, So Good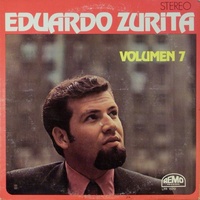 Eduardo Zurita: Vol. 7; Remo LPR-1570; AUTOGRAPHED E-/E S $25 -- cumbia/organ; even if you share the Latin-heads' disdain for things that stray very far from Afro-Cuban/Puerto Rican (as we do, admittedly), Zurita is one of those masters you just cannot ignore, as with Hugo Blanco (the other great cumbia superstar); retrieved from NYC, which is the only place we ever find his records, this one has 10 terrific cuts (a few are 2-song medleys); highlights include "Rico Mambo" (Perez Prado) and a great version of the moving "El Condor Pasa"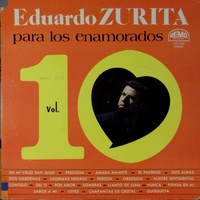 Eduardo Zurita: Para los enamorados (Vol. 10); Remo LPR-1596; E/E S $25 -- cumbia; w/Charlie Palmieri; man, this guy is terrific, like Hugo Blanco (no harp, tho); we love everything he does (this LP is a strong favorite), & there's no stronger endorsement from the NYC Latin (Puerto Rican) community than Charlie Palmieri's participation; these never turn up anywhere but NYC, and they're very scarce there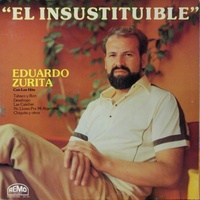 Eduardo Zurita: "El Insustituible"; Remo 601; E/E S $20 -- cumbia/organ; the master is in top form; great sound, heavy vinyl, loud & terrific; jacket back shows 14 previous LPs (rare everywhere but usually only found in NYC); Tabaco y Ron, Negro Jose/El Polvorete, Desahogo/Motivos, Nuestro Anillito/Las Calenas/Solo un Cigarro, Donde Estas/Brisas del Valle/Traicionera, No Llores por mi Argentina/Chiguitica, Cana Brava/El Muerto, Tus Rosales Mustios/El Canelazo
Latin: Various Artist (Compilation) LPs
---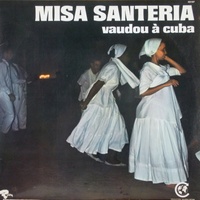 Uncredited: Misa Santeria-Vaudou a Cuba/Voodoo in Cuba; Riviera 521.107; import N-/N- S $30 -- Santero; rare French import (you'll have to excuse the "voodoo" label for santeria, but that was common marketing practice) recorded and produced by Maurice Bitter; Urulua, Obatala, Oya, Chant Congo, Chant du Rite Congo, Yevaya, Baba Lou Aye, Chant Congo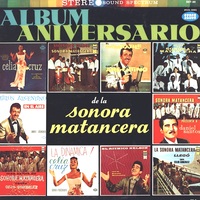 Various: Album Aniversario de la Sonora Matancera; Seeco SST-30; silver deep groove E+/N- S $20 -- Latin/bolero/Afro mambo, etc.; compilation of Seeco album tracks featuring singers recorded with La Sonora Matancera; Celia Cruz: El Congo, Celio Gonzalez: Sin Reproche, Carlos Argentino: Por tu Puerta no Paso Mas, Bienvenido Granda: Sonando Contigo, Nelson Pinedo: Eres El Motivo, Vicentico Valdes: Lo Anoro, Celio Gonzalez: Es mi Suplica, Carlos Argentino: El Amor No Existe Daniel Santos: Como Me da la Gana, Celia Cruz: Tamborilero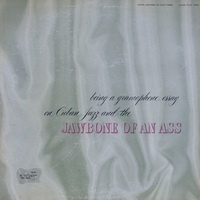 Various: [Being a Gramophone Essay on Cuban Jazz & the] Jawbone of an Ass; Cook LP-1083; brown vinyl E-/E- $40 -- Cuban; "Santiago de Cuba--Cradle of Conga"; Emory Cook does his "Cook's Tour" thing once again but this time right where you want it, with a panorama of priceless street recordings in decent fidelity, and this title is quite rare/wanted!; El Rancho Night Club Band, Trio Lissabet, Roving Carnival Band, Street Trio, Conjunto Siboney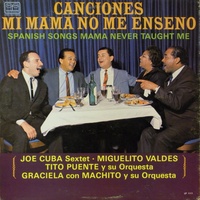 Various: Canciones Mi Mama No Me Enseno/Spanish Songs Mama Never Taught Me; Roulette/Tico SLP-1111; N-/N- $50 -- Latin; some of the rarest music by Tico's top artists: Joe Cuba Sextet, Miguelito Valdes, Tito Puente, Machito, Graciela; collectors take note: "Si Si No No" is the ONLY cut drawn from another LP!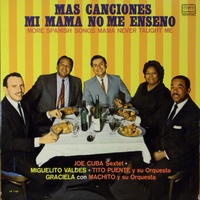 Various: Mas Canciones Mi Mama No Me Enseno/More Spanish Songs Mama Never Taught Me; Roulette/Tico SLP-1120; N-/N- $50 (or E+/N- $40, specify) -- Latin; some of the rarest music by Tico's top artists: Joe Cuba Sextet, Miguelito Valdes, Tito Puente, Machito, Graciela; collectors take note: none of these cuts appears on any other LP!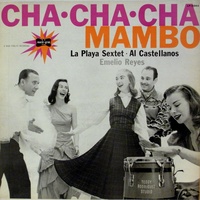 La Playa Sextet/Al Castellanos/Emilio Reyes: Cha Cha Cha-Mambo; Mardi-Gras LP-5003; red-label Puerto Rican pressing E/E $40 -- one of the essential, great, earliest LPs on the classic NY label; 10 cuts by La Playa Sextet (Laughing Cha Cha, Mambo Batiri, Teasing Cha Cha, My Cuban Sombrero), Al Castellanos (Together 1-2-3, Merengue Ta Ka Ta), and the scarce but wonderful Emilio Reyes (Delightful Cha Cha, Occasional Man, Cha Cha Bar, Cafe Mambo); loved for the goofy, '50s party-scene jacket as much as the music; super-rare, vintage Puerto Rican version identical to NY pressing except blank jacket back (no liners or photos on the NY version anyway)--top shape!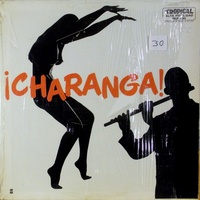 Various: Charanga; Seeco/Tropical TRLP-5182; N-/N- shrink $30 -- Cuban; Orq. America, Estrellas Cubanas, Celia Cruz, Hermanos Ferreira, Celio Gonzalez, Carlos Argentino; as if the rare music weren't enough, jacket art features a sensational nude dancing to a flautist in silhouette!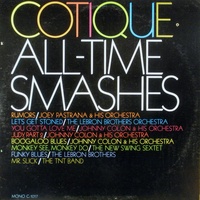 Various: Cotique All Time Smashes [Vol. 1]; Cotique C-1017; 1968/1966-68 cutout E+/N- $60 (or E-/V+ $30, specify) -- Latin soul; compilation of the top artists' hip, funky, Latin-soul killers from the label's prime: Johnny Colon-You Gotta Love Me, Judy Part 2, Boogaloo Blues; New Swing Sextette-Monkey See Monkey Do; TnT Boys-Mr.s Slick; Lebron Bros.-Funky Blues, Let's Get Stoned; Joey Pastrana-Riki Chi, Rumors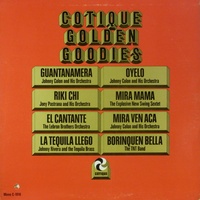 Various: Cotique Golden Goodies [Vol. 1]; Cotique C-1016; 1968/1966-68 cutout E/E $60 -- Latin soul; compilation--early & rarer than many of the individual LPs; unlike the "Cotique All-Time Smashes" comps which feature English titles, here it's 8 superior, hot, rare, GREAT titles in Spanish; Johnny Colon-Oyelo/Mira Ven Aca/Guantanamera, New Swing Sextette-Mira Mama, Johnny Rivera-La Tequila Llego, TnT Boys-Borinquen Bella, Lebron Bros.-El Cantante, Joey Pastrana-Riki Chi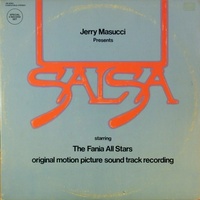 Various/The Fania All Stars: Salsa ST; Fania JM-481; 1976; 2-LP gatefold E-/N S $25 -- with Manu DiBango and others from the historic Yankee Stadium set (Ricardo Ray, Bobby Cruz, Celia Cruz, Cheo Feliciano, Ismael Quintano, Hevtor Lavoe, Santos Colon, Mongo Santamaria, Ray Barretto, Willie Colon, Harlow, Pacheco, Roberto Roena, Bobby Valentin..); here the film "Salsa" also compiles old Latin music (Desi Arnaz, Carmen Miranda..) and adds original interviews/speech and music covering the history/scope of Latin music; Babarabatiri, Congo Bongo (both NYC & PR versions!), Soul Makossa (both NYC & PR versions!), Bemba Colora, El Raton..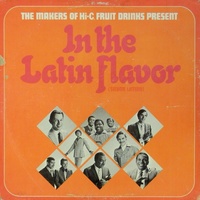 Various: Hi-C Presents the Cotique All Stars Associated Artists; Cotique Hi-C 1; 1968; (jacket: "The Makers of Hi-C Fruit Drinks Present 'In the Latin Flavor/Sabor Latino'") V+/E- S $60 -- Latin soul; George Goldner did a few promo deals & this is the most glorious--probably the best original Latin-soul compilation ever & an ideal introduction to the great Cotique label (essential also for Cotique completists--jacket features rare photos of the all stars); drawn from rare, early LPs, several of which are impossible to find now; Machito (Ahora Si--stereo!), Johnny Colon (Boogaloo Blues--2:50 version), TnT Boys (The Meditation, Sabre Olvidar), Joey Pastrana (Bien Dulce), New Swing Sextette (Vente Pa Ya), Johnny Rivera (La Tequila Llego), Lebron Bros. (Summertime Blues, Jala Jala Otra Vez, Borinquen Bella), Chollo Rivera (I Could Never Hurt You Girl)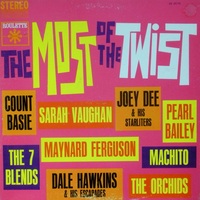 Various: The Most of the Twist; Roulette SR-25176 E-/N S $15 -- twist/Latin twist; there are some great twist singles collected here (One Mint Julep done by Sarah Vaughan, for instance), but we've listed with Latin for one simple reason: "Twist Changa" by Machito; we find it nowhere else but a scarce 45; here you have it abridged but clean and stereo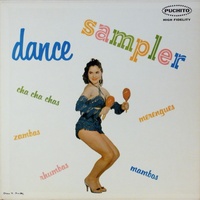 Various: Puchito Dance Sampler; Montilla/Puchito H8-OP-4700; blue deep groove N-/E+ $30 -- classic compilation/sampler of the Cuban greats; the individual LPs are incredibly rare; while this original comp is less scarce, just try to find a comparable copy at this price--top shape!; Orq. Riverside, Armando Orefiche, Chappotin (Arsenio's cohort), Napoleon, Bola Sete, Orq. Melodias del 40, Orq. Loyola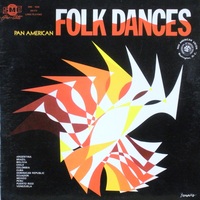 Various: Pan American Folk Dances; SMC/Pro-Arte; N-/N- $30 (or V-/E- $25, specify) -- Latin/Cuban -- subtitled "Recorded in their country (sic) of origin, by Gabriel Oller..." although that's a little hard to believe; under the auspices of DC's Pan American Union (OAS), it's a musical tour of 12 countries, including Brasil, curiously in alphabetical order; you can expect the highest quality and clarity (clean hi-fi SMC 12" LP, woo-hoo!) but we'll single out the Cuban selection ("La Campina Cubana"--guajira) with tres guitar as the reason any Latin collector should be excited (other than just that it's super-rare SMC); $30 copy: top shape although there is no printed jacket back--either the printed page [was] peeled off the cardboard or it never was there in the first place; $25: has back liners & lyrics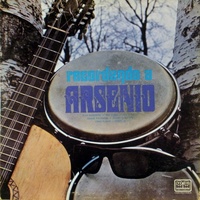 Various: Recordando a Arsenio; Tico LP-1231; E/E+ S $40 -- excellent tribute to the master, Arsenio Rodriguez (biggest influence on the entire NY Latin world) w/your favorite Tico All Stars: Eddie Palmieri, Ray Barretto, Joe Cuba, Jimmy Sabater, Cortijo, Celia Cruz, Tony Pabon; a scarce & very special record--no excuse for it still being here--get it!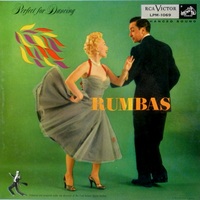 Various: Rumbas--Perfect for Dancing; RCA Victor LPM-1069; 1955; 3s N/E+ $50 -- rare Fred Astaire logo series, always featuring prized acts and recordings you won't find elsewhere; Jose Curbelo (Rumba Rumbero, Mary Ann Calypso), Jose Morand (Dream Mist, Tru-Cu-Tu-Son), Tito Puente (Arinanara, Lagrimas Negras), Miguelito Valdes (Jungle Drums, Always in My Heart, La Comparsa, Say Si Si, The Breeze and I-Andalucia), Tito Rodriguez (Ya lo Puedes Decir)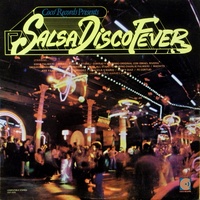 Various: [Coco Records Presents] Salsa Disco Fever; Coco 152X; 1978; N-/N S $25 -- Latin/salsa; despite the unfortunate title (smacking of late-'70s desperation), it is in fact a very straightforward but rare item: a compilation of good tunes from equally rare Coco & related LPs, most of which we've never seen, such as the Machito "Fireworks" LP; Coco LPs drawn from: 109 (Eddie Palmieri), 110 (Cesta All Stars), 113 (Cortijo), 117 (Cortijo), 126 (Orq. Broadway), 131 (Machito), 134 (Raffy Diaz), 137 (Graciela y Mario), 141 (Fajardo), & Fama LP-001 by the Puerto Rico All Stars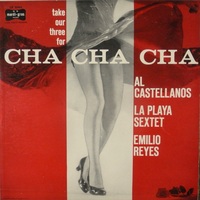 Various: Take Our Three; Mardi-Gras LP-5005; red-label Puerto Rican pressing E/E+ $25 -- Latin; early one, solid, three great acts, the rarest and most prized being probably Emilio Reyes (there's only one LP of him alone on Mardi Gras, and it's so rare that comp/shared LPs such as this may be your only chance); Al Castellanos (5 O'Clock Mambo, Atlantic Beach Mambo); La Playa Sextet (Bon Bon Cha, Bilongo, Running Running Cha Cha, Choo Choo Cha Cha); Emilio Reyes (Cha Chareando, Guess Who Does the Cha Cha, Dansero Cha Cha, Marguerita Mambo)
---
Latin & Latin Soul 45s & EPs
See below for 78s
The Word: Funky Latin soul & Fania hits, also classic, rare, NY Latin from the '50s & early '60s.


---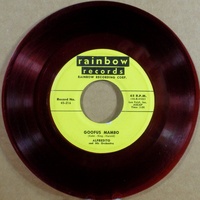 Alfredito: Goofus/Round the World Mambo #2; Rainbow 216 red vinyl E $15 -- vibe mambo jazz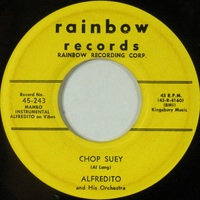 Alfredito: Chop Suey/Las Muchachitas del Cha Cha Cha; Rainbow 243 yellow label E- $20 -- Latin/vibes/mambo jazz/salsa; both sides smokin'! (A is minor-key vibes instrumental, B is early vocal salsa); clean disc but a little background noise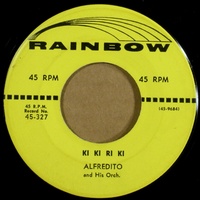 Alfredito: Ki Ki Ri Ki/Curtain Cha Cha; Rainbow 327 yellow label E $20 -- Latin/vibes/mambo jazz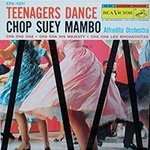 Alfredito [Teenagers Dance Chop Suey Mambo] EP; RCA Victor EPA-4201; 1st/only (ONE pressing only!) N/N $110 (or N-/E+ $90, specify) (or E+/E+ $75, specify) -- Latin/vibes/mambo jazz; one of the rarest Alfredito items!; reissues Rainbow but even Alfredito completists who have all the tunes on Rainbow will want it at least for the rare "Cha Cha His Majesty" (here in clean hi-fi sound), not to mention the artwork; the "Teenagers Dance" packaging seems to be Victor reckoning that "oriental Latin" could be a good novelty sound for mainstream youth (typical major-label mishandling of great Latin!); Chop Suey Mambo, Cha Cha Cha (Mi Musica Es Para Ti--Rene Touzet), Cha Cha His Majesty, Las Muchachitas del Cha Cha Cha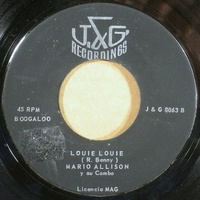 Mario Allison y su Combo: Bamba Cure/Louie Louie; J&G 8063; N- $40 -- Latin soul/Latin jazz; the leading such act (guaracha/boogaloo) from Peru!; "Louie Louie" cover features good horn solos (better than the Pete Terrace version, for instance)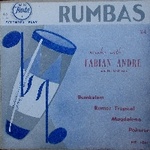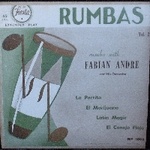 Fabian Andre: Rumbas Vol. 1; Fiesta FEP-1001 (Bembelem, Rumor Tropical, Magdalena, Pokeron) AND:
Fabian Andre: Rumbas Vol. 2; Fiesta FEP-1004 (La Perrita, El Marijuano, Latin Magic, El Conejo Flojo) $20/pair! (both in decent, E-/E- shape)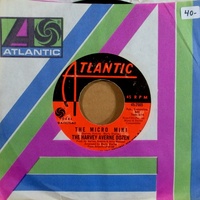 The Harvey Averne Dozen: The Micro Mini/My Dream; Atlantic 2505; 1968; E+ $40 -- Latin soul/sweet soul; from the great Viva Soul LP, the 7" is even more of a rare prize; A-side is the uptempo swinger (one of the LP's 2 best cuts); B-side is a ballad for the sweet-soul crowd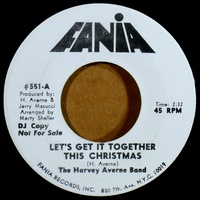 The Harvey Averne Band: Let's Get it Together this Christmas (Averne)/Christmas Song (Mel Torme); Fania 551; white-label promo E $50 -- Latin soul/Christmas A-side a great funky boogaloo vocal in English; B-side multi-tempo vibes-rock w/barking "Scottie Dog" (who appears later on the awesome "Toro" LP!); impossibly rare & not on any LP!!!; all pressings seem to have have slight noise (hardly noticeable except on B-side), but it's clean/unplayed, recently recovered store stock--last one!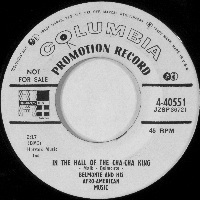 Belmonte & his Afro-American Music: In the Hall of the Cha-Cha King/It's Mambo Time; Columbia 4-40551; white-label promo N $20 -- Latin; wonderful!; in the original Columbia sleeve, no less
Belmonte: Cha-Cha, Merengue, Bolero, & Mambo EP; Columbia B802; 3-disc double gatefold N-/E+ $30 -- what a wonderful find!; clean, hi-fi, complete equivalent to the rare LP, which is second of a pair for the label by the nearest rival to Cugat (on Columbia, anyway); great stuff, including some jazzy elements here and there; In the Hall of the Cha-Cha King, The Lonely One, Ol' Solo Mambo, Unfair, Bambuco Hat Dance, Cha-Cha for a Ballerina, 12 St. Rag Mambo, Cha-Cha Lament, Mambomania, Shy, Learnin' the Blues, Mucho Merengue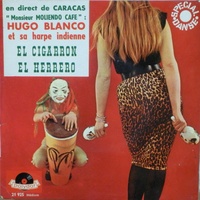 Hugo Blanco y su harpe indienne EP; Polydor 21.925; E+/V $15 -- cumbia/harp; intense early hits on rare French import--"en direct de Caracas: 'Monsieur Moliendo Cafe'"; some noise but worth it; El Cigarron, Orquidea Arabe, El Herrero, Cuerdas de Plata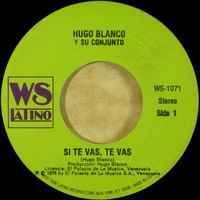 Hugo Blanco y su conjunto: Si Te Vas, Te Vas/Un Padrenuestro en La Playa; WS Latino WS-1071; 1976; N- S $15 -- cumbia/harp, mod; lively stuff recorded in Venezuela, here on a nice US disc in top shape, even stereo!
[Rene Bloch] Rene "Mr. Latin" Bloch & his Orchestra: Pa Coco Solo (For Heads Only)/De ti Enamorado; Atlantic/ATCO Records 45-6252; white-label promo (label print a bit washed out) E+ $30 -- Latin; this is a great one and super-rare despite being on a mainstream label; if you're lucky enough to have "The Latin Discotheque" LP on either Atco or the budget subsidiary Clarion, congrats, but you probably still don't have these cuts in clean, high-gain, true mono, top sound (our Clarion stereo LP definitely doesn't hold up to this 45 version); the A-side, by Fajardo, is a smoker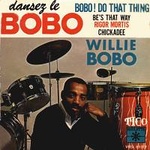 Willie Bobo: Let's Go Bobo compact-33; Roulette SBG-272; E- S $75 -- mod Latin soul; 6 cuts from the killer rarity in its rarest form: the scarce 7" 33rpm format!; and it's swinging stereo! (Let's Go Bobo/Wild Rice/Twist the Monkey's Tail/The Hip Monkey/Get Crackin'/Be's the Other Way); and for added value, we'll throw in a little piece of Hip Wax decor, the empty sleeve from Willie Bobo: Dansez "le Bobo"; Disques Vogue VREZ-65-019 (lic. Roulette/Tico) -- two super rarities, a little mismatched & incomplete, but priced to delight; disc has a few marks/pops but plays/sounds well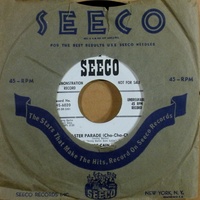 Joe Cain: Easter Parade (Cha-Cha-Cha)/Alexander's Ragtime Band (Samba); Seeco 6020; white-label promo N $15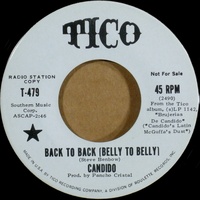 Candido: Madrid/Back to Back (Belly to Belly); Tico T-470; white-label promo N $25 -- top stuff (A-side co-written w/Puente; B-side calypso-jazz) from the great, scarce "Brujerias de Candido/Candido's Latin McGuffa's Dust" LP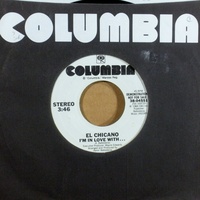 El Chicano: I'm in Love With.../same; Columbia 38-04551; 1984; white-label promo N- S FREE for the asking with any order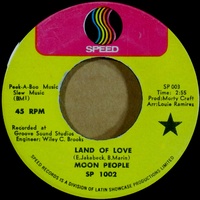 [Dave Cortez &] The Moon People (Los Astronautas): Land of Love/Revolt; Speed SP-1002; N- $20 -- Latin soul/mod; very hip, unique with funky drums; one of the few Speed singles that turns up relatively frequently, so it's both inexpensive and clean (which is the uncommon part--snap it up)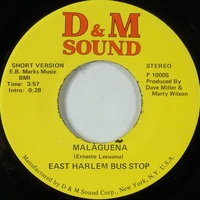 East Harlem Bus Stop: Malaguena/short version; D&M Sound P-1000-L; promo N- S $50 -- Latin disco-funk with production and arrangement by Pete Terrace & Marty Wilson! (also Dave Miller); there are only six cuts on the rare LP, and this promo single is even rarer, with both LP-length and a shorter 4-minute version for airplay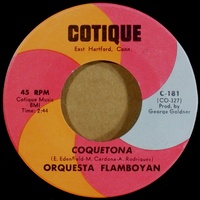 Orquesta Flamboyan: Coquetona/Mi Nena; Cotique C-181; N- $30 -- Latin soul; super-rare single by probably the most inventive group on the label; led by Frank Dante; these earliest sides are pretty straightforward by later Flamboyan standards, both solid guajiras (the original Latin soul, or close to it)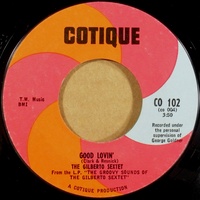 Gilberto Sextet: The Guajira Medley/Good Lovin'; Cotique CO-102; 1966; N- $30 -- Latin soul/vibes; wow!; 2 meaty cuts from the very first, super-rare Cotique LP (The Groovy Sounds of the Gilberto Sextet; Cotique C-1001), it's the Rascals hit & Hang On Sloopy/La Bamba/Guantanamera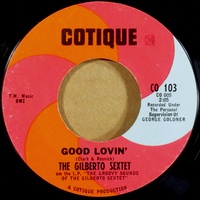 Gilberto Sextet: Good Lovin'/Please Don't Stop; Cotique CO-103; 1966; promo(!!!) N $40 -- Latin soul/vibes; wow!; from the very first, super-rare Cotique LP (The Groovy Sounds of the Gilberto Sextet; Cotique C-1001), it's the Rascals hit & one of Gilberto Cruz's own; perfect-promo-hot-rare!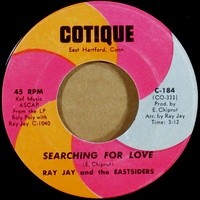 Ray Jay & the Eastsiders: Searchin' for Love/I Love You; Cotique; 1970; N- $40 -- Latin soul/sweet soul; w/Elliot Chiprut; rare single from rare one-off LP (serious prize for the Cotique collector); style similar to Ralfi Pagan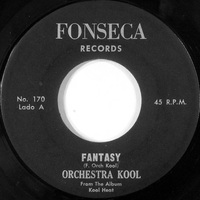 Orchestra Kool: Fantasy/Orchestra Kool; Fonseca 170; E- $75 -- exotica/salsa; rare!; great single from the rare and underrated "Kool Heat" LP; A-side bird-call exotica; B-side smokin' salsa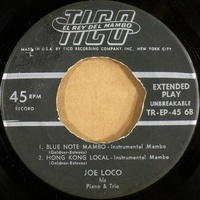 Joe Loco, his Piano & Trio EP; Tico EP 6; E $15 -- Latin/Latin jazz/piano; Blue Moon, Talk of the Town, Blue Note Mambo, Hong Kong Local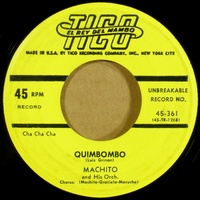 Machito: Tibiri Tabara/Quimbombo; Tico 361; E+ $20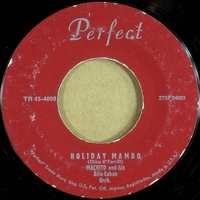 Machito & his Afro-Cuban Orch.: Holiday Mambo/Si Si--No No; Perfect 4000 (same as Tico) E- $15 -- Latin; two of his most famous Tico cuts, except that the LP they're on is very rare; this 45 on a strange old label is even more curious and undoubtedly super-rare, but here 'tis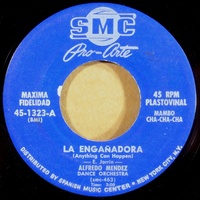 Alfredo Mendez Dance Orchestra: La Enganadora/Silver Star; SMC Pro-Arte 1323; E+ $15 -- legendary label, clean, cheap!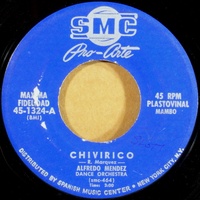 Alfredo Mendez Dance Orchestra: Chivirico/Quien Sera?; SMC Pro-Arte 1324; N- $20 -- legendary label, clean, cheap!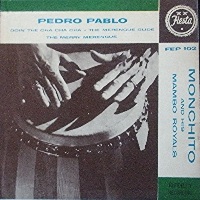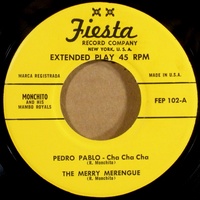 Monchito & his Mambo Royals EP; Fiesta FEP-102; E+/E+ $20 -- classic Latin from the 2nd Fiesta LP, very scarce! nice photo of congo/hands; strong cuts lead each side; Pedro Pablo, Doin' the Cha Cha Cha, Merengue Glide, Merry Merengue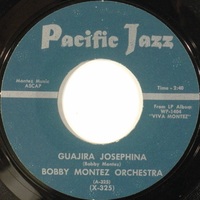 Bobby Montez & his Orchestra: Guajira Josephina/Tremendo Cha-Cha; World Pacific X-325; 1961; E- $150 -- Latin jazz; with Ray Rivera, congas; super rare single from Viva! (World Pacific LP WP-1404), with the A-side abridged;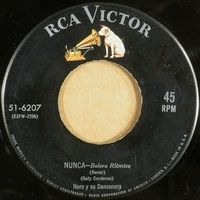 Noro y su Danzonera: Nunca/Silver Star; RCA Victor 6207; E $15 -- tempting as it is to think this is Noro Morales, evidently it's a far rarer act (mentioned in listings of Cuban performers but that's it)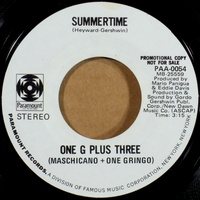 One G Plus Three: Summertime/Poquito Soul; Paramount PAA-0054 (same as Gordo 705); white-label promo N- $50 -- LA Latin funk/funky Latin jazz/funky drums-organ (like El Chicano or even Funk, Inc.); although also done by Senor Soul, this (the B-side) is the hot version; it's three Chicanos (guitar/drum/percussion) led by gringo organist Randy Thomas; both sides great for DJs (funky drums, fits right in with the very best El Chicano or Funk, Inc.) but lesser known -- a perfect one-off rare groove! (the A-side ain't too shabby either)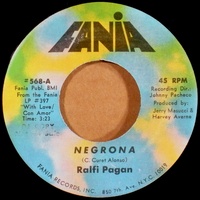 Ralfi Pagan: Negrona/Mi Camaco; Fania 568; N- $25 -- Latin/sweet soul; valuable for offering two prized cuts from the super-rare original version of the LP With Love/Con Amor (which, after the hit single broke, was rushed to re-release; big mistake: it was mass-produced with the same songs on both sides; you'll find it a dozen times before ever encountering the original full album, which is very much a Fania collectors item)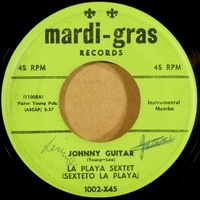 La Playa Sextet: Johnny Guitar/Jamaiquino (Jamaica); Mardi Gras 1002-X45; E $15 -- the very first La Playa single & only the 2nd for the label!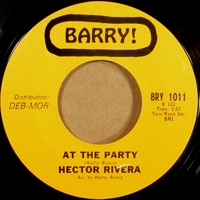 Hector Rivera: At the Party/Do It To Me; Barry BRY-1011; orange N $30 (or yellow E- $20, specify) -- Latin boogaloo; smash hit single from his LP of the same name; a party classic, great and essential; used copies in rough to fair shape are not rare, but clean is another story!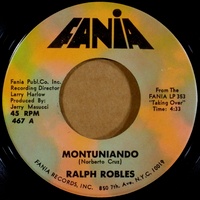 Ralph Robles: Montuniando/Mercie; Fania 467; E $20 -- Latin soul/Latin; unplayed, bought out from an old record store; Robles is one of the major names & all of his records are hard to find (esp. clean)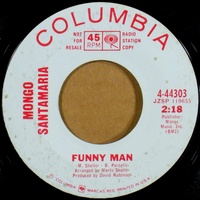 Mongo Santamaria: Funny Man/There is a Mountain; Columbia 4-44886; white-label promo E- $15 -- great for the funky A-side, but collectors should want the live B-side (Donovan tune)--not on LP!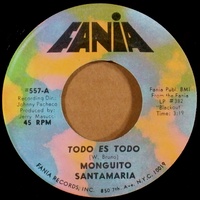 Monguito Santamaria: Todo es Todo/Sueno Contigo; Fania 557; N- $30 -- Latin soul/Latin; "Todo es Todo" is one of the uptempo, hot tracks from the Blackout LP (one of the great rarities of Fania)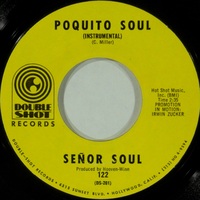 Senor Soul: Poquito Soul/Pata Pata; Double Shot/Whiz DS-122; 1967; N- $25 -- Latin soul; they went on to make a killer funk LP two years later but this first outing is more on a groovy psychedelic bent, with the two cuts on this single being firmly Latin soul, with flute, vibes, etc. and a style of their own (more Californian rather than NYrican)

Somethin' Cool (Voices in Latin) .... jazz 45s (it's very hip and hard to find, snap it up)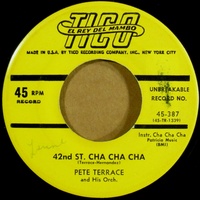 Pete Terrace: Cha Cha Cha in New York/42nd St. Cha Cha Cha; Tico 45-387 E+ $15 -- rare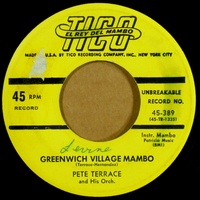 Pete Terrace: Greenwich Village Mambo/Broadway Mambo; Tico 45-389 E $15 -- great mambos, rare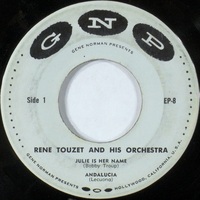 Rene Touzet & his Orchestra; GNP Crescendo GNP-8; V+ $10 -- four classic sides!; Julie is Her Name, Andalucia, The Nearness of You, Siboney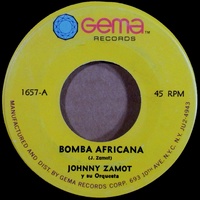 Johnny Zamot: Bomba Africana/Vaya Pa' La Meta; Gema 1657; N- $75 -- Latin/Latin soul; both on the rare 7-11 LP, unusual but very strong cuts (esp. the funky Afro "Vaya Para La Meta"); w/Manny Corchado, Ray Maldonaldo, Graciela, Yayo el Indio, Santos Colon, Bobby Marin...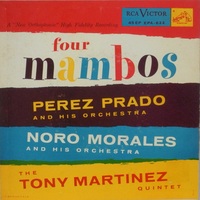 Various: Four Mambos EP; RCA Victor EPA-622; 1955; E-/E- $20 -- mambo; rare but obtainable way to get top cuts (early, exciting) from the super-rare, coveted, and expensive Mambo for Cats LP; Tony Martinez Quintet: Mambo Jumps; Perez Prado: Ballin' the Jack; Noro Morales: Sweet Sue--Just You; Perez Prado: St. Louis Blues Mambo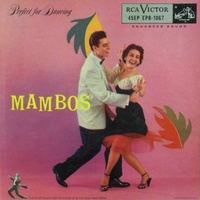 Various: Perfect for Dancing--Mambos EP; RCA Victor EPB-1067; 1955; 2-disc gatefold N-/E+ $20 -- Latin; some seek this series for the little logo of Fred Astaire dancing, but it's really about the music: prized, rare, earliest Victor hits by Tito Rodriguez (Me lo Dijo Adela, Sugar Blues Mambo); Tito Puente (Ran-Kan-Kan), Aldemaro Romero (Un Chivirico Mas), Noro Morales (Piel Canela), Tony Martinez (Hollywood Mambo), Perez Prado (Perdido, La Enganadora)
Wanted 45s:

Joe Bataan: Latin Soul Square Dance/Call Me; Fania

Fonseca singles (inquire)

The Latin Lads: Nunca (on Parnaso)

The Latin Quarters: Mira Mira/Mambito; Red Bird

Joe Quijano; Aqa 101
---
Latin 78s (10" 78 rpm singles)
78s mailed FREE with LP(s); otherwise LP rate applies
---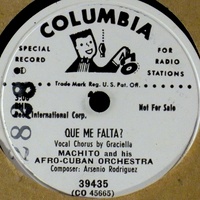 Machito & his Afro-Cuban Orchestra: Mambo a la Savoy (vocal by the Skylarks)/Que Me Falta? (vocal by Graciela); Columbia 39435; white-label promo N- $15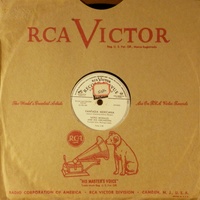 Noro Morales & his Orchestra: Fantasia Mexicana/Song from Moulin Rouge; RCA Victor 20-5324; white-label promo E+ $15
---
Latin Records Wanted in Trade:
Joe Acosta on SMC/Pro-Arte

Alfredito: Mambos for Dancing 10"; Rainbow LP 721

Alfredito: Nocturnando/Papa Loves Mambo; Rainbow 264 (78 or 45)

Alfredito: Egg Foo Young/Rockabye Your Baby; Rainbow 273 (78 or 45)

Alfredito: Anabacoa/Mambo from Mars; Rainbow 275 (78 or 45)

Hugo Blanco: Bailables No. 6,8,9 and a few others (inquire)

The Brooklyn Sounds; Salsa

Serafin Cortez y su Orquesta; Fonseca LP-1127 (possibly as Serafin Cortes)

Mike Ensenat LP (Cotique or Remo)

Jose Estevez: Concerto for Percussion; SMC Pro-Arte SMC-100

Chico O'Farrill: Mambo Dance Session 10"; Norgran MG-N-27

Papo Felix (w/Ray Rodriguez); Ghetto

Chaguin Garcia; Hopes 873

Rulie Garcia/Johnny Chingas (any LP & some 45s)

Ghetto label (inquire)

The Ghetto Brothers; Salsa

Gilberto Sextet: Ponganse Duros; Ansonia

Kent Gomez [Fonseca LP]

Nico Gomez (possibly; inquire)

Kenny Graham & his Afro-Cubists: Bongo Rock

Kenny Graham & his Afro-Cubists: Caribbean Suite, others (UK/Europe)

The Hi-Latins: Meet the Hi-Latins; Josie (or Montilla) & El Tramposo; Premio 915

Pepe Jaramillo (UK, some, inquire)

Eartha Kitt Goes Latin EP; Seeco EP-11 (or any Eartha single on Seeco)

The Latin Dimension: It's a Turned-On World; Columbia EX-5226

Eddie Lebron; Ghetto

Machito & his Afro-Cubans w/Miguelito Valdes: Afro-Cuban Music 10"; Decca DL-5281

Machito Plays the Cha Cha Cha 10"; Tico LP-138; 1955 (track list at least)

Malon (Juan Carlos Caceres) [their Brasilian LP]

Gina Martin; Panart LP-2023 (& possibly others)

Johnny "Chano" Martinez [LP on Hollywood or other California label]

La New Breed Orq.; Fonseca 1118

Tommy Olivencia: Jala Jala & Boogaloo; Tioly or Inca

Joe Pappy LP (on Ghetto?)

Lou Perez: Chocolate Bonbons

Perez Prado: Perez Prado '70; Orfeon LP-12-726; 1970 (titles wanted)

Perez Prado: Perez Prado '72; Fontana 63-85-003; 1972 (titles wanted)

Perez Prado; Philips FDX-32 (Japan; titles wanted)

Perez Prado '72; Philips SFX-5006; 1972 (Japan; titles wanted)

Tito Rodriguez: Mambo Styles; SMC Pro-Arte SMC-504 (& Tico 10" LPs)

Arsenio Rodriguez [Tico 10"/45/78 & some in Carino & Cubitas series; inquire]

Willie Rodriguez on SMC Pro-Arte

Pablo Beltran Ruiz: Twist [&] Surf Al Rojo Vivo [&] 12 Ritmos Bailables (RCA Mexicana)

Tambo; Montuno MLP-505

Ray Terrace: Oye El Cuchy Frito Man; Jubilee 7002; 1965

Miguelito Valdes; SMC Pro-Arte SMC-503

Johnny Zamot: La Guerra; 7-11; 1970
© Hip Wax