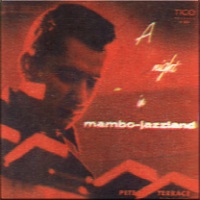 Pedro Gutierrez (Pete Terrace) excelled at vibes, Latin, and Latin jazz despite his Anglicized name, which may have been a disadvantage. His talent was such that he recorded several albums for Tico, although he may be best known for a budget-label boogaloo session. His father was a disc jockey in New York and Miami, his brother Ray an accomplished drummer. After drumming in the Commercial High School and U.S. Army bands, Latin Pete attended Julliard. Following graduation in 1952, he switched to vibes and got his start with Noro Morales, Tito Puente, Pupi Campo, Buddy Rich, and Josephine Baker prior to joining Joe Loco.
George Goldner, A&R head of Tico (and later head of Cotique) saw enough potential to commit to a series of albums for the Pete Terrace Quintet. Terrace started his own New York City label, Mio International (Latin records and a few others, such as Hawaiian), after which he practiced medicine in Puerto Rico.
The first Pete Terrace albums on Fantasy feature Joe Loco band members and arrangements. The Tico albums are very rewarding, and the later boogaloo albums all have their moments. The two albums on Colpix are good, although Terrace does not play vibes on either.
Buying: Some Pete Terrace albums look mushy but have upbeat mambos and guarachas. All except possibly the Strand LP are worthwhile.