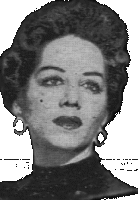 The liner notes for both Jewish and gypsy albums typically describe the music as reflecting the intense sorrows and joys of the people. In each case there are the usual indicators of passion: tempo changes, violins, dancing. Another cliché is the mixture of the old and the new, the traditional and the modern, the historic and the hip.
Philadelphian, Cantor's daughter Bas Sheva recorded at least two very dramatic and enigmatic 10" albums for Capitol. Soul of a People, with Harold Mooney, is six Hebraic chants, while The Passions, with Les Baxter, is as strange as anything by Leda Annest or Yma Sumac. Now for the fun part -- that Latin beat.
The rumba, mambo, cha cha cha, pachanga, and even the twist all made their way north from New York City to the vacation resorts of the Catskills. And so, Cuban rhythms, with their origins in Africa, met their melodic neighbor from other parts of the Mediterranean and beyond. And in Perez Prado's Hava Nagila--twist, you have it all.