The Barry Sisters were the first to bring popular adaptations of Yiddish folk songs to a mass audience. It took just one record or so for them to be established as the United States' leading exponents of Yiddish Swing. From that point on, their tremendous abilities --as international pop singers, a hugely successful sister act, and two fun, charming beauties-- quickly led to international stardom. No small part of their success was the wonderful talent of arranger, conductor, and composer Abraham Ellstein, a major leader of dance orchestras and symphonies.
Claire's voice is the higher; the late Merna's was lower. What did they sing? Everything from a rollicking Hava Nagila, Roumania, Abi Gezunt, Ay Ay Hora, Zuges Mir Noch Amool, Die Greene Koseene, and Dem Nyem Scher (same as Carmen Miranda and the Andrews Sisters' "Wedding Samba") to Around the World, Ciao Ciao Bambina, Cry Me a River, Misty, Why Don't You Do Right, and a fairly scandalous version of Who's Sorry Now. They were regulars on the "Ed Sullivan Show," Jack Paar's show, and "Tonight" in addition to being mainstays at top nightspots in several countries. The Barry repertoire included songs in nine languages. So, as long as you don't have fifty childhood bar (or bat) mitzvahs to get over, and even if you do, the Barry Sisters are the perfect pop blend of fun and first-rate talent.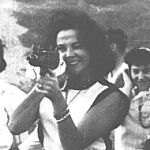 Claire is still going strong as the millennium winds down, looking and performing as well as --or better than-- ever. We wish her the very best. A special thanks to her for visiting Hyp Records!