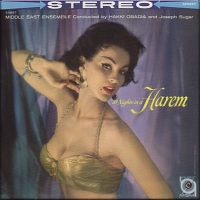 Born and raised in Brooklyn, New York, Eddie "the Sheik" Kochak parlayed a childhood penchant for drumming eventually into lessons with top New York percussionist Henry Adler. He performed for troops during World War II as a member of the Army, and on his return performed steadily at charity events, supper clubs, and concert stages. He played the Green Grove Manor in Asbury Park, New Jersey for a decade as well as at Philharmonic Hall, Lincoln Center, and Town Hall in New York City. Kochak has been credited for his comedic talent, fine support with the dirbakee (Arabic tom-tom), and resurrecting the debke, native dance of the Middle East. He had long associations with Dean Martin and Danny Thomas (Thomas and Kochak are both of Lebanese extraction). For decades, as a maker and producer of records, not to mention live performances, he ruled the Brooklyn and to a lesser extent the New England "Mecca East" scenes. In the 1980s he played the percussion for Anthony Quinn in the Broadway production of "Zorba." In the twenty-first century the Sheik has conducted musicians and dancers on stage at an Atlantic Avenue festival in Brooklyn.
Born in Bagdad, Hakki Obadia was a child prodigy who won most of the badges of master musicianship by the age of ten. He founded and led the first symphony orchestra of Bagdad and conducted the symphony orchestra of the University of California, where he studied under Roger Sessions and Ernest Bloch. Considered a genius in both eastern and western music, Obadia mastered the violin, oud, piano, guitar, and mandolin. Besides teaching music and performing, he accompanied Mohammed El-Bakkar throughout the latter's career. In 1953 he met Eddie Kochak, beginning a long, subsequent collaboration of recording.
Violinist (and oudist/pianist) Fred Elias was born in New Hampshire of Lebanese descent and attained a Master's degree from the Boston Conservatory of Music. (Many U.S. belly-dance performers hail from New England.) He performed before King Saud of Saudi Arabia, as lead violinist for the Ice Capades for half a decade, and at the Flamingo Hotel in Las Vegas. Elias coordinated the best-selling Kochak-Obadia-Elias Strictly Belly Dancing series for the Scepter label. After making the first three volumes on Scepter, they formed their own Ameraba label, under which they not only issued subsequent volumes but also reissued the first three with different jackets. The Kochak group's relationship to various record labels (several of their own making) can only be described as nomadic, ever-shifting like sand in the desert.