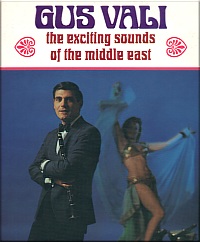 American-born of Greek parents, Gus Vali studied at the Manhattan School of music and performed with Louis Prima, Artie Shaw, Johnny Long, Sonny Dunham, and Jan August. Leading his own group, he became the leading exponent of authentic Greek music, including its overlap with the traditions of neighboring regions. Accomplished on the flute, clarinet, and saxophone, he brings a unique Greek sensibility to a field dominated by artists considered more "oriental." Through various labels and projects Vali tried many different styles and featured different vocalists. During his late period as "Admiral of the Navel Academy," his exotic flute meshed wonderfully with the oud of George Mgrdichian.
Gus Vali's records are important for several reasons. First, he is the chief exponent of the Greek variety of oriental music. Second, his leadership with flute and clarinet are unusual in a field dominated by oud and derbecki players. Third, Chimera is singular, one of the hippest albums blending rock and jazz with oriental music. And there are plenty of outstanding exotic moments on his earlier records, even among his interpretations of Hollywood standards and other predictable fare. And the rare Greek Soul is the first of his later-period records with broad appeal for the contemporary DJ.
At this writing Gus Vali still performs in the greater New York City area. For performance availability, contact Vali Music: 201-768-9100; 469 Livingston St. Norwood, NJ 07648.