Exotica subpage: Les Baxter LPs & 45s
Baxter, Bas Sheva, The Cheers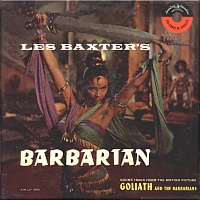 The Word: To say that Les Baxter invented exotica is to ignore Mozart, Ravel, and plenty of twentieth-century Afro-Cuban musicians, not to mention the folk traditions of the world. But he did kick off a minor idiom that can be described as kitschy Latin removed to Hawaii. He wrote the initial exotica songbook that Martin Denny and Arthur Lyman were to make their careers on. And Baxter's influence was felt in many other ways, too, however, from best-selling standard orchestral pop to a great many soundtracks for all kinds of films covering several decades.
Les Baxter's recorded legacy is nothing short of heroic, no doubt reflecting a real talent for getting along well with Hollywood, television producers, and of course musicians. For the generalist seeking all kinds of interesting record, Les Baxter soundtracks are a goldmine. For the exotica enthusiast, there is no ignoring the few but essential Les Baxter exotica LPs.
Also listed here are some non-exotica Les Baxter items, and there may be still other partly Les Baxter records listed on other pages.
Further below: Les Baxter 45s
Links: are to artists bio/discog pages in the Hyp Records guide:

Images: accurately represent items but are not always the exact copy listed/purchased
Discount: ALWAYS try to buy more than one item at a time
---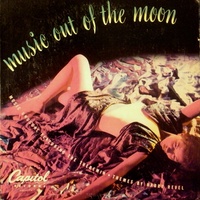 Les Baxter: Music Out of the Moon 10"; Capitol H-2000; original/unbordered jacket V+/as is $30 (priced for jacket only) -- theremin/orchestral; classic set with Dr. Samuel Hoffman--the first best-selling and perhaps still most famous theremin record, not to mention one of the first mindblowers by space-exotica pioneer Les Baxter!; jacket of legendary, hall-of-fame image--a prone gal in foil garb (what there is of it) on foil moonscape (as featured by Incredibly Strange Music); Lunar Rhapsody, Moon Moods, Lunette, Celestial Nocturne, Mist o' the Moon, Radar Blues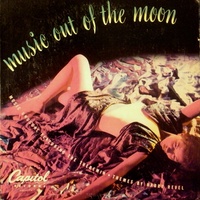 Les Baxter: Music Out of the Moon 10"; Capitol H-2000; bordered-jacket 1952 pressing with original printed inner sleeve N-/V+ $40 (or exactly the same but E+/V $30, specify) -- theremin/orchestral; same as above but with a 7" image, bordered (not as shown); original Capitol inner sleeve; Lunar Rhapsody, Moon Moods, Lunette, Celestial Nocturne, Mist o' the Moon, Radar Blues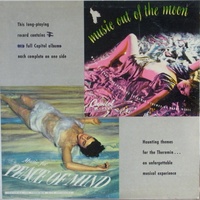 Les Baxter/Billy May: Music Out of the Moon/Music for Peace of Mind [12" combo]; Capitol T-390; V+/V+ $15 -- theremin; "haunting themes for the theremin--an unforgettable musical experience"; with both of the first theremin sets for the label combined on one 12" LP, it's a good starter copy, helpful for deciding how much to spend on the separate originals (or get 'em all, why not); Lunar Rhapsody, Moon Moods, Lunette, Celestial Nocturne, Mist o' the Moon, Radar Blues; This Room is My Castle of Quiet, The Darkness Gives Me You Again, Remembering Your Lips, My Troubles Float Away Like Fallen Leaves, Your Soft Hand on My Brow, I Dream of a Past Love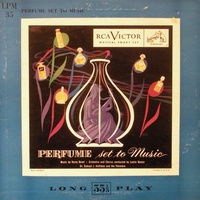 Les Baxter: Perfume Set to Music 10"; RCA Victor LPM-35; black label E-/as is $20 -- theremin/orchestral; RARE early set w/Dr. Samuel Hoffman on theremin, "Leslie" Baxter conducting his orchestra, and compositions by Brit Harry Revel "in a musical suite describing the six exotic Corday fragrances" (Toujours Moi, Fame, Tzigane, Jet, Possession, L'Ardente Nuit); nice jacket but disc has wear and noise, priced accordingly--good as a first copy or for the curious or in conjuction with the 78 or 45 set (if you have either of those--check below for availability)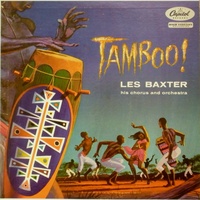 Les Baxter: Tamboo!; Capitol T-655; original label E-/E- $20 -- exotica; one of the most desirable Baxter LPs both for its sensational jacket (African dancers) as well as the music, all of which is among his very best (and very early exotica); tunes features abstract wordless vocals and together form a comprehensive picture of both Baxter and the nascent exotica idiom, from Cuban and Brasilian rhythms to Afro-Arabian themes; Simba, Oasis of Dakhla, Maracaibo, Tehran, Pantan, Havana, Mozambique, Wotuka, Cuchibamba, Batumba, Rio, Zambezi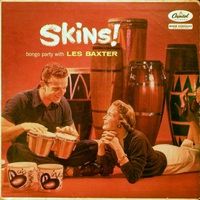 Les Baxter: Skins!; Capitol T-774; 1956; spectral label E/E- $15 -- exotica/Latin/percussion; beloved for its sensational, hall-of-fame jacket ("bongo party with Les Baxter"), it's even better listening: a tour-de-force by percussion masters; Afro-Desia, Brazilian Bash, Bustin' the Bongos, Conversation, Poppin' Panderos, Talkin' Drums, Reverberasia, Shoutin' Drums, Gringo, Mood Tattooed; priced low for some wear on Side 1 and the jacket back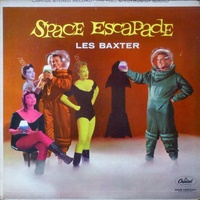 Les Baxter: Space Escapade; Capitol ST-968; E+/E- S $125 -- space-orchestral; all-around winner in high demand (especially stereo!!!--one of Capitol's first and very hard to come by for this title) is deservedly famous not just for its hall-of-fame jacket (also the notes and jacket-back sketch--see our Liner Notes of the Gods page), but also this camp space hoot has its place among the best of the Baxters musically; yes, it's orchestral rather than bongo-exotic, but that's firmly in the tradition of 1950s sci-fi films and TV shows, and Baxter has just the right amount of "accessibility" (or excess ability) to carry it off; Shooting Star, Moonscape, Mr. Robot, The City, A Distant Star, The Commuter, Winds of Sirius, The Other Side of the Moon, Somewhere in Space, Earth Light, The Lady is Blue, Saturday Night on Saturn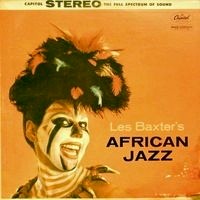 Les Baxter: African Jazz; Capitol ST-1117; V+/E+ S $25 -- exotica/Afro-jazz; one of his legendary, early best that no exotica collection can be without; sensational jacket, original music, all-star musicians!; similar to "Tamboo!" but stereo and a step closer to the prized "Jungle Jazz" (which features Plas Johnson even more than here); Congo Train, Elephant Trail, Banana Boy, Safari, Mombasa After Midnight, Rain, Lost City, Walkin' Watusi, Ostrich Hunt, Cairo Bazaar, Jungalero, Balinese Bongos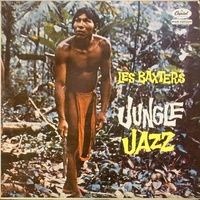 Les Baxter: Jungle Jazz; Capitol T-1184; E/E- $25 -- exotica/crime; as with Teen Drums, it's both better and lesser-known than most other great Baxter LPs from his prime; Plas Johnson shines as does the percussion section (mambo and other Latin rhythms); truly nails the "jungle excitement" billing by combining a noir feel (crime jazz) AND exotica (percussion with some abstract ethereal female voice)--all in great, great, high-gain sound (the point of having original vinyl); long-venerated also for the spectacular jacket; Brazilia, Rain Forest, Papagayp, Amazon Falls, Coco, Carnival Merengue, Isle of Cuba, Blue Jungle, Voodoo Dreams, One Thousand Cockatoos, Go Chango, Jungla Brava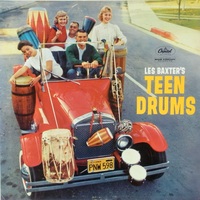 Les Baxter: Teen Drums; Capitol T-1355; E+/N- $40 (or E-/E- $25, specify) -- Latin/crime/guitar/percussion and how!/so much more; one of his best and rarest (a mid-career masterpiece, like Jungle Jazz); it's "teen" only thanks to Capitol's silly excuse for a marketing department; the music's instead a powerhouse of percussion-featured Baxteria: Brasilian, Afro-Cuban, calypso, and Mid-East but mainly the kind of crime/spy bongo stuff you wish Mancini had done more of on "Touch of Evil" (in fact "Boomada" is a highlight of the beatnik-noir comp LP "Swing for a Crime"); killer percussion, with Chico Guerrero, Chino Pozo, Domingo Dariea, Aime Vereicke, Oswaldo Oliveira, Milt Holland, and Plas Johnson; ; terrific loud sound!; Ting Ting Ting, Brazil Nuts, Take One, Boomada, Uncle Tom Tom, Barbarian, Chom Chom, I Dig, Ooch-I-Baba, Calypso, Bom Bom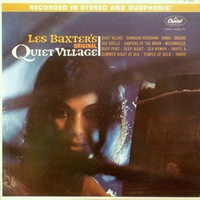 Les Baxter's Original Quiet Village; Capitol ST-1846; 1st press E/N- S/ES $20 -- exotica; original comp w/6 cuts in true stereo and 6 from the first LPs rec. mono-only; interesting choice of tunes (some from very scarce LPs), and you should want it even more for the sensational liner notes; Quiet Village, Shanghai Rickshaw, Simba, Singing Sea Shells, Taboo, Gardens of the Moon, Mozambique, Busy Port, Deep Night, Sea Nymph, Tahiti: A Summer Night at Sea, Temple of Gold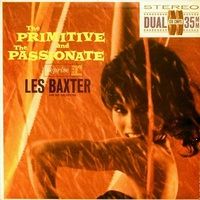 Les Baxter: The Primitive & the Passionate; Reprise R9-6048; 1961; deep groove N/N shrink S $25 -- exotica; his last, great, totally essential, strict-exotica LP features his latest discovery, the four-octave exotica vocalist "Tiki" (ethereal/very Yma Sumac-esque) and amazing compositions that rank with his best classics on Capitol; Fiesta Brava, Tenderly, Peking Tiger (AWESOME rare groove--mod, swinging, and how!), Laura, A Night with Cleopatra, Via Veneto, Bird of Paradise (with bird calls!), Slave Ship, Manchurian Melody, Taste of Honey, Congale, Little Girl Blue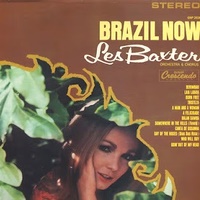 Les Baxter: Brazil Now; GNP Crescendo GNPS-2036; 1967; N-/N S $50 -- Brasil/mod; with Paulo Magalhaes, Sebastian Neto, Milt Holland, Clare Fischer, John Pisano, Paul Horn, and the Les Baxter Singers; Les Baxter was the first to bring serious attention to Brasilian music in the US (and not just through "Quiet Village"); one of a handful on the label--his final best LPs and what welcome surprises they are!; this and African Blue are as rare as they are essential; A Felicidade, Canta de Ossanha, Balan Samba, Day of the Roses, A Man & a Woman, Who Will Buy, Somewhere in the Hills, Goin' Out of My Head, Tristez, Berimbau, Laia Ladaia, Born Free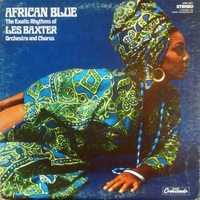 The Exotic Rhytms of Les Baxter Orchestra & Chorus: African Blue; GNP Crescendo GNPS-2047; 1969; Unipak gatefold (jacket stamped promo) V+/E- S $40 -- Afro-bossa/mod chorus; everyone needs it and would love it if they could get it, but it's one of the absolute rarest great Les Baxter LPs (even in its alternate version: Bugaloo in Brazil--KPM 1070!); all original tunes in a very hip, mod-bossa-chorus style, recorded with deep bass and drums, including bongos/conga (in every way, it's perfect for DJs!); Yellow Sun, Flame Tree, Zebra, Dark River, Topaz, Tree of Life, Girl from Uganda, Magenta Mountain, Johannesburg Blues, Jalaba, Azure Sands, Kalahari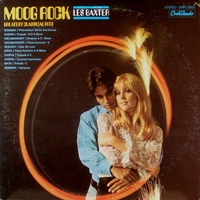 Les Baxter: Moog Rock--Greatest Classical Hits; GNP Crescendo GNPS-2053; E/E- S $30 -- Moog (with Paul Beaver); Les Baxter's uneasy relationship with rock rears its ugly head in the implausible title, but besides rarity it has funky drums (as do others from this period/label) so it's not to be missed; as with the Yma Sumac Miracles LP, rocked-up classical chestnuts come off instead as hip, sleazy listening for switched-on types (great makeout music if you're a little retro and weird, like a lounge lizard); Nocturne, Prelude C Sharp Minor, Fantasie Impromptu, Piano Concerto No. 2, Piano Concerto, Polevitzian Dance, Prelude in E Minor, Clair de Lune, Prelude in C, Prelude in E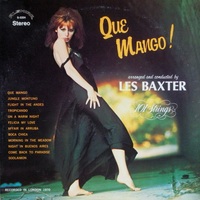 Les Baxter: w/101 Strings: Que Mango; Alshire S-5024; 1972/1970; sealed S $30 (or E/E+ S $20, specify) -- exotica/strings; the second such LP recorded in London, it's very hard to find (scarce for both Baxter and 101 Strings LPs); super-lush, affecting orchestral verdure meets top composition (12 new tunes, all by Les Baxter except one by Neil Diamond) and fine exotic percussion; Que Mango!, Tropicando, On a Warm Night, Flight in the Andes, Felicia My Love, Affair in Aruba, Jungle Montuno, Soolaimon (Neil Diamond), Boca Chica, Come Back to Paradise, Night in Buenos Aires, Morning on the Meadow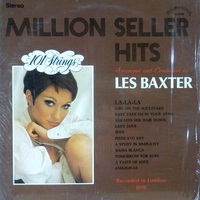 Les Baxter: w/101 Strings: Million Seller Hits; Alshire S-5188; 1972/1970; N/N shrink S $40 -- exotica/strings; the second such LP recorded in London, it's much harder to find than the other volume; the great musical payoff is the five minute funky-drum workout "A Taste of Soul" which may prove useful to DJs treading the line between hip and cheesy (or think of it as a pre-disco dance tune with strings), and in any case the rest forms a nice supplement to Que Mango; La La La, Girl on the Boulevard, Tomorrow for Sure, She Lets her Hair Down, A Taste of Soul, A Study in Simplicity, Baby Take Me in Your Arms, Bahia Blanca, Lady Love, Jean, Pizzicato Riff, Amazonas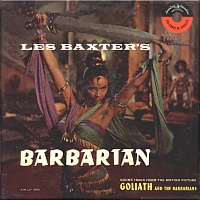 Les Baxter: Barbarian--Sound Track from the Motion Picture "Goliath & the Barbarian"; AIR-LP-1001-S; 1959; N/E+ S $100 (or mono E+/E- $50, specify) -- rare ST (especially in stereo!) to better-than-average sword-&-sandal flick from wonderful AIP (famous for Roger Corman and other kings of the "B" movies); with orchestra conducted by the great Muir Mathieson; prized for the gorgeous original jacket (really something to behold), its scarcity, and lesser-known but prized Baxter compositions, and the music itself; (Main Title) Goliath's March, (Love Theme) Landa, (Noisy Village) Barbarian Games, The Sacred Crown, Sword Dance, Mountains of Mystery, Ride of the Barbarians, Night Attack of the Stranger, Love's Farewell, Rape Of The Village, Fire Dance, (End Title) March Of Victory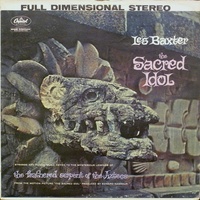 Les Baxter: The Sacred Idol [ST]; Capitol ST-1293; 1960; E-/N- S $25 -- famed exotic suite for unreleased film (despite that, this record sold briskly, and for good reason); "strange and exotic music keyed to the mysterious legends of the feathered serpent of the Aztecs"; similar to Dom Frontiere's Pagan Festival and three of Elisabeth Waldo's LPs (which means this one makes five total for this pre-Columbian Latin-American subset of exotica); great, all-American in a good way, very affecting exotica--you need this!; "Eat, ye troubled earth-children, of this gift from the gods, and drift beyond the rainbow into a world of forgetfulness"; Procession of the Princes, The Feathered Serpent, Fruit of Dreams, Pool of Love, Aquaducts, The Games, Conquistadores, Gardens of the Moon, Temple of Gold, Pyramid of the Sun, The High Priest of the Aztecs, Acapulco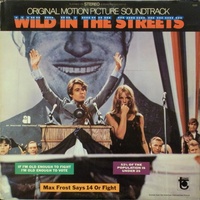 Les Baxter/Various: Wild in the Streets ST; Capitol/Tower SKAO-5099; 1968; gatefold 2nd press (thicker than 1st!) E+/N- S $25 -- psyche/sitar/'60s; terrific AIP film and ST, a must-have for many reasons; Max Frost & the Troopers do "Shape of Things to Come" (MAJOR psyche hit single), Fourteen or Fight, and others; scored by Baxter w/songs by Barry Mann & Cynthia Weil, arr. and cond. by Mike Curb; Love to Be Your Man, Free Lovin', 52%, The Shape of Things to Come (The 13th Power), Psychedelic Senate (The Senators), 14 or Fight (The 13th Power), Wild in the Streets (Jerry Howard), Listen to the Music, Sally Le Roy (The Second Time), Shelly in Camp (The Gurus)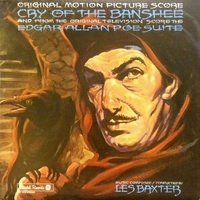 Les Baxter: Cry of the Banshee/Edgar Allan Poe Suite [ST]; Citadel CTV-7013; 1980/1972; N/N shrink S $50 -- classic film and TV STs from blood-curdling B-movie horror master Roger Corman & Gordon Hessler (for AIP); the Poe Suite brings together highlights from Corman's series of early '60s Poe films starring Vincent Price (considered by most to be his best period); Citadel did a great job w/jacket art, liner notes (including lots about Les Baxter & a pretty out-there note from Baxter himself about claims that a passage in "Banshee" that causes ghosts/Satan to appear!!!), & production overall; Side 1: Cry of the Banshee (20-min. side-long score); Side 2, Poe Suite: Tell-Tale Heart, Sphinx, Cask of Amontillado, Pit & Pendulum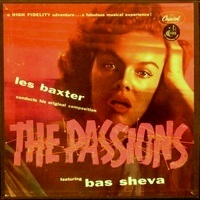 Les Baxter/Bas Sheva: The Passions 10" box; Capitol FDS LAL-486; 1st/red/deep groove w/booklet E/E $75 (or same but E/E- $50, specify) (or same but V+/E- $25, specify) -- exotica/vocal; legendary, sensational, unique creation of Baxter, sung by Bas Sheva in her greatest performance--entirely abstract, wild, ecstatic vocalization (like Yma Sumac at her utmost) in a suite of 7 passions: Despair, Ecstasy, Hate, Lust, Terror, Jealousy, Joy; it's also the highlight of Capitol's very limited, deluxe "Full Dimensional Sound" series and the more famous of two LPs by Bas Sheva (daughter of a famous Philadelphia cantor) on the label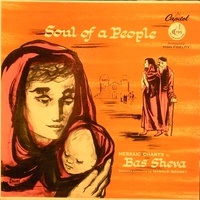 Bas Sheva: Soul of a People--Hebraic Chants 10"; Capitol FDS L8287; deep groove N-/N- $50 -- female vocal; other than the great The Passions with Les Baxter, the Philadelphia sensation made this other rare LP, which stands as one of the best of its kind and makes a fine companion to The Passions (if not quite as strange); not sure whether Baxter had any involvement with this record but don't let that stop you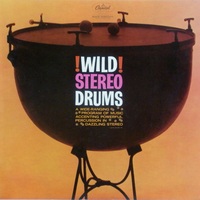 Various: Wild Stereo Drums; Capitol ST-1553; N-/N- S $25 -- bongo/drums/Latin/percussion; wow! what a fantastic record, taken for granted by most but once you know why it's important, you'll be glad you nabbed it; except two throwaway cuts from square records, it's drawn from three great collectors items, which are the best percussion LPs on the label!: (1) the super bongo/bongobop of Pepe Dominguin from the LP Rolley Polley: Mad Drums; (2) Les Baxter's Teen Drums; and (3) Dick Harrell's Drums & More Drums; get hip with this inexpensive gem while drooling perhaps forever in anticipation of the individual LPs, which are RARE; Tri-Fi Drums, Bangkok Beat, Blue Rhumba, Drummer Boys, Ting Ting Ting, Uncle Tom Tom, Rocket Racket, Bongo Bash, Drivin' Around the Block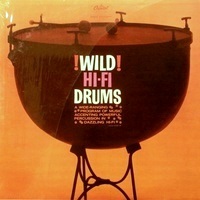 Various: Wild Hi-Fi Drums; Capitol T-1553; N/E- shrink $15 -- bongo/drums/Latin/percussion; wow! what a fantastic record, taken for granted by most but once you know why it's important, you'll be glad you nabbed it; except two throwaway cuts from square records, it's drawn from three great collectors items, which are the best percussion LPs on the label!: (1) the super bongo/bongobop of Pepe Dominguin from the LP Rolley Polley: Mad Drums; (2) Les Baxter's Teen Drums; and (3) Dick Harrell's Drums & More Drums; get hip with this inexpensive gem while drooling perhaps forever in anticipation of the individual LPs, which are RARE; Tri-Fi Drums, Bangkok Beat, Blue Rhumba, Drummer Boys, Ting Ting Ting, Uncle Tom Tom, Rocket Racket, Bongo Bash, Drivin' Around the Block

still more Les Baxter LPs: Neil Norman (Moog)
Les Baxter: Original 45s/EPs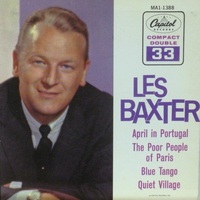 Les Baxter [Compact-33 EP]; Capitol MA1-1388; E/N $15 -- super-rare format (and an early on in that format); perhaps rarest original release of "Quiet Village"; April in Portugal, The Poor People of Paris, Blue Tango, Quiet Village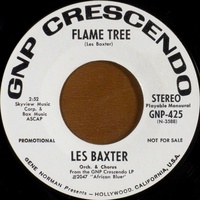 Les Baxter, Orch. & Chorus: Flame Tree/Girl from Uganda; GNP Crescendo GNP-425; white-label promo E S $20 -- mod/bossa/chorus; rare, sensational, great-sounding, stereo promo for the fantastic and rare African Blue LP

still more Les Baxter 45s: The Cheers (rock 45s)
© Hip Wax