Calypso 45s/EPs & 78s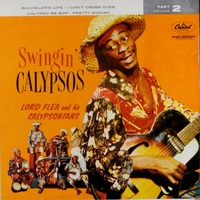 The Word: All things on non-LP formats, from 78rpm singles (10") to 78rpm album sets (3 or 4 discs). In 45rpm, it's singles and EPs, which may be one disc with usually 4 cuts or whole EP album sets equivalent to full LP albums.
Links: are to artists bio/discog pages in the Hyp Records guide:

Images: accurately represent items but are not always the exact copy listed/purchased
Discount: ALWAYS try to buy more than one item at a time
---
Note: Other Calypso 45s are listed under subpages for major artists and idioms. See those pages for further 45s and EPs.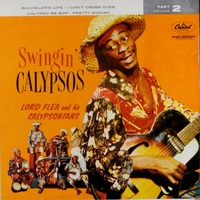 Lord Flea & his Calypsonians: Swingin' Calypsos Part 2 EP; Capitol EAP-2-842; E+/E+ $15 -- calypso (mento)/calypso jazz; four great tracks from the terrific LP (listed above); Bachelor's Life, I Can't Cross Over, Calypso Be Bop (calypso jazz with scat singing!!!), Pretty Woman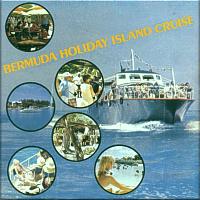 The Island Aires: Bermuda Holiday Island Cruise EP; picture sleeve N-/N- $15 -- Island Cruise Memories (narrated w/music)/Bermuda Holiday (original calypso by Geoff Kitson) in a nice photo jacket w/notes--souvenir item
Roger King Mozian, his Trumpet, and Orchestra: Limbo/Fire Down Below; Decca 9-30349; promo N (tho label wear) $15 -- blue-eyed calypso/Latin/oddpop/trumpet; A-side vocal by El Boy & his Calypsonians; B-side calypso-rumba; both cuts from the film Fire Down Below (but not the rare released ST!); Mozian was a great composer, too, and did everything from jazz on Clef to stereo-demonstration spectaculars on MGM; this is a pretty strong single on both sides!

Edmundo Ros has his own subpage (under Latin)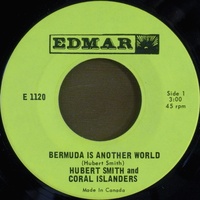 Hubert Smith & the Coral Islanders: Bermuda is Another World/Today; Edmar E-1120; N- $15 -- calypso/vocal; rare late one from Canada (we found it inside a Stan Seymour LP)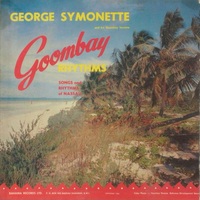 George Symonette & his Goombay Sextette: Goombay Rhythms of Nassau EP; Bahama Records BEP-18; 1956; 2-disc EP E/V+ $15 -- calypso, with Peanuts Taylor; sweet, super rare EP version has all 12 songs of the rare, early LP in a compact, high-gain-sound format; Fishing, Come Here Liza, Can't Get No Sweetness Outa Me, Doctor, The Crow, Peanuts Plays the Drum, Gin & Cocoanut Water, Wanna Do Nothing All Day, Brown Skin Girl, Push Push, Freckles, Hold Him Joe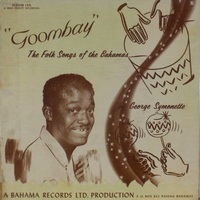 George Symonette & his Calypso Sextette: "Goombay"--The Folk Songs of the Bahamas EP; Art/Bahama Records ALP-14A; 1957; 3-disc EP set E/E $30 -- calypso; full EP version (super rare!) of all 14 songs--great shape and sound!; Peas & Rice, Sponger Money, Delia Gone, Eight Babies, Love Alone, J.P. Morgan, Goombay, Boat Pull Out-Bahama Mama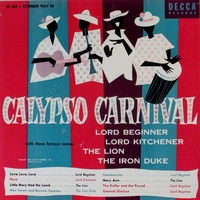 Various: Calypso Carnival EP; Decca ED-624; 2-disc gatefold E/N- $30 -- terrific, rare, authentic LP on a major label (with some European recordings) from the classic 78 era; nicely packaged with good artwork and liners; Love Love Love (Lord Beginner), Nora (Lord Kitchener), Little Mary Had No Lamb (The Lion), Man Smart and Woman Smarter (The Iron Duke with Cyril Blake's Calypso Band), Housewives (Lord Beginner), Mary Ann (The Lion with Cyril Blake's Calypso Serenaders), The Dollar & the Pound (Lord Beginner with Cyril Blake's Calypso Serenaders), General Election (Lord Beginner with Cyril Blake's Calypso Serenaders)
Calypso 78rpm (10" singles & albums)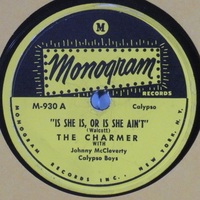 The Charmer with Johnny McCleverty Calypso Boys: Is She Is, Or Is She Ain't/Back to Back, Belly to Belly (Zombie Jamboree) 78rpm; Monogram M-930; V+ $60 -- calypso; plays great, top sound, just has usual 78 surface wear; A-side is Louis Farrakhan's only calypso original as far we can tell, and what an original it is!; about a transvestite, which is pretty appropo considering the transformation from The Charmer (and he is!!!) to the snappily-dressed leader of the Nation of Islam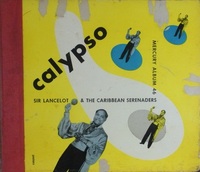 Sir Lancelot & the Caribbean Serenaders: Calypso; Mercury Album 46 (3-disc 78rpm); V+/E+ $25 -- calypso; rare!; discs are in top shape (unworn), only the cardboard has some damage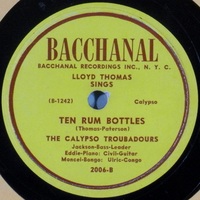 Lloyd Thomas & Calypso Troubadours: Foolish Man/Ten Rum Bottles 78; Bacchanal 2006; V+ $30 -- calypso; plays great, top sound, just has usual 78 surface wear; one of the great Trinidad calypsonians whose work is very hard to find (this is one of the rarest of his 78s), whether in the Bacchanal originals or reissued on LP
calypso LPs | compilation LPs | 45s & 78s (above) | Caribeat | Haiti | wants
© Hip Wax