Caribeat (Caribbean Funk) LPs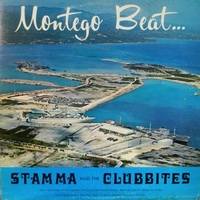 The Word: Funky, or "modernized" caribbean music, including updated calypso, soca, reggae, etc. from the golden age of funk: late 1960s - 1970s. Classics for DJs including records by Bryon Lee and the Munnings family.
Links: are to artists bio/discog pages in the Hyp Records guide:

Images: accurately represent items but are not always the exact copy listed/purchased
Discount: ALWAYS try to buy more than one item at a time
---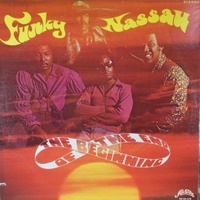 The Beginning of the End; Alston SD-33-379; 1971; 2nd/flexi cutout E-/V+ S $25 (or reissue N/N shrink S $15, specify) -- caribeat/funk/Afro-Beat; THE most famous/essential funky caribeat LP ever, by the illustrious Munnings family of the Bahamas (father Freddie Munnings guests on clarinet); Funky Nassau Parts 1 & 2, Come Down, Sleep On Dream On, Surrey Ride, Monkey Tamarind, In the Deep, Pretty Girl, When She Made Me Promise; original has some wear, some of it audible but not too shabby, particularly at the low price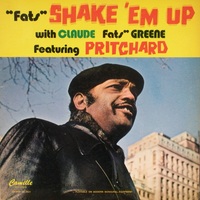 Claude "Fats" Greene: Fats Shake 'Em Up; Camille 9021; 1968; N/E shrink S $40 (or cutout E+/E- S $30, specify) (or cutout E/E- S $25, specify) -- Caribeat/calypso instrumental; famous calypsonian MacBeth's(!) group featuring Pritchard, leader of the band after Fats died (just before this LP was released; Fats had taken over after MacBeth); very hip (sounds like Ed Watson) with great instrumental solos (clarinet, horns, etc.); a treat usually found only in NYC that we are always very proud to offer (most LPs like this are super-rare); Let's Advertise, Boogalypso, Carib Soul, Green Bananas, Calypsorama, The Devil, Fats Shake 'Em Up, Carnival Bounce, Nelsonia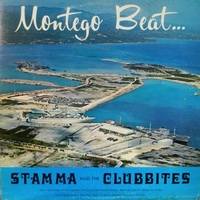 [Stamma Haughton/Stammer's Band] Stamma & the Clubbites: Montego Beat; Federal Record Mfg. FRM-134; E+/E- S $25 (or mild warp E/E S $25, specify) -- caribeat/calypso-jazz/reggae; Stamma Haughton sings terrific, funky proto-reggae versions of "Shaft" & "Black Magic Woman" covers!!!; album also has some great calypso-jazz; Black Magic Woman, Sparrow's Tent, Love of the Common People, What's the Idea, Mr. Walker, Cry to Me, Sweet Jamaica, Play Mas, Shaft (theme from), I'm Yours, Bam Bam Sha Boom, Fire Fire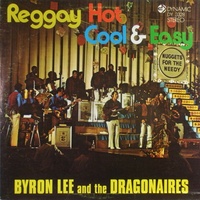 Byron Lee & the Dragonaires: Reggay Hot, Cool, & Easy; Dynamic DY-3328; E+/N- S $45 -- caribeat (funky); covers James Brown's "Hot Pants" (as "Hot Reggay"--TERRIFIC VERSION!!!) and "Shaft" (done to death by others but this is a GREAT reggaefied version); amazingly, even the rest of the LP is happening too; nice jacket photo of the band performing; Byron Lee's best by far (the only one you really need); Shaft, Sweet City Woman, Hot Reggay (Hot Pants), Bam Sa Bo, Have You Seen Her, For Your Precious Love, Maegre Dog, Mammy Blue, Flying Machine, Show Me Your Company, A Little Love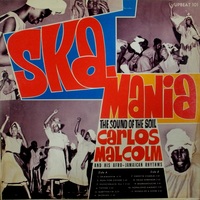 Carlos Malcolm & his Afro-Jamaican Rhythm (The Sound of the Soil): Ska-Mania; Federal/Upbeat 101; E-/V+ $40 -- caribeat/ska/mento; his second LP; Malcom is legendary for a later funk LP but in the mid-'60s he was known for top ska and mento (for dancing, full of jazzy horns, not boring as most ska tends to be) and these early rarities are not to be missed!; probably with Boris Gardner; sensational historic photos grace a first-rate jacket; Skamania, Run for Cover, Hunchback No.1, Tiptoe, Earthman, Skokian, Sweetie Charlie, Head Shrinker, Skaramouche, Hopalong Kassidy, Wings of a Dove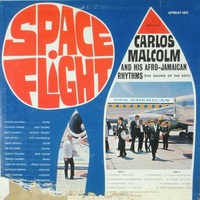 Carlos Malcolm & his Afro-Jamaican Rhythms (The Sound of the Soil): Space Flight; Upbeat 102; AUTOGRAPHED deep groove, Federal pressing V+*/E+ S $75 -- caribeat/ska/mento; his third LP is a real swinger!; with Boris Gardner; Space Flight, Lonely Bull, Cut Munoo, Mambo en Sax (Perez Prado!), Ellena, Bonanza, More, Slide Mangoose (sic), Come Back to Sorrento, Splanky (Neil Hefti); *priced lower for water damage on the jacket bottom; signed "Best wishes for '66 Carlos Malcolm"
Milo & the Kings: Today; Camille LP-9032; E/N- S $20 -- caribeat/soca; upbeat (it's good soca!), clever stuff with guitar, organ, and a horn section on Camille--can't go wrong!; Vero, Moonlight Shining Bright, Undecided Politician, Polio, Stay Up & Follow Milo, Gemma Gone [Nelsonia], Rain-O-Rama, Steel & Brass, Tonight, School Days (Mighty Sparrow!)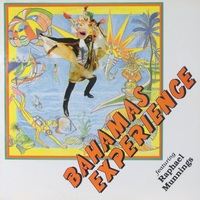 Raphael Munnings: Bahamas Experience 12" 45rpm single; Ultrascope International [no #]; 1986; N/N- S $15 (or free with order) -- caribeat; it's a little of the "End" of the Beginning of the End family, since brother Fred Munnings, Jr. is on here; arranged by Raphael and Harold Barney; the A-side is straight out of a bad '80s movie, while the B-side ("Inner World of Peace") is ponderous slow synth junk; so, get it for the jacket and all-things-Munnings lore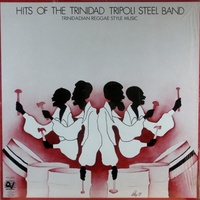 Trinidad Tripoli Steel Band: Hits of the Trinidad Tripoli Steel Band--Trinidadian Reggae Style Music; American Variety International AVI-1025; 1973; N/N- shrink S $30 -- steel-band/caribeat; "Trinidadian Reggae Style Music"; instrumental & live but with a nice clear, studio-quality sound; rare & legendary among rare-groove collectors for the Meters' "Cissy Strut"(!!!)--which features Meters-y crisp, spare kit drumming as well as steel pan; also: Spinning Wheel, Aquarius, Girl from Ipanema, Games People Play..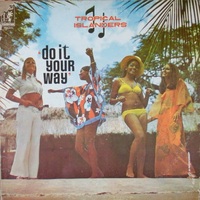 The Tropical Islanders: Do It Your Way; Caravan Island Series MMS-013 (Canadian version of Wirl W-013) V+/V+ S $15 -- caribeat; worth the while despite some wear as it's like Sparrow's Troubadours or Watson's Brass Circle: lotsa brass (instrumental); Simple Calypso, I'll Never Fall in Love Again, My Way, Je T'aime Moi Non Plus (Gainsbourg!), Margie, Sell the Pussy, Mosaiquito Cubana, Romeo & Juliet love theme, Felicia, Ole Mas, Sweeter Than You, A Banda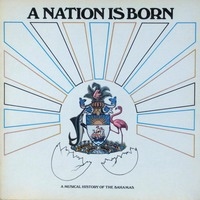 Various: A Nation is Born--A Musical History of the Bahamas; Bahamas Nationhood Ltd.; 1973; deluxe gatefold with inner leaf; deep groove E+/N- S $90 -- calypso/caribeat/funk/breakbeats; with unique [live] material and rare grooves, chiefly the fantastic "Independent Bahamas" by Biosis Now (long incredible goombay funk with extended bass & drum soloing (breakbeats), organ, and several terrific James Brown-style callouts, such as "Give the drummer-man some" and "Congo Man time!")--this cut alone is in the top tier of funky caribeat rare grooves!; notes by Sidney Poitier; The Lucayan Chorale: Oh Freedom, Eloise Lewis: I'm a Better Woman than You (live updated version!), Ronnie Butler & the Ramblers: Upward-Onward-Forward-Together, Rupert & the Rolling Coins: The Mail, Blind Blake: Run Come See, Exuma: Rushing through the Crowd, Beginning of the End: Funky Nassau (of course!), Biosis Now: Independent Bahamas, Bobby Smith: A New Day Dawning, Frankie "Zhivago" Young & the Rams: Pumpkin-Banana-Peas-Corn, Lucayan Chorale: March On Bahamaland
calypso LPs | compilation LPs | 45s & 78s | Caribeat (above) | Haiti | wants
© Hip Wax