Latin subpage: Edmundo Ros LPs & 45s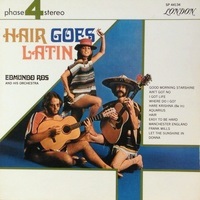 The Word: Venezuelan Edmundo Ros brought all things Latin, Caribbean (calypso), and Brasilian to England and the world. Some like his singing best, while others prefer his bandleader-composer accomplishments which approach those of Cugat.
The earliest Ros has some fascinating revelations, especially the exact Brasilian rhythm that Les Baxter used for "Quiet Village" (Ros got there first but Baxter's melody made the tune). Later Ros, even into the late 1970s, is full of highlights (offered here)--not to be dimissed!
As always, in Latin only the originals give you the sound of the original masters.
Further below: Edmundo Ros 45s
Links: are to artists bio/discog pages in the Hyp Records guide:

Images: accurately represent items but are not always the exact copy listed/purchased
Discount: ALWAYS try to buy more than one item at a time
---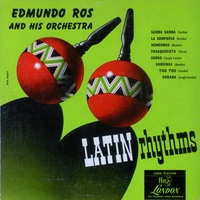 Edmundo Ros: Latin-American Rhythms 10"; London LPB-155; E/V+ $30 -- Latin/Brasilian; rare in the US, at least; it would be enough just as eight early Ros tracks, including some exciting jungle rumbas and mambos, but there's one of special significance: billed as a "jungle samba" the track "Congo" is the exact rhythm of "Quiet Village" if not also another antique standard, "Baia"; recorded in either 1949 or 1950 it predates Baxter's treatment and proves that Baxter really didn't do much but overlay strings playing a catchy melody (which is still something) to create his masterpiece; Samba Bamba, La Comparsa, Mondongo, Paraquedista, Congo, Gandinga, Tico-Tico, Cumana
Edmundo Ros: Ros Presents Calypsos 10"; London LPB-367; deep groove N-/E+ $30 (or E/N $30, specify) -- calypsos; his rare original calypso LP --one of his best and most sought-after-- in top shape!; Deesappointment, Tis Only a Matter of Mind Over Matter, Virgin Islands, Talk t'Me, One at a Time, Opportunity, Brown Skin Gal, Chocolate Whiskey & Vanilla Gin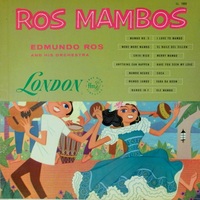 Edmundo Ros: Ros Mambos; London LL-1092; N-/N- $40 -- Latin/mambo; one of the prized early 12" discs with its glorious artwork and on the vintage mambo theme; first we've offered it (it's pretty hard to come by) and we're especially glad it's in unbeatable shape; Mambo No. 5, More More Mambo, Chivi-Rico, Anything Can Happen, Mambo Negro, Mambo Jambo, Mambo in F, I Love to Mambo, El Bailed el Sillon, Merry Mambo, Have You Seen My Love, Cuca, Vaba-Ba-boom, Olé Mambo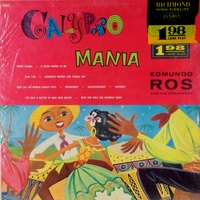 Edmundo Ros: Calypso Mania; London/Richmond B-20021; deep groove N/N- shrink $20 -- calypso; his original calypso LP reissued in 12" form with new artwork (here in top shape!!!) plus two more songs on Richmond, the budget subsidiary of London; the "shrink" is the old loose bag kind but it comes printed with the label/logo and price!; Tis Only a Matter of Mind Over Matter, They Say the Woman Always Pays, It Never Happen to Me, Happiness, Boys & Girls Like Saturday Night, Virgin Islands, Chocolate Whiskey & Vanilla Gin, Opportunity, Talk t'Me, Deesappointment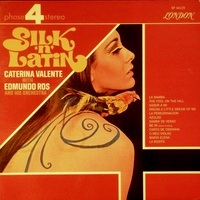 Caterina Valente w/Edmundo Ros: Silk 'n' Latin; London Phase 4 SP-44125; gatefold N-/E- S $15 -- famous for their version of Be In (Hare Krishna)--also done by Ros solo on "Hair Goes Latin"--, it's also their second of two very well-liked collaborations (Fire & Frenzy being the first); groovy mod jacket and good tunes make it work; La Bamba, Azulao, The Fool on the Hill, La Peregrinacion, Sabor a Mi, Dream a Little Dream of Me, Be In (Hare Krishna), Samba de Verao (Summer Samba), O Meu Violao, Maria Elena, La Rosita, Canto de Ossanha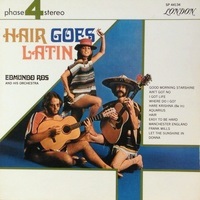 Edmundo Ros: Hair Goes Latin; London/Phase 4 SP-44134; 1970; gatefold; N/N S $25 (or N/N- S $20, specify) -- in a world of hair covers, as the movie guy would say, this is one of the few essentials: beloved/legendary for the groovy/camp packaging as well as for the strong "Hare Krishna (Be In)," which as Ros' solo here is far better than his later duet with Caterina Valente (but that's good too); recommended for both Ros fans and the odd-pop collector!; arranged by Roland Shaw, who did the decent James Bond records for the label; top sound!!!; Good Morning Starshine, Ain't Got No, I Got Life, Where Do I Go?, Hare Krishna (Be In), Aquarius, Hair, Easy to Be Hard, Manchester England, Frank Mills, Let the Sunshine In, Donna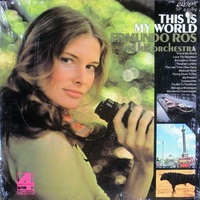 Edmundo Ros: This is My World; London Phase 4 SP-44189; 1972; gatefold cutout N/N shrink S $15 -- a "round the world" theme marks his passage into the slick new '70s sound where anything goes (bongo solos, samba as well as Latin, deep disco bass) and you find some of his most accessible work (modern, useful to djs); produced by Roland Shaw; This is my World (El Mundo de Edmundo), Love thy Neighbor, Arrivederci Roma, Russian Lullaby, The Last Time I Saw Paris, Mexicali Rose, Flying Down to Rio, My Present, Cavaquinho, Fly Me to the Moon, Managua Nicaragua, Wonderful Copenhagen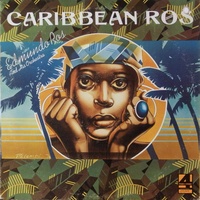 Edmundo Ros: Caribbean Ros; London/Phase 4 SP-44208; 1974; cutout E/N S $20 -- one of his best and not easy to find; deep, pronounced bass and funky conga bring out "Tequila" and a funky oddball called "Mama Loves Pompa" (we think of them as Ros' only "rare grooves"); rest mostly '70s standards like "You Are the Sunshine of My Love" but nicely done; Do You Like the Samba; Tie a Yellow Ribbon 'Round the Ole Oak Tree; La Paloma; The Night the Lights Went Out in Georgia; This Train' You Are the Sunshine of My Life; Grab the Bull by the Horns; Tequila; Words We Now Regret; Mama Loves Pompa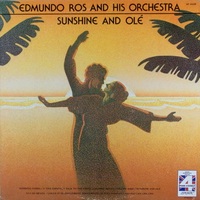 Edmundo Ros: Sunshine & Olé; London Phase 4 SP-44229; 1975; E/N- S $20 -- one of his rarest, and from perhaps his most interesting period, at least for DJs requiring modern sound; one calypso, sorta, and two great Brasilian cuts, but get it for a really exciting version of one by Monchito and a slick new stereo update of Esy Morales' exotic-rumba classic, "Jungle Fantasy"; The Wedding Samba, Y Viva Espana, I Talk to the Trees, Colonel Bogey, Yellow Bird, Sunshine and Ole, Luna do Brasil, Could it Be, Jungle Fantasy, Pao Pao Cha Cha Cha (Monchito)
Edmundo Ros: Original 45s/EPs
Edmundo Ros: Melodie d'Amour/The Carnation Girl (Garifold Staftl--Greek); London 45-1751; N- $15 -- calypso/Latin; B-side not on LP and is a nice Latin instrumental with some wordless chorus; A-side is on LP LL-1711 (Edmundo Ros Calypso Man)
© Hip Wax