Brasil: Original LPs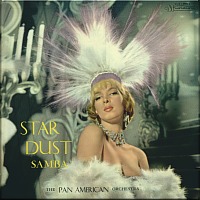 The Word: Lean selection of only the worthiest Brasilian and classic US/European releases of samba funk, jazz bossa, Afro-Brasilian cult/drum music, the great organists, and other Brasilian items. It's an extremely reliable page for getting just those records that belong in every collection...in top shape.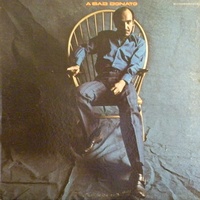 Further below: Brasil 45s & trade wants
Links: are to artists bio/discog pages in the Hyp Records guide:

Images: accurately represent items but are not always the exact copy listed/purchased
Discount: ALWAYS try to buy more than one item at a time
---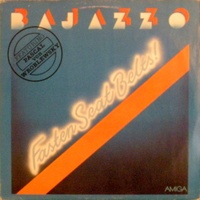 Bajazzo featuring Pascal von Wroblewski: Fasten Seat Belts; Amiga 8-56-324; E/N S $20 -- Germany (jazz from the '80s); "Sambalita" is the relevant cut (vocal bossa) DJs should find useful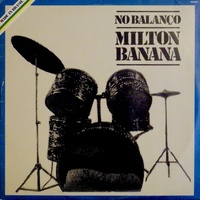 Milton Banana: No Balanco; RCA Victor (Brasil) 103.0576; 1983; E/N- S $30 -- Brasilian jazz; a later one by the master who gave Walter Wanderley his start; better than many of his from the early '70s; one of the top stars in Brasilian music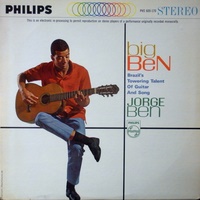 Jorge Ben: Big Ben; Philips PHS 600-170; 1965; deep groove E/N- ES $50 -- not to be confused with a rarer, later LP of the same name, this one is often referred to by the jacket's "Brazil's Towering Talent of Guitar & Song"; in any case it's the US/import version of his hit first LP(?) with the smash hit "Mas que nada" making its splash; the rest is terrific too and the best news is this scarce ES edition sounds pretty good!; Mas que nada, Tim dom dom, Balanca pema, Vem morena vem, Chove chuva, E so samba, Rosa menina Rosa, Quero esquecer você, Uala ualala, A tamba, Menina bonita não chora, Por causa de você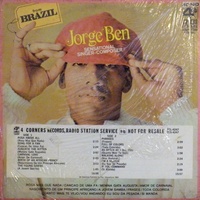 Jorge Ben: From Brazil; Kapp/4 Corners FCL-4247; white-label promo w/timing strip E+/N- shrink $50 -- 12 cuts, complete, quite a find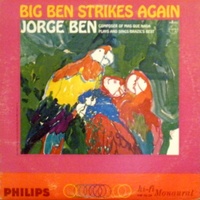 Jorge Ben: Big Ben Strikes Again; Philips PHM 200-684; deep groove E-/N- $40 -- US version of Ben e Samba Bon (Philips P-632.727-L); tho abridged to the 10 best cuts, worth it for the sound (better than the reissue); Descalco no parque, Onde anda meu amor, Bicho do mato, Vou de samba com voce, Samba legal, Gabriela, Zope zope, Saida do porto, Dandara hei, Samba menina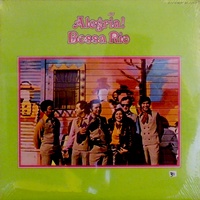 Bossa Rio: Alegria!; Blue Thumb BTS-8817; gatefold; sealed (uncut) S $30 (or cutout N/N- S $25, specify) (or cutout E+/E+ S $20, specify) -- Brasil; vocal pop; produced by Sergio Mendes, this is one of the first and most promising "hip" updates on the Brasil '66 sound, and whether it's because it's on Blue Thumb or the arrangements, it reminds one of the Joao Donato "A Bad Donato" LP (tho this is vocal); one of only two Bossa Rio LPs released in the US and an essential product of the prime of Sergio Mendes; best of all it's still possible to get top shape at a great low price; Spinning Wheel, Zazueira (Jorge Ben), Girl Talk, The Night Has a Thousand Eyes, What a Pity (Jorge Ben), With Your Love Now (Marcos Valle), Open Your Arms, Eleanor Rigby, Don't Go Breaking My Heart, Blackbird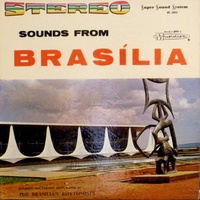 The Brasilian Rhythmists: Sounds from Brasilia; Musidisc MS-16014; deep groove N-/E+ S $30 -- one of the best Brasilian labels, top production (by Nilo Sergio), jacket, group, music!; 12 cuts led by piano; authentic popular & jazz bossa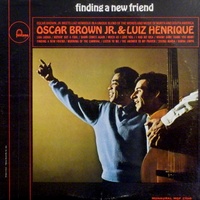 Oscar Brown, Jr. & Luiz Henrique: Finding a New Friend; Philips/Mercury/Fontana MGF-27549; deep groove E+/N- $35 (or stereo SRF-67549 V+/N- shrink S $25--water damage at bottom right, specify) -- Brasilian; we love this LP!; 2 great talents actually better in combination than singly; strong versions of standards (Laia Ladaia, Manha de Carnaval..) plus many more originals (Barra Limpa, Listen to Me, Finding a New Friend..); features some great jazzy horn soloing, too; yes, you should get the other great Luiz Henrique & Oscar Brown LPs too, but don't miss this one!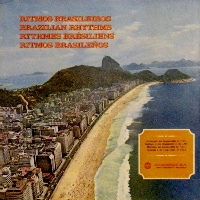 Credence: Ritmos Brasileiros; Credence S.A.; 1967; gatefold N-/N- $20 -- oddball credit-agency production that proves, among other things, that even Brasil's bankers are hip to samba; some Brasilian tourism-promotion LPs are terrific--this one's very good & undoubtedly we'll never see it again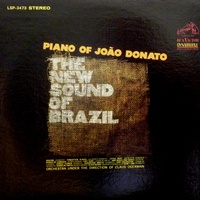 Joao Donato, Piano of: The New Sound of Brazil; RCA Victor LSP-3473; 1965; N/N shrink S $60 (or N-/V+ S $25, specify) -- of João's LPs, each a masterpiece & most of them rare/in high demand, this is perhaps the most charming, direct, & beautiful (everyone recognizes this as a great LP); the great Claus Ogerman directs the supporting orchestra, strings, & chorus; hear the awesome standards the way their creator intended: Amazon, Forgotten Places, Little Boat/O Barquinho, Manha de Carnaval, Lost Hope, And Roses & Roses, Jungle Flower, Sugarcane Breeze, Insensatez, Samba de Orfeu, Glass Beads, It Didn't End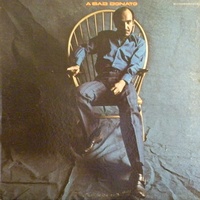 Joao Donato: A Bad Donato; Blue Thumb BTS-8821; 1972; gatefold; E/E+ S $75 -- Brasilian soul-jazz/funk/electric piano; w/Emil Richards (who produced it), Dom Um Romao, Condoli bros., Ernie Watts..; w/sensational breaks galore, it's a MUST HAVE, funky as can be, in fact THE FUNKIEST, entirely (100% GREAT) super-hip, Brasilian LP released in the US; no self-respecting DJ can afford to be without it, and we'll keep buying every clean copy that turns up; The Frog (even better than vocal versions!), Bambu, Lunar Tune, Straight Jacket (great breaks, sounds a bit like Dennis Coffey's "Scorpio"), Mosquito, Malandro..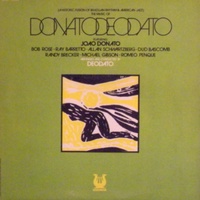 Joao Donato/Deodato: DonatoDeodato; Muse MR-5017; 1973; E+/N- S $40 -- Brasilian soul-jazz/funk/electric piano; w/Ray Barretto, Airto..; one of the best LPs on the Muse label, the follow-up to "A Bad Donato" offers a couple more funk masterpieces; Whistle Stop, Nightripper, Where's D.J.?, Capricorn, You Can Go, Batuque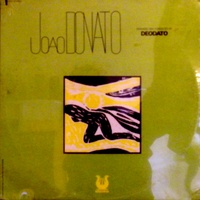 Joao Donato/Deodato: [João] Donato; Muse MR-5017; 1973; alternate/original jacket sealed cutout S $75 -- rare!; same as "DonatoDeodato" except the jacket face has different text (presumably a jacket/title change was required to give Deodato near-equal billing); we've never seen this version otherwise, and it's such a great title, someone will be lucky to have it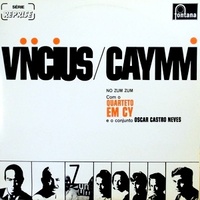 Quarteto em Cy e o conjunto Oscar Castro Neves: Vinicus e Caymmi No Zu Zum; Fontana 6488.152; 1982; E+/N S $40 -- the Girls from Bahia are older and more sophisticated (darker, more brooding sound); great stuff!; Bom dia amigo, Carta a tom, Berimbau, Tem do de mim, Broto Maroto, Minha Namorada, Saudades da Bahia, ...Das rosas, Historia de pescadores, Dia da criacao, Aruanda, Adalgiza, Formosa, Final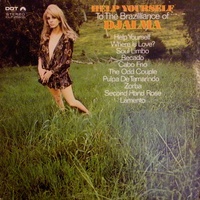 Djalma Ferreira: Help Yourself to the Brazilliance of Djalma; Dot DLP-25905; E+/N S $25 -- Brasil/organ; rare LP w/hip, unusual tunes!; accomplished Brasilian organist (one of the very few such LPs released in US) in the Walter Wanderley vein (Wanderley fans take note!); Soul Limbo, Odd Couple Theme, Recado, Cabo Frio, Where is Love, Help Yourself, Pulpa de tamarindo, Zorba, Second-Hand Rose, Lamento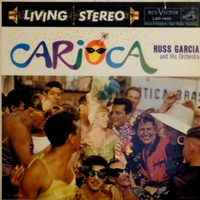 Russ Garcia: Carioca; RCA Victor LSP-1691; 1958; 1st press, deep groove E/E+ S $25 -- samba/bossa/jazz; his first, and along with Fantastica, best pop LP; perhaps THE classic US Brasilian LP of its day, with interesting ideas, (some abstract female vocalizing, even); worth it just for the killer, very moving "Fuiste a Bahia" alone but it's ALL GREAT!!!; Carioca, Baia, Copacabana, Delicado, Ba-Tu-Ca-Da, Cavaquinho, Natalie, Fuiste a Bahia, Risque, Cae Cae, Corridas en Madrid, Sabrosa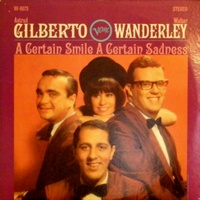 Astrud Gilberto/Walter Wanderley Trio: A Certain Smile A Certain Sadness; Verve V6-8673; cutout N-/N S $30 -- famous collaboration of the two top names in 1960s Brasilian pop (singer and instrumentalist); A Certain Sadness, Nega, So Nice (Summer Samba), Vocé ja foi bahia, Portugese Washerwoman, Goodbye Sadness (Tristeza), Call Me, Here's That Rainy Day, Tu me delirio, It's a Lovely Day Today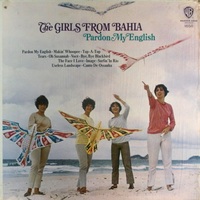 The Girls from Bahia (Quarteto em Cy): Pardon My English; Warner Bros. W-1658; cutout N-/N shrink $30 -- Brasilian; hip bossa with great harmony singing by the group better known [in Brasil] as Quarteto em Cy; first of a pair for the label, both really great and very useful for DJs (a great leap forward from Brasil '66) Pardon My English, Makin' Whoopee, Tears, Oh Susannah, Voce, Tup-a-Tup, Surfin' in Rio, Bye Bye Blackbird, Useless Landscape, The Face I Love, Image, Canto de Ossanha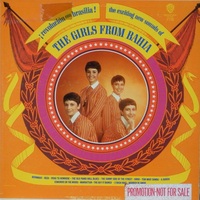 The Girls from Bahia (Quarteto em Cy): Revolucion con Brasilia; Warner Bros. W-1715; white-label promo V+/N- $25 -- Brasilian; hip bossa with great harmony singing by the group better known [in Brasil] as Quarteto em Cy; second of a pair for the label, both really great and very useful for DJs (a great leap forward from Brasil '66); Berimbao, Tem Mais Samba, Edmundo (In the Mood, Laia Ladaia (Reza), Morrer de Amor, The Sunny Side of the Street, Road to Nowhere, The Old Piano Roll Blues, The Day it Rained, E Nada Mais, Manhattan, Dindi, A Banda (Parade)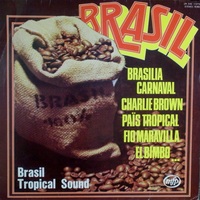 [Nico Gomez &] Brasil Tropical Sound: Brasil; EMI/MFP 2M046-13276; 1975; E/E- S $35 -- Brasil/moog/funk; covers songs by Jorge Ben and others, and very well(!), but the big payoff is the seriously heavy, funky cut "Malaria Febre" -- which updates or reprises "Jungle Fever"(!!!) in a moogy, spacey, instrumental way, so DJs take note; also, it's one of the several Nico Gomez LPs (uncredited this time) on a Brasilian theme and probably the best one after the famous "Ritual" LP; yes, it's only budget-label Eurocrap, but it's good, well worthwhile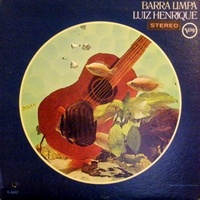 Luiz Henrique: Barra Limpa; Verve V6-8697; 1967; gatefold 2nd cutout E+/N- S $25 -- Brasil/vocal; like his LPs on Fontana, it's absolutely terrific, from the intriguing fishbowl jacket to utterly different, super interpretation of Mas que nada (you'll still love it long after you've burned out on standard versions); shares only 3 songs w/his Fontana LP "Listen to Me" (another must-have if you can get it): Listen to Me, If You Want to Be a Lover, Alicinha; others, unique to this LP: Reza, A Trip to Brazil, Vivo Sonhando, O Morro, Samba do Orfeu, Minha Lagoa, A Waltz for Diana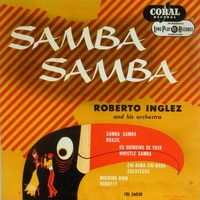 Roberto Inglez & his Orchestra: Samba Samba 10"; Coral CRL-56030; deep groove V+/V+ $15 -- samba; old, and by a transplant to London (like Edmundo Ros), notable for rarity and jacket especially; Samba Samba, Brazil, Os quindins de yaya, Whistle Samba, Chi-Baba Chi-Baba, Zacatecas, Mocking Bird, Dengozo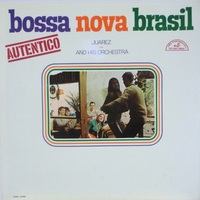 Juarez & his Orchestra: Bossa Nova Brasil; ABC-Paramount ABC-449; N/N $30 (or E+/N $25, specify) -- bossa/tenor sax; scarce LP on a major label (that's good to jazz and bossa--this isn't budget dreck!); in addition to bass and percussion, the group features Nelson ("Nelsinho") Dos Santos on trombone, guitarist Neco, and pianists Fats Elpidio and Tenorio Jr. (no strings -- it's not orchestral mush, rather a well-rounded combo playing well, creatively, and authentically as recorded in Brasil); Samba toff, So danco samba, Tema para dede, Rosa morena, Esta nascendo un samba, a mesma rosa amarela, Lobo bobo, Bim bom, Direi depois, Sincopado triste, O amor que acabou, Maria ninguem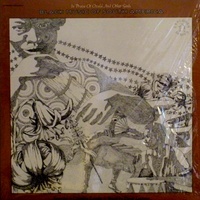 [Lewiston:] In Praise of Oxalá & Other Gods--Black Music of South America; Nonesuch H-72036; N/N shrink S $20 -- candomblé/sacred/roots; field recording by David Lewiston of heavy Afro-Brasil roots music from Columbia, Ecuador, and Brasil; primordial cumbia, samba, capoeira, candomblé, Guapi; listed in the "recommended" discography of a book we have on Latin/Caribbean-region music; yes, it's top production of mystic Afro beats--get it!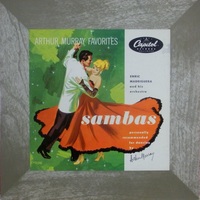 Enric Madriguera: Arthur Murray Favorites--Sambas 10"; Capitol L-260; deep groove E/E $20 -- Brasil; hard to find at all, much less in such nice shape; mostly reissued on a 12" LP (which has another artist on it too) but only this original version has the first track, Ary Barroso's classic "Brazil"; yes, it's quite old, but it's classic and good; Brazil, Juriti, Come to the Mardi Gras, Minute Samba, A Batucada Comecou, Tico Tico, One Night in Brasil, Saramba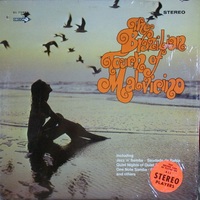 Horacio Malvicino: The Brazilian Touch of Malvicino Decca DL-75083; N/N- shrink S $25 -- bossa/samba/guitar; a great star in Argentina, Malvicino was invited by the Brasilian gummint to perform in Rio, and this '60s one-off import version is the only realistic chance US LP collectors will have to hear him; classic tunes (and a good original) in the swinging Walter Wanderley vein, all good stuff!; So danco samba, Saudade de Bahia, Corcovado, Tristeza, Sal y pimienta, Samba de mi tierra, Samba de una nota sola, Rosa morena, Estela al resplandor de las estrellas, The Duck (O Pato), Divagando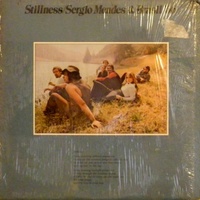 Sergio Mendes & Brasil '66: Stillness; A&M SP-4284; 1970; gatefold N/N- shrink S $20 (or E/E S $15, specify) -- DJ-essential for the hip, dark, stone-funky update of "For What It's Worth"--that's right, the great Buffalo Springfield hit but much, much deeper!; this LP starts the hip later incarnation(s) of the group, which tho less well-known yielded a lot of great stuff useful for international club DJs today (a far cry from the earlier Beatles covers that's the stuff of oldies radio)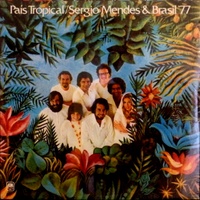 Sergio Mendes & Brasil '77: Pais Tropical; A&M SP-4315; flapped jacket; E+/E+ S $15 -- one of the scarcer, better LPs that deserve much more attention from DJs; the whole thing is lovely & fresh ("After Midnight" is the lone but worthy US pop cover, and there are some great Brasilian treatments); "Asa Branca" stands as the funky (yes!) essential track for DJs; beautiful jacket of lush colorful tropical jungle; best of all, we've priced it rock-bottom just to see who's paying attention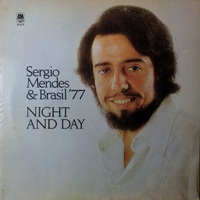 Sergio Mendes & Brasil '77: Night & Day; A&M SP-8110; E+/N S $15 -- Brasil pop; very strong, with updates of some of his classics, and of course the big payoff for all fans and DJs alike is the final cut: Watch What Happens, So Many Stars, Wave, Tristeza, Night & Day, Like a Lover, Roda, For Me, Cinnamon & Clove, So Danca Samba, Mais Que Nada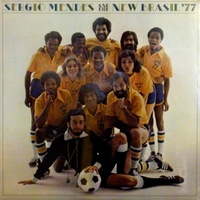 Sergio Mendes & the New Brasil '77; Warner/Elektra 7E-1102; 1977; sealed cutout S $15 -- very good late one, unopened; Love Me Tomorrow, Love City (Stevie Wonder), Mozambique, If You Leave Me Now, Peninsula, Why, The Real Thing (Stevie Wonder), P-Ka-Boo (Hank Redd), Life (Cliff Coulter)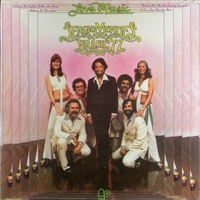 Sergio Mendes & Brasil '77: Love Music; Bell 1119; 1973; sealed S $15 -- gotta love it: lowest price, never opened, uncut, stereo, perfect!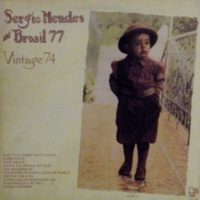 Sergio Mendes & Brasil '77: Vintage '74; Bell 1305; 1974; gatefold E/N- S $20 -- terrific, funky, hip!; three great Stevie Wonder covers (Don't You Worry 'Bout a Thing, Superstition, If You Really Love Me) and much more; better production than all the earlier SM incarnations on A&M, Atlantic, Capitol and with a much hipper sound (funky drums, Moog, guitar) for the prime early-middle '70s; great singing and arrangements DJs and all listeners will appreciate even on the more downtempo stuff, such as "This Masquerade"; nice jacket photos too!; YOU NEED THIS!!!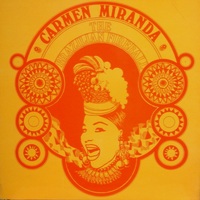 Carmen Miranda: The Brazilian Fireball; World Sound EMI SH-114 (World Record Club); UK import N/N $30 -- awesome compilation of 16 tracks from the Odeon vaults, all old (78 era), real samba, very much predating her Hollywood records; if you have other Carmen Miranda, you won't have most or all of the 16 prizes assembled here (there are about 400 Odeon recordings mostly lost or at least with near-zero documentation); great stuff!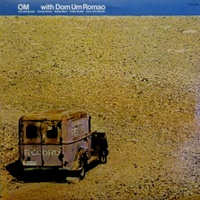 Dom um Romao: OM; ECM 19003; 1978/1977; N/N S $20 -- US issue (Warner Bros.) of a classic European recording; Chipero (berimbau), Back to Front, Dumini, De Funk

Aldemaro Romero & his Onda Nueva (Venezuelan mod bossa) .... see Latin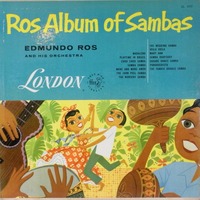 Edmundo Ros: Ros Album of Sambas; London LL-1117; deep groove N-/V+ $20 -- samba; the Venezuelan-born "Cugat of England" does a great job with sambas, and this is the rare prize among the early "LL" series of Ros on London (UK Decca) with the gorgeous jacket art; even better, the tunes are original, or samba adaptations, and in any case predating the shopworn Brasil classics from the soon-to-follow bossa period; Madelena, Playtime in Brasil, Choo Choo Samba, Samba Samba, More and More Amor, The John Peel Samba, The Nursery Samba, The Wedding Samba, Voila Voila, Mary Ann, Samba Rhapsody, Square Dance Samba, Paraquedista, The Yankee Doodle Samba; expect some wear/noise but not bad, worth it just for the jacket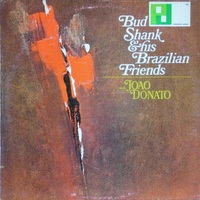 Bud Shank & his Brazilian Friends; Pacific Jazz PJ-89; 1965; black label E/E $75 -- bossa; terrific Joao Donato rarity (probably the rarest US LP with him!); the great Joao Donato arranged, plays, and did some composing here, and that's all you need; the disc is perfect except a couple of small press bumps which sound but don't derail, and it's in gorgeous-sounding mono (better/more reliable); what you've always wanted in a '60s bossa-jazz record but never seem to get!; Rosinha de Valenca, Sebastian Neto, Chico Batera; Sausalito, Minha saudade, Samba do aviao, It Was Night, Silk Stop, Caminho de casa, Bonfa, Once I Loved, Sambou-sambou, Tristesa em mim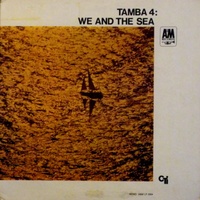 Tamba 4: We & the Sea; A&M/CTI SP-3003; 1967; gatefold white-label promo E-/E- $15 -- Brasilian jazz; classic first LP by top group; creative, like the better CTI LPs (recorded by Rudy Van Gelder); former radio-station copy, some cosmetic flaws (former radio station DJ copy) but plays/gift at the price; The Hill, Flower Girl, lemanja, We & the Sea, Chant of Ossanha, Dolphin, Consolation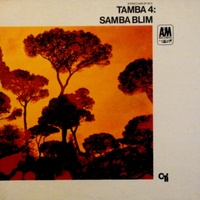 Tamba 4: Samba Blim; A&M/CTI SP-3013; 1968; gatefold E/E+ S $30 -- Brasilian jazz; very scarce (especially in top shape), and of course very good; produced by Creed Taylor and recorded at Van Gelder Studios; Samba Blim, Watch What Happens, Weekend, Palladium, Quietly, Know it All, Reza, Tristeza de nos dois, San Salvador, Slick, Baiano, Pregao

Walter Wanderley has a subpage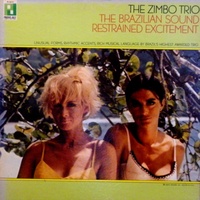 The Zimbo Trio: The Brazilian Sound/Restrained Excitement; Pacific Jazz PJ-10114 (orig. RGE Brasil); gatefold E/E- $30 -- Brasil jazz; acclaimed trio's second LP recorded in Brasil and released in the US but rarer than the first LP; Kao xango, Bocoxe, It Could Only Happen With You (So tinha de ser com voce), Slum (Favela), Tomorrow (Amanha), Veloso's Samba (Samba do veloso), Just to Hurt My Heart (P'ra machucar meu coracao, Jequibau, To Live Happily (Pra viver feliz), Goodbye Sadness (Tristeza), Water to Drink (Àgua de beber)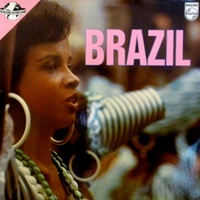 Various: Brazil; Philips 6349.130; 1973?/1971-3; N-/N $30 -- compilation of top hits and stars on a European label (great Dutch pressing); Jair Rodriguez (O mundo encantado de monteiro lobato), Chico Buarque (Partido alto), Nara Leao (Nordeste, seu povo, seu canto e sua gloria), Carlos Lyra (Afro Latino), Ivan Lins (Nha tereza), G.R.E.S. Academicos do salgueiro (Paz, amor e alegria), Gilberto Gil (Expresso 2222), Jorge Ben (Caramba!...Galileu da Galileia), Elis Regina (Baia com baia), Baden Powell (Petite Waltz), Tom Jobim (Aguas de marco)

more bossa? .... jazz
Brasil 45s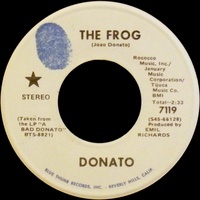 Joao Donato: The Frog/Cade Jodel? (The Beautiful One); Blue Thumb 7119; 1972; E+ S $25 -- two fantastic cuts from the best-of-breed A Bad Donato LP; A-side made famous by Brasil '66 but you need this version if you're gonna DJ like someone who gets his music somewhere other than the nearest lilypad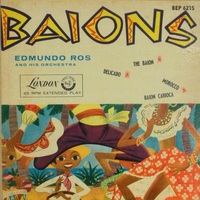 Edmundo Ros: Ros Album of Baions EP; London BEP-6215; E-/E $10 -- Delicado, Baiao No Braz, Morocco, Baion Carioca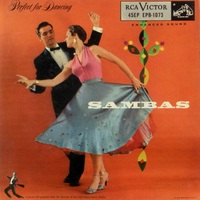 Various: Perfect for Dancing--Sambas EP; RCA Victor EPB-1073; 1955; 2-disc gatefold; 1st press N-/N- $20 -- "Enhanced Sound"; devilishly scarce series, coveted at least for the Fred Astaire logo, and usually worse for wear if found at all, so it's a thrill to have in clean EP form (higher gain from 45s, too!), even tho it's only 8/12 of the LP tracks; great stars, including some Latin heavyweights, such as the Fiesta-label stalwart Jose Curbelo and Noro Morales; not duplicitous with other albums; Fafa Lemos (Brazil, Madelena), Patricia Teixeira (Nao Teno Lagrimas, Sabia Larangeira), José Curbelo (Clarinet Samba, Boogie-Woogie Na Favela), Zaccarias (Tico Tico No Fuba), Noro Morales (Montevideo)
Wanted in Trade:

João Donato (imports; inquire)

Walter Wanderley (imports; inquire)

Various: Mondo Bossa Tres; Dimensions 307.31.71 (recent 2-LP comp)

book: Aloysio de Oliveira: De Banda Pa Lua (autobiography)
© Hip Wax