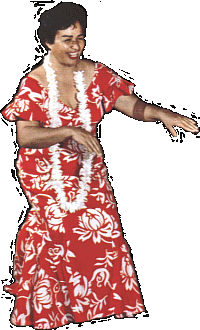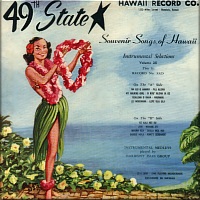 Genoa Keawe and her Hawaiians are the real stars of Hawai'i, the beloved royalty of the 49th State Hawaii record label. Headlining at her own Club Polynesia, singer Keawe recorded for decades with minimal decline in range or ability. As the Party Hulas liners state, "She sings clear and true, with the Hawaiian ha'iha'i...that effortless, unmistakable breaking turn of voice that can in no way be compared with the heavy hillbilly yodel. Genoa sings sweet, she sings sassy, but she always sings Hawaiian..."
Keawe presided over the most important, consistently tasteful record label in Hawaii during the 1950s and early 1960s. As Blue Note is to jazz fans, 49th State Hawaii is to afficionados of Polynesian music. (Why 49th State Hawaii? The movement for statehood predated Alaska's becoming State 49.) Helpfully, all the artists are credited; LP jackets state whether the music is vocal or "instrumentals in hula tempo" and even whether it is essentially authentic or geared to tourists.
The best of the label, as with most Hawaiian albums, are the vocal recordings, although house-band leader Benjamin Rogers on Hawaiian steel guitar is wonderful. His instrumentals usually fill the second side and can be quite hypnotic because of the lush vibraphone, or "kaekeeke haole." Then there are the Japanese and even Japanese-Latin LPs recorded with Japanese musicians in Tokyo. The label maintained an office in Hollywood, CA for mainland U.S. distribution and frequently used red vinyl.
Eventually Hawaii's label of choice became Hula Records, a continuation of the 49th State Hawaii legacy plus a new generation of stars. Other authentic labels such as Sounds of Hawaii, Waikiki, Lehua, Makaha, Mahalo, and Poki continued the Keawe-established high standards, naturally meeting consumer expectations of similar sophistication. Hawaiian music during the 1970s diversified greatly, as slack-key, steel guitar, virtuoso ukulele, Pidgin-English comedy, Kui Lee's modernism, and other styles gained in influence and popularity. Mahalo nui loa to Keawe for presenting Hawaii's greatest musicicans in their high-fidelity, creative prime, and just when jet air travel brought the Islands within reach of most Americans.
Buying: 49th State Hawaii was the first, top, most significant, authentic label of Hawaii. Look for especially the rare 10" LPs compiling early singles (78s & 45s). For some of Genoa Keawe's best work seek also the 1970s LPs on Hula and Poki, listed on the main Hawaii page.