Moog subpage: Perrey-Kingsley LPs & 45s
Jean-Jacques Perrey/Pat Prilly, Gershon Kingsley, Perrey-Kingsley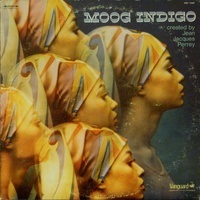 The Word: Perrey-Kingsley is a typical starting point for people getting into vintage, modular Moog. Together and separately these men really covered the bulk of the idiom. Gershon Kingsley's group led to the biggest Moog hit ever, "Hot Butter," while Jean-Jacques Perrey now is celebrated for "EVA," the biggest funky-Moog hit ever. As a combination, Perrey-Kingsley made a pair of LPs that defined pop Moog for most people.
Further below: Perrey-Kingsley 45s
Links: are to subpages or artists bio/discog pages in the Hyp Records guide:

Images: accurately represent items but are not always the exact copy listed/purchased
Discount: ALWAYS try to buy more than one item at a time
---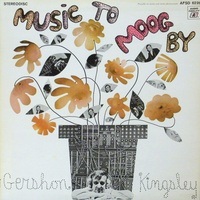 Gershon Kingsley & the Moog: Music to Moog By; Audio FidelityAFSD-6226; 1969; N-/N- S $120 (or E+/N- S $100, specify) (or Capitol-made black-label E+/E+ S $75, specify) -- Moog/funky drums; one of, if not THE most important of the early Moog classics, in even higher demand now for "Hey Hey" (which has been compared to the Dr. Who theme but with a funkier beat) and the original version of "Pop Corn" (the first and forever biggest smash hit of Moog, covered by no less than Omar Khorshid, among many others); Stan Free who split to form Hot Butter was in this original Moog quartet!; groovy jacket design, Beatles covers -- all told, a classic no Moog collection can be without!; Hey Hey, Scarborough Fair, For Alisse Beethoven, Sheila, Pop Corn, Twinkle Twinkle, Nowhere Man, Sunset Sound, Trumansburg Whistle, Paperback Rider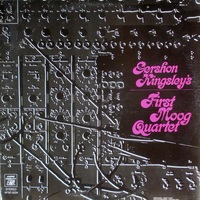 Gershon Kingsley's First Moog Quartet; Audio Fidelity AFSD-6234; 1970; Unipak gatefold, black label E+/E- S $60 -- Moog/funky drums; very hard to find and easily his hippest, most creative work, still with Stan Free before he went on to start Hot Butter; wild voice (by soloists from around the world, of different ages), and breakbeats/funky drums(!), very creative; somewhat like a poor man's Wozard of Iz which is pretty high recommendation!; Eleanor Rigby, Have It Grab It or Go, Miracles (5-part suite), Images, Did You Ever Take a Journey, Rebirth..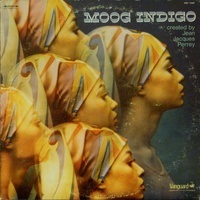 Jean-Jacques Perrey: Moog Indigo; Vanguard VSD-6549; 1968; V+/N- S $200 (or V+/E+ S $150, specify) -- Moog/funk; for disco-anticipating super Moog funk nothing tops the killer "E.V.A." plus nearly equal funky-Moog cuts Soul City, Moog Indigo, and Cat in the Night (the rest vary); "E.V.A." was remixed a few years ago and caused a huge sensation, tho DJs with ears and taste will find the original much better (can be used straight/as is in modern contexts and mixes); of all the LPs on this page for you to splurge on, this is one of the first to consider --highest recommendation-- particularly if you want your primordial electronica to be as hip, funky, and dancefloor-worthy as it can possibly be (Moog usually isn't thought of that way); rub wear on jacket (always the case with this one) but so it goes with top rarities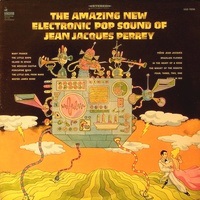 Jean-Jacques Perrey: The Amazing New Electronic Pop Sound of Jean-Jacques Perrey; Vanguard VSD-79286; 1968; deep groove New Zealand import E-/E+ S $35 -- Moog pop; 1 of the 2 great Vanguard LPs & more pop than funky, but still totally hip & groovy, at least in the nerd-chic way; fantastic music, jacket, the works, w/help from Harry Breuer; Porcupine Rock (INSANE, absolutely incredible mod-soul-twist from SPACE!!!), The Minuet of the Robots, Brazilian Flower, Mister James Bond, The Little Ships, The Mexican Cactus, The Little Girl from Mars..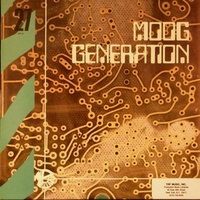 [Jean-Jacques Perrey &] Pat Prilly: Moog Generation; Montparnasse 2000 Mon-27 (2nd/abstract jacket) N/N S $80 -- Moog/production; an early 1 in the great French series (hard to get!), ostensibly by Perrey's daughter but really Perry w/Harry Breuer!; Kiddy Kappers, Go-Go Scotch, Mosquitoes on Parade..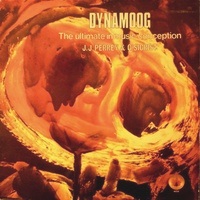 Jean-Jacques Perrey & Gilbert Sigrist: DynaMoog; Crea Sound Ltd. 46.532 (Canadian version of Montparnasse 2000 Mon-33) N-/E S $100 -- Moog/production; "The ultimate in music conception"; 3 or 4 really hip tracks (funky Moog or space) stand out, and of course it's a prize for all other reasons too; Le Fugitif, Jeux de Moogs, Syntheme, Bossa Mooga, Dynamoog..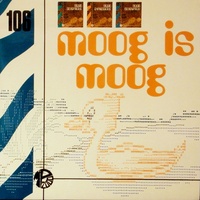 [Jean-Jacques Perrey &] Pat Prilly: Moog is Moog; Montparnasse 2000 MP-106; N/N S $80 (or trade for any other in the series) -- Moog/production; another in the great French series (very hard to get!), ostensibly by Perrey's daughter but really Perry w/Harry Breuer!; Brazilian Chick, Mod Ghost, Krazy Cat Rag, Crazy Crow & Daffyduck, Goosey Goosey Gander, The Giddy Goblin..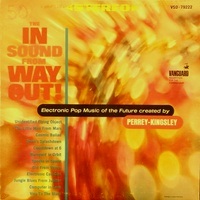 Perrey-Kingsley: The IN Sound from WAY OUT!; Vanguard VSD-79222; Stereolab E-/E+ S $25 -- pop Moog "Electronic Pop Music of the Future"; yep, it's the mighty, nutty, wacky original at a great price (we've seen others price it way up lately); UFO, Swan's Splashdown, Spooks in Space, Girl from Venus, Jungle Blues from Jupiter, Computer in Love..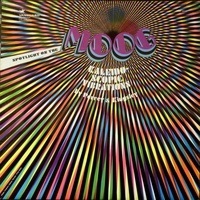 [Jean-Jacques] Perrey & Kingsley: Spotlight on the Moog--Kaleidoscopic Vibrations; Vanguard VSD-6525; 1971/1967 [UK import] N/N- S $30 -- pop Moog; the classic in state-of-the-art original form, except it's the foreign version w/different jacket art and for a low, low price; One Note Samba/Spanish Flea, Fallout, Baroque Hoedown, Carousel of the Planets, Pioneers of the Stars, Mas Que Nada..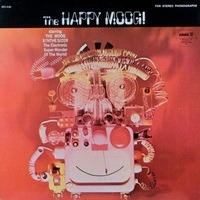 Harry Breuer w/Jean-Jacques Perrey: The Happy Moog!; Pickwick SPC-3160; N-/N S $40 -- Moog; "starring the Moog Synthesizer--The Electronic Super-Wonder of the World!"; one of the very few US J.J. Perrey/Pat Prilly LPs and not a previously released album!; as with the rest of his, it's not only fantastic pop Moog, it's largely on a space theme!; Moog Foo Yong, Space Express, March of the Martians, In a Latin Moog, In a Happy Moog, Short Circuit, Saturn Ski Jump, Paris 2079, Re-Entry to the Moon, Blast Off Country Style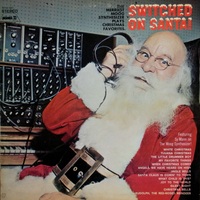 Jean-Jacques Perrey & Sy Mann: Switched-On Santa--The Moog Synthesizer Plays the Merriest of Christmas Favorites; Pickwick SPCX-1007; 1970; E/N S $30 -- pop Moog/Christmas; obviously it's essential, good, and worthy just for being by Jean-Jacques Perrey; there's some other indispensable Xmas-Moog (by Bruce Haack) and some dreck, but this is the go-to classic for DJs stuck with trying to spice up the office party after spiking the punch; Rudolph the Red-Nosed Reindeer, Jingle Bells, Santa Claus is Coming to Town, Tijuana Christmas, My Favorite Things, The Little Drummer Boy, Christmas Bells, White Christmas, Joy to the World, When Christmas Comes, Angels We Have Heard on High, Silent Night, What Child is This
Perrey-Kingsley 45s & EPs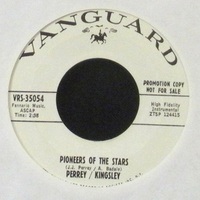 Perrey-Kingsley: The Savers/Pioneers of the Stars; Vanguard VRS-35054; white-label promo E+ $25 -- pop Moog; another rarity you must have for the growing Moog/space section of your "Jukebox of the Gods"; get that the big sound on the little record with the big hole!
Jean-Jacques Perrey Records Wanted in Trade:

Jean-Jacques Perrey (or Pat Prilly; France):

45s & EPs (non-LP tunes, pseudonymous singles; inquire)
Moog Expressions
Moog Vibrations
© Hip Wax