Soul-Jazz Horns: Original LPs
brass (sax, trumpet, trombone), reeds, bagpipes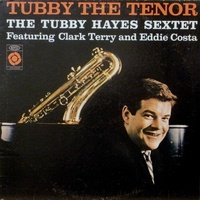 The Word: This page is mainly stuff that is clearly or dominantly by horn and reed players, usually "household name" artists every jazzbo recognizes. See also the main jazz page for further soul jazz featuring horns or led by horn players--there is some strange stuff there! In addition to the Blue Note and Prestige household names listed below, you'll find some Rufus Harley, Roland Kirk, and a few other weirdbeards here, too.
Further below: Horns/Reeds 45s
Links: are to artists bio/discog pages in the Hyp Records guide:

Images: accurately represent items but are not always the exact copy listed/purchased
Discount: ALWAYS try to buy more than one item at a time
---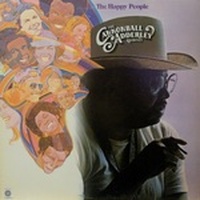 The Cannonball Adderley Quintet: The Happy People; Capitol ST-11121; 1972; deep groove E+/N- S $25 -- free/out/Brasilian; produced by David Axelrod; live (inspired by a trip to Brasil); with Airto, Flora Purim, George Duke, King Errison, David T. Walker, Olga James..; The Happy People, Maria Tres Filhos, Savior, Ela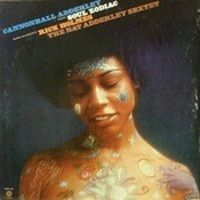 Cannonball Adderley Presents Soul Zodiac, Written and Narrated by Rick Holmes, The Nat Adderley Sextet; Capitol SVBB-11025; 1972; 2-LP gatefold; red/1st E/N S $75 (or green/2nd E-/E+ S $35, specify) -- soul jazz/occult/spoken; 1st of the 3 awesome, mind-blowing sessions involving Rick Holmes; prod. Adderley and David Axelrod; music ranges from the funky to the very out, including psychedelic rock guitar (not fusion, don't worry); DEEP, DARK, unique (except their similar but inferior LP on Fantasy), and GREAT!!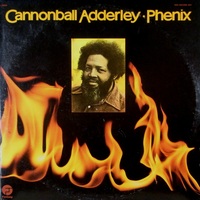 Cannonball Adderley: Phenix (sic); Fantasy F-79004; 1975; 2-LP gatefold promo E/E+ S $20 -- soul jazz; Soul of the Bible and the Zodiac LPs get all the attention these days, but don't overlook this; it's all hip updates of his Capitol hits, so old favorites have been transformed into funky classics for DJs; Hamba Nami (GREAT--worth it just for this one!), Sack o' Woe, Jive Samba, This Here, Work Song, Country Preacher, Walk Tall, Mercy Mercy Mercy, High Fly..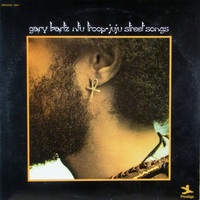 Gary Bartz Ntu Troop: Juju Street Songs; Prestige PRST-10057; 1972; E+/N S $50 (or E-/N- S $40, specify) -- sax/spiritual soul jazz/out; one of his best, if not the best; w/Andy Bey, Stafford James, Howard King; I Wanna Be Where You Are, Black Maybe, Bertha Baptist, Africans Unite, Teheran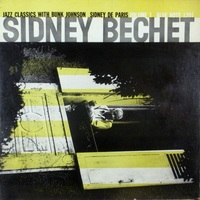 Sidney Bechet: Jazz Classics Vol. 1 w/Bunk Johnson & Sidney de Paris; Blue Note BLP-1201; NY/blue-white N-/N- $40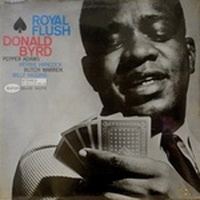 Donald Byrd: Royal Flush; Liberty/Blue Note BST-84101; cutout sealed S $30 -- w/Pepper Adams, Herbie Hancock, Butch Warren, Billy Higgins; Hush, I'm a Fool to Want You, Jorgie's, Shangri-La, 6 M's, Requiem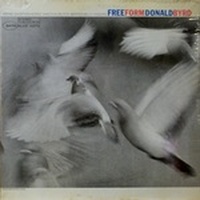 Donald Byrd: Free Form; Liberty/Blue Note BST-84118; sealed S $40 -- w/Wayne Shorter, Herbie Hancock, Butch Warren, Billy Higgins; Pentecostal Feeling, Night Flower, Nai Nai, French Spice, Free Form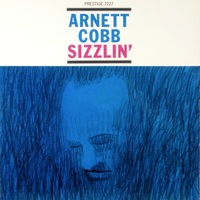 Arnett Cobb: Sizzlin'; Prestige 7227; 1960; promo (stamped "PREVIEW COPY" on rear) 1st/groove/yellow/Bergenfield N-/E- $40 -- tenor sax w/Red Garland, George Tucker, J.C. Heard; gorgeous jacket and sound; disc great (just spotty little light surface marks), plays near perfectly (on Blue Sermon we heard just the merest of noise); Sweet Georgia Brown, Black Velvet, Blue Sermon, Georgia On My Mind, Sizzlin', The Way You Look Tonight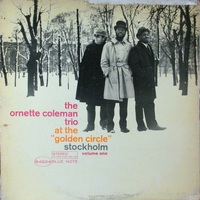 Ornette Coleman Trio at the Golden Circle, Stockholm, Volume One; Liberty/Blue Note BST-84224; E-/E S $20 -- only some very light marks, plays fine; nice price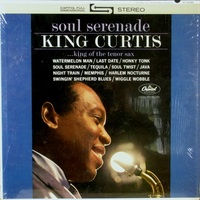 King Curtis: Soul Serenade; Capitol ST-2095; N/E+ shrink S $20 -- mod soul twist/sax; Tequila, Night Train, Harlem Nocturne, Honky Tonk, Soul Twist, Watermelon Man, Swingin' Shepherd Blues, Wiggle Wobble..; some light marks but plays as new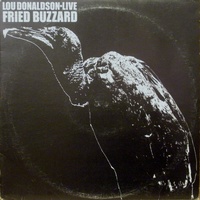 Lou Donaldson: Live--Fried Buzzard; GRT/Cadet LPS-842; rec. 1965; cutout E-/E+ S $20 -- live w/Bill Hardman, Leo Morris, Billy Gardner, Warren Stephens; a latterday ('70s) "from the vaults" release that couldn't possibly outdo his classic studio work of the period, but it does provide fascinating contrast--the live performances were something else!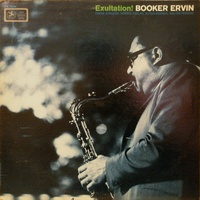 Booker Ervin: Exultation!; Prestige PRST-7844; 1970/1963; purple E+/N- S $25 -- tenor; "Jazz Classics Series"; reissues all of PRST-7293 and adds 2 alternate short takes released on a 45; original liners plus Ira Gitler's notes from after Ervin's death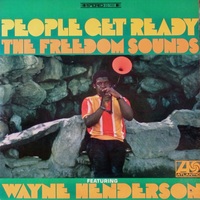 The Freedom Sounds Featuring Wayne Henderson: People Get Ready; Atlantic SD-1492; 1967; cutout N-/E+ S $30 -- mod soul-jazz; earlier of 2 LPs led by great trombonist and arranger Henderson, w/Harold Land, Paul Humphrey..; starts w/solid boogaloo, which is great for DJs (sounds like the best Fania and Cotique LPs which featured trombone) but winds up with a pair of longer, heavier, more "out" cookers; Respect, People Get Ready, Cucamonga, Things Go Better, Fa-Fa-Fa-Fa-Fa, Brother John Henry, Orbital Velocity, Cathy the Cooker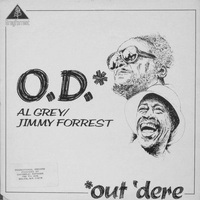 Al Grey/Jimmy Forrest: O.D. (Out 'Dere); GreyForrest GF-1001; 1980; cutout E+/E+ S $30 -- soul-jazz horns; 2 originals and 6 hip covers in a stellar private press (b/w jacket) by legendary masters (Al Grey--trombone, Jummy Forrest--tenor, Don Patterson--organ, Peter Leitch--guitar, Charlie Rice--drums); reason to pounce?--the smoking super-funky 5-min title track that, despite the year, is of the "Move Your Hand" level of stone funk groove, but much less shopworn!; Out Dere, Willow Weep for Me, Pizza on the Park, Deuces Wild, Aries, Blues for Ginni, You Are the Sunshine of My Life, In My Solitude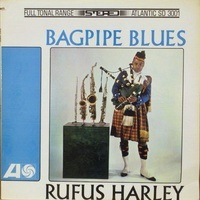 Rufus Harley: Bagpipe Blues; Atlantic 3001 (mono--not shown); 1965; cutout E+/N- $60 -- soul jazz/bagpipe/sax; first LP by the late legend (historically significant for many reasons, from his inspiration in the JKF funeral to the racist death threats it inspired, to the early jacket photo of Harley en regalia); Bagpipe Blues, Kerry Dancers, Who Can I Turn To [When Nobody Needs Me], More, Chim Chim Cheree, Sportin', Sometimes I Feel Like a Motherless Child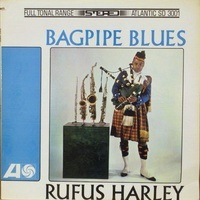 Rufus Harley: Bagpipe Blues; Atlantic SD-3001 (stereo); 1966/1965 cutout N/N- shrink S $50) -- soul jazz/bagpipe/sax; first LP by the late legend (historically significant for many reasons, from his inspiration in the JKF funeral to the racist death threats it inspired, to the early jacket photo of Harley en regalia); Bagpipe Blues, Kerry Dancers, Who Can I Turn To [When Nobody Needs Me], More, Chim Chim Cheree, Sportin', Sometimes I Feel Like a Motherless Child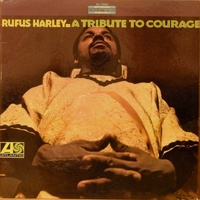 Rufus Harley: A Tribute to Courage; Atlantic SD-1504; 1968; N-/E+ S $35 -- soul-jazz bagpipes/tenor/flute; Sunny, A Tribute to Courage (JFK), Swing Low Sweet Chariot, Ali, "X", About Trane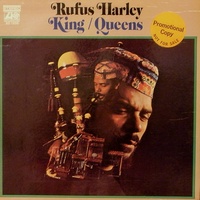 Rufus Harley: King/Queens; Atlantic SD-1539; 1970; white-label promo N-/E+ S $40 (or stock cutout N/N S $35, specify) -- soul-jazz bagpipes/mamalukembia/Madagascar harp; with Eric Gale, Montego Joe..; Eight Miles High, Moon River, Love is Blue, Windy, King, Queens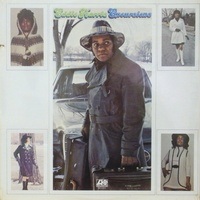 Eddie Harris: Excursions; Atlantic SD-2-311; 2-LP gatefold sealed cutout S $40 -- many consider it his best hip/out/funky set for DJs; Drunk Man, Renovated Rhythm, Inapplicable Concord, Listen Here Goes Funky, Turbulence, Of Age, Fragmentary Apparitions, Hey Wado, Aleph the Fool, Recess, I'm Lonely, Oleo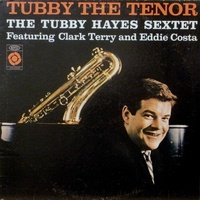 The Tubby Hayes Sextet: Tubby the Tenor; CBS/Epic Jazz Series LA-16023; E-/E+ $250 -- legendary US recording of UK's greatest tenor; w/Clark Terry, Eddie Costa, Horace Parlan, George Duvivier, Dave Bailey; You For Me, A Pint of Bitter, Airegin, Opus Ocean, Soon, Dixie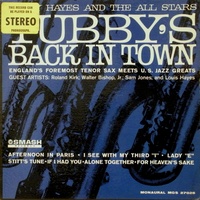 Tubby Hayes & the All Stars: Tubby's Back in Town; Mercury/Smash MGS-27026; mono/1st/deep groove E+/E+ $100 -- we consider it the best US record featuring UK's greatest tenor, and it's very tough to get in the more desirable mono; w/Roland Kirk, Jimmy Gloomy, Walter Bishop, Sam Jones, Louis Hayes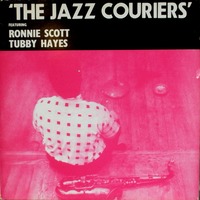 [Tubby Hayes &] The Jazz Couriers; Jasmmine JASM-2004 (reissues 1957 LP); UK import E+/N $40 -- jazz; excellent reissue of a classic set (not the same as the live set below); rare opportunity for the American jazz collector to hear England's most reknowned tenor; Oh My!, Plebus, Reunion, A Foggy Day, Through the Night Roared the Overland Express, Royal Ascot, On a Misty Night, Cheek to Cheek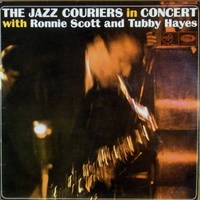 [Tubby Hayes] The Jazz Couriers in Concert with Ronnie Scott & Tubby Hayes; EMI/MFP 1072; 1958; UK import E+/E $90 -- jazz; great live quintet set featuring Englands' 2 top tenors and lots of originals/arrangements by Hayes, who also plays vibes on 2 of the 7 cuts; this appears to be a subsidiary release of a major collectors item (originally on Tempo), and this version is far rarer!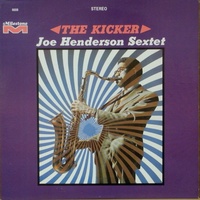 Joe Henderson Sextet: The Kicker; Milestone MSP-9008; 1967 (rec.) brown/2nd cutout N/N S $25 -- Grachan Moncur, Mike Lawrence, Kenny Barron, Ron Carter, Louis Hayes; Mamacita, The Kicker, Chelsea Bridge, Nardis, Without a Song, O Amor en Paz, Mo' Joe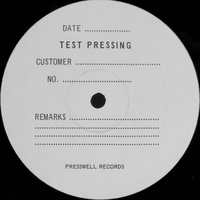 Freddie Hubbard: The Art of Freddie Hubbard; Atlantic SD-2-314; 1973; 2-LP TEST PRESSING N S $50 -- soul-jazz horn; in the standard stock copy it's a great compilation, but this here's a super-rare --if not unique-- test pressing!; generic solid white label and jacket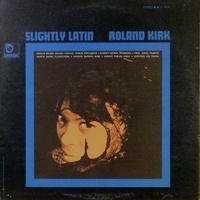 Roland Kirk: Slightly Latin; Philips/Limelight LS-86033/LM-82033; 1966/1965; deep groove E-/V+ S $20 -- exotic/out/bagpipes/mod/Mexicali; w/Montego Joe, Manuel Ramos, Horace Parlan..; to us it's the definitive Kirk LP, a masterpiece from his peak; everything about it is first-rate, from jacket art/liners (by Leonard Feather) to composition and playing; very hard to find, priced for some wear but plays very well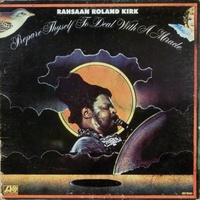 Rahsaan Roland Kirk: Prepare Thyself to Deal with a Miracle; Atlantic SD-1640; 1973; gatefold E-/E S $25 -- one of his best, mainly "out"; Side 2 a 21-min, 3-part Sax Concerto; our fave is "Celestial Bliss" for the bongo and "black mystery pipes"; elswhere background vocals by Dee Dee Bridgewater and Jeanne Lee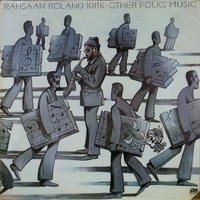 Rahsaan Roland Kirk: Other Folks' Music; Atlantic SD-1686; 1975; sealed cutout S $30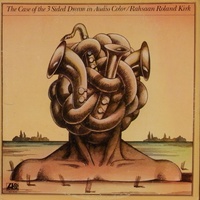 Rahsaan Roland Kirk: The Case of the 3 Sided Dream in Audio Color; Atlantic SD-1674; 1975; 2-LP gatefold but 3-sided; E/E S $20 -- soul jazz; w/Pat Patrick; his hippest/most essential for DJs for the funky "Freaks for the Festival" (two versions!), which has a great breakbeat intro; and besides, how many 3-sided LPs do you have? None? Get the best!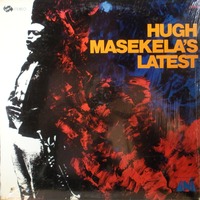 Hugh Masekela's Latest; MCA/Uni 73010/3010; cutout N/N shrink S $15 -- soul-jazz horns/African pop-jazz; the ones on Uni and Blue Thumb are groovier than his earlier pop, and feature heavier jazz names; w/Emil Richards, Big Black, Wayne Henderson, Red Mitchell, Roy Gaines, Barney Kessel..; ignore most of the cuts where he sings and you still have several fine tunes: "Reza (Laia Ladaia)" which is laid-back, "Groove Me"--an original featuring Big Black's conga, "Mago," and "Mazeze" among others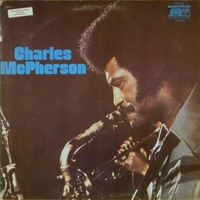 Charles McPherson; Mainstream/Red Lion MRL-329; 1971; Unipak gatefold; promo E/N S $20 -- alto sax; What's Going On, Serenity, My Funny Valentine, Another Kind of Blue, While We're Young, Bird Feathers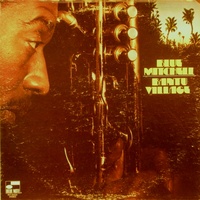 Blue Mitchell: Bantu Village; UA/Blue Note BST-84324; 1969; cutout V+/E S $20 -- soul-jazz trumpet; his best ever, legendary!; as w/Collision in Black, it's arr. by Monk Higgins and loaded w/star power: Wilton Felder, Freddy Robinson, Paul Humphrey, King Errison, Buddy Collette, Plas Johnson..; UA pressing is really a little heftier (and richer sounding) than the original Liberty; HNIC, Flat Backing, Na Ta Ka, Heads Down, Bantu Village, Blue Dashiki (his best tune ever for DJs), Bush Girl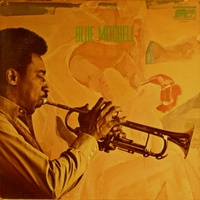 Blue Mitchell; Mainstream/Red Lion MRL-315; 1971; gatefold sealed S $50 -- soul-jazz trumpet/funk; terrific crossroads of great jazz and the funk to come (the 1st 2 cuts are best for DJs): Soul Village, Mi Hermano, Are You Real, Blues for Thelma, Queen Bey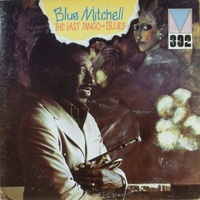 Blue Mitchell: The Last Tango--Blues; Mainstream/Red Lion MRL-392; 1973; gatefold white-label promo E/N S $35 -- soul-jazz trumpet/funk; a longtime essential for DJs, includes killers "Soul Turn Around" and "The Message" (Cymande!) plus plenty of great others; w/Charles Kynard, Paul Humphrey, Chino Valdes, King Erisson..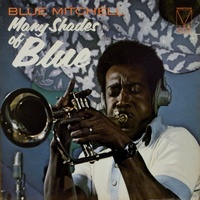 Blue Mitchell: Many Shades of Blue; Mainstream/Red Lion MRL-402; 1974; N/N S $35 -- soul-jazz trumpet/funk; w/Bad Bascomb and others; 8 cuts, at least 7 of which are great for DJs, making this his most versatile/useful for club play; Hot Stuff, Harmony of the Underworld, Funky Walk, Golden Feathered Bird, Beans and Taters, Where It's At, Blue Funk, Funny Bone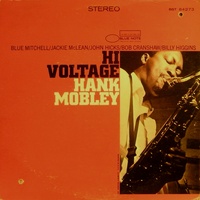 Hank Mobley: Hi Voltage; Liberty/Blue Note BST-84273; cutout E-/E S $35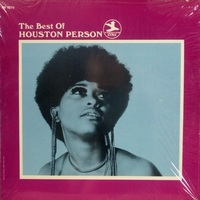 Houston Person: The Best of Houston Person; Prestige PRST-7779; 1st/blue trident N/N shrink S $25 (or 2nd/green V+/E+ S $20, specify) -- soul-jazz tenor sax; prized compilation!--one top cut from each of his first six, hip LPs for the label (Jamilah, The Pimp, Chocomotive, Blue Odyssey, Here's That Rainy Day, One Mint Julep); even if you have all six LPs, at least one of which is seriously rare and others aren't easy to find, you should get this inexpensive wonder for condition, sound, stereo, and for DJing without worry; and if you don't have all the originals, you need it even more!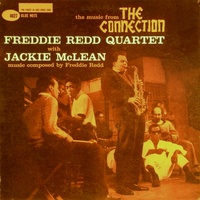 Freddie Redd Quartet w/Jackie McLean: Music from "The Connection"; 47 W./Blue Note BLP-4027; deep groove E+/V- $30 (or stereo UA/Blue Note BST-84027 E-/N- S $30, specify) -- the two make a good pair ($50 for both); original is heavily worn, plays with noise but worthwhile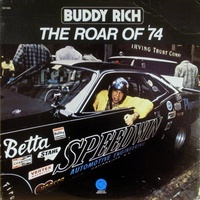 Buddy Rich: The Roar of '74; Groove Merchant GM-528; 1974; E+/N- S $25 -- funk/soul-jazz horns; do NOT make the mistake of dismissing this as just another a Buddy Rich LP! (not that he wasn't a great drummer, so they say); his funk classic is not about big-band drums but rather horns: mod, funky, horns, and it's one of the best Groove Merchant LPs; Nuttville, Kilimanjaro Cookout (you may know from another great Groove Merchant LP, O'Donel Levy's Simba), Big Mac (best of several good cuts for DJs), Backwoods Sideman, Time Check, Prelude to a Kiss, Waltz of the Mushroom Hunters, Senator Sam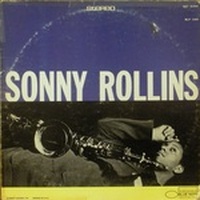 Sonny Rollins; Liberty/Blue Note BST-81542; V+/E- S $20 -- not bad, sure beats paying 100 times as much for a perfect mono 1st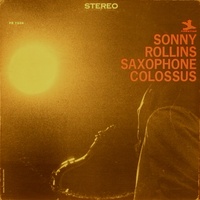 Sonny Rollins: Saxophone Colossus; Prestige 7326; 1964; green/flexi E/N- S $25 -- '70s pressing but same great, loud, live sound, clean and far cheaper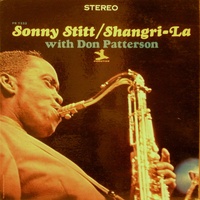 Sonny Stitt: Shangri-La; Prestige PRST-7332; 1964; blue E/V+ S $20 -- tenor sax (and 1 vocal!); w/Don Patterson, Billy James; My New Baby, Misty, Soul Food, Shangri-La, Mama Don't Allow, The Eternal One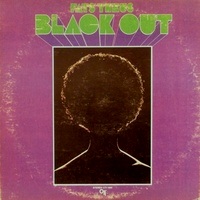 Fats Theus: Black Out; CTI 1005; 1970; V/E- S $25 -- soul-jazz horns/saw/guitar; great set featuring Grant Green, Idris Muhammad, Hilton Felton..; if the horns and guitar weren't enough (they are), there's the fantasticly unique soul-jazz saw (yes, that weird-sounding wobbler from the garage in a hip jazz setting) tune --the 6.5-minute "Bed of Nails"-- just waiting to get some action for a lucky DJ (or at least blow his mind); Van Gelder prod.; hip, hip, hip; Black Out, Lights Sings, Bed of Nails, Stone Flower, Moonlight in Vermont, Check it Out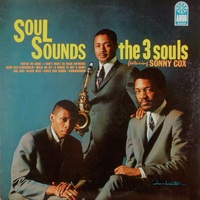 The Three Souls: Soul Sounds; Cadet/Argo LP-4044; 1965; E+/V $15 -- soul-jazz horns/mod jazz; second of a hip pair of rare LPs for the label; features Sonny Cox, whose later LP "The Wailer" is a "rare groove" classic (look for that too); plenty of standout cuts (great for DJs); consistent feel, and one of our top faves on Argo; well worth bothering with even in off-grade shape, and the jacket's great, which may be of use even if you manage to find it again clean (probably not at this price!); You're No Good, I Don't Want to Hear Any More, Dear Old Stockholm, Walk On By, Big Jim, A House is Not a Home, Black Nile (retitled from "Astronaut" on the disc label), Chitlins Con Carne, Armageddon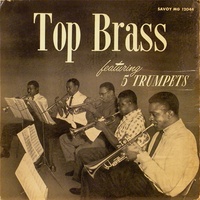 Ernie Wilkins: Top Brass featuring Five Trumpets; Savoy MG-12044; deep groove E+/E+ $75 -- Donald Byrd, Joe Wilder, Ernie Royal, Ray Copeland, Idrees Sulieman w/Wilkins, Kenny Clarke, Wendell Marshall
Jazz Horns: Original 45s/EPs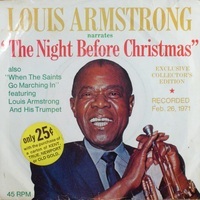 Louis Armstrong: The Night Before Christmas (narrated)/When the Saints Go Marching In Continental CR-1001; 1971; picture sleeve E/N $30 -- commerce/Xmas/jazz; stickered "only 25c with the purchase of a carton of Kent, True, Newport, or Old Gold"--if that isn't Big Tobacco acting in the spirit of Christmas, what is?; charming collectors item by the most important figure in jazz history, so light up this holiday and all others you might make it to with Satchmo!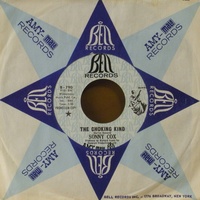 Sonny Cox: Chocolate Candy/The Choking Kind; Bell B-790; N- $20 -- Sonny Cox, the Wailer!; hit single from the treasured Three Souls horn legend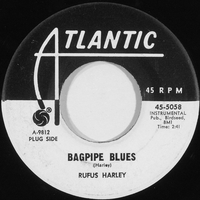 Rufus Harley: Bagpipe Blues/Chim Chim Cheree; Atlantic 3001; white-label promo N- $20 -- soul-jazz bagpipe; first hit in high-gain, hi-fidelity by the late Philadelphia legend!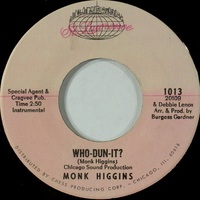 Monk Higgins: Who-Dun-It?/These Days Are Filled with You; Chess/St. Lawrence 1013; E+ $20 -- funk/soul-jazz horns; funky A-side!; arranged and produced by Burgess Gardner, and of course Monk Higgins did incredibly funky arrangements and sax for the Sheba Baby ST and many of the best tunes for Blue Mitchell and Alvin Cash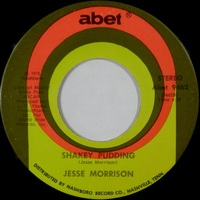 Jesse Morrison: Loving You/Shakey Pudding; Abet 9462; 1975; E+ S $30 (or E- S $20, specify) -- soul-jazz horns/funk/Moog (B-side with great synth); super funky NJ group recorded in Philly on the elusive Abet label; both sides great, but the B is super deep-funky manna for DJs; lesser copy has clean B (the important side), mostly clean A (if you care)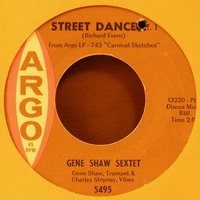 Gene Shaw Sextet: Street Dance Parts 1 & 2; Argo 5495; 1964; cutout N $50 -- written by Richard Evans; Shaw's trumpet-led w/vibes (Charles Stepnay) and piano over driving conga; really, really hot!
© Hip Wax