Exotic: European LPs
French, Italian, German, Etc.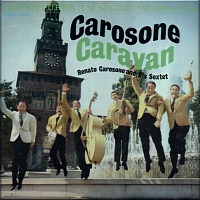 The Word: This page is for records in actual European idioms (European genre/content) rather than the many other European LPs listed elsewhere at Hip which are of European origin but in general/American idioms (such as rock, jazz, etc.). This is just for the stuff that's fully European. Really, so far it's just the Renato Carosone page with a couple of strays tacked on for good measure, but you never know. And yes, we do have plenty of Juliette Greco -- it's all listed with beatniks until we give her her own page.
For info on other European records, please see our guide.
Links: are to artists bio/discog pages in the Hyp Records guide:

Images: accurately represent items but are not always the exact copy listed/purchased
Discount: ALWAYS try to buy more than one item at a time
---
The Botho Lucas Choir: From Germany with Love; Capitol of the World T-10453; sealed cutout $15 -- pop vocal in English and German; "The Best of WFMU" (video) shows them in some pretty sick mod-'60s "Valley of the Dolls" type action (you'll want the pills); they did quite well in both TV commercials and in appearances on TV variety shows; dig 'em straight or as high camp--they're pretty boffo for what WFMU calls "Krautschlock" (sorry, Germans), and to that we just say: be glad it isn't Heino!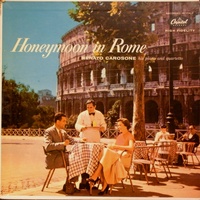 Renato Carosone, his Piano & Quartetto: Honeymoon in Rome; Capitol T-10031; 1st press E+/N $30 (or 1st press E+/E+ $25, specify) (or 1st press E+/E- $20, specify) -- Italian; first US release of the great star of Italy's wonderful, crazy LPs, all of which are mandatory (think anthemic Italian by Pee Wee Herman with the talent of Ross Bagdasarian/David Seville doing early Louie Prima punctuated by nods to the Chipmunks); Scapricciatiello, Te Voglio Bene, Stu Fungo Cinese!, La Donna Riccia, Pianofortissimo, Ciribiribin, La Panse, E La Barca Torno Sola, N'Accorde in Fa, Anema e Core, Tre Numeri Al Lotto, Maruzzella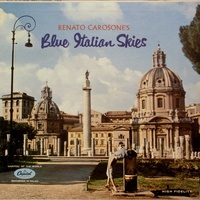 Renato Carosone & his Sextet: Blue Italian Skies; Capitol T-10147; E+/V+ $20 -- Italian; another of the Italian superstar's crazy great LPs, all of which are mandatory, if hard to find (particularly in top shape like this); Armen's Theme (R. Bagdasarian & the Chipmunks were big influences), Guaglione, Piccolissima Serenata, Lazzarella, I Tre Cumpari, 'A Sunnambula..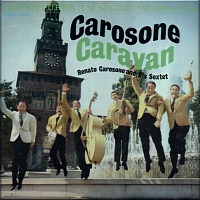 Renato Carosone & his Sextet: Carosone Caravan; Columbia Adventures in Sound WL-148; E+/N- $65 (or E/N- $50, specify) -- Italian/rock/whistling/bagpipes; Italy's greatest star imported for the US AFTER the Capitol LPs & BETTER!!!; second only to Sabu's Sorcery in the extraordinary Adventures in Sound series, this extravaganza marks the nadir for Italy's zany, Chipmunks-influenced superstar (all of his work is mandatory & this is the best, also the only LP on Columbia rather than Capitol); 'O Mafiuso, Tre guagliune e 'nu mandulino, Nene' e Pepe', Buon di, Atene, I pescatori di perle, Cow-Boy, Giacca rossa, Palla e pallino, Bernadine, Baby Rock (great rock! "every girl is cute & tempting, dancing the baby rock"), Rusticanella; fantastic!!!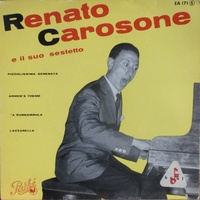 Renato Carosone e il suo Quartetto EP; Pathe EA-171 (French pressing) N-/E $25 -- Italian; unique jacket photo (of Carosone at the piano) and four great tunes in the original import form (and please note this is a 7" 45 rpm record, not an LP); Piccolissima Serenata, Armen's Theme, 'A Sunnambula, Lazzerella

Juliette Greco .... beatnik-crime-spy
Francoise Hardy: The Best of; Kapp/Four Corners of the World FCS-4255; 1968; N/E shrink S $25 -- French vocal; compilation--excellent for anyone needing an upgrade or stereo to the originals or just wants a single LP that captures some highlights of her first recording style (before Warner Bros.); all are the French versions but oddly the titles are a mix of English and French with translations; Only You Can Do It (Je Veux Qu'il Revienne), Ce Petit Coeur, Say it Now (Dis Lui Non), All the Boys and Girls (Tous Les Garçons et Les Filles), Je t'Aime, All Over the World (Dans le Monde Entier), Another Place (La Nuit est sur la Ville), I Threw Away My Heart (J'ai Jete Mon Coeur), Bad Boy (Pas Gentille), I Still Love Him (Pourtant tu M'Aimes), How Ever Much (Et Meme)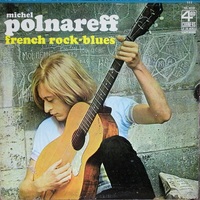 Michel Polnareff: French Rock-Blues; Kapp/Four Corners FCL-4240; E/N $50 -- French '60s rock-folk-pop; people have paid crazy money for odd foreign pressings of this, and some will tell you it's "freakbeat" and has fuzztone and more of that depressing eBay jive; well, this is why we love it: "Beatnik" (rock vocal) is anthemic, and you'll definitely want to blast it with this clean thick mono disc rather than the thinner stereo (or some cheesy non-US pressing); snap it up!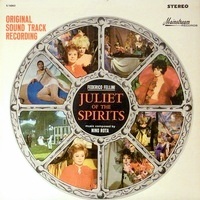 Nino Rota: Juliet of the Spirits ST; Mainstream S/6062; 1st press E+/N- S $30 -- Italian; the master of Fellini film soundtracks turns in another creative wonder; scarce and valuable in clean stereo, as this is; Juliet's Theme, Dance of the Frog, The Master of Love, Behold the Devils, Garden of Fate, Shining Faces..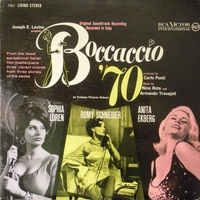 Nino Rota & Armando Trovajoli: Boccaccio '70 ST; RCA Victor International FSO-5; 1962; Living Stereo deep groove E+/E+ S $30 -- Italian; rare!; most would say it's worthwhile just for the jacket's provocative stills of three of the luscious stars: Sophia Loren, Anita Ekberg, and Romy Schneider (each and one other have a vignette or "act" in this 4-part movie); the film's about different ideas of "modern love" which really just means progressive marital relationships, divorce, etc.; it's good!
© Hip Wax