Calypso Subpage: Talbot Brothers LPs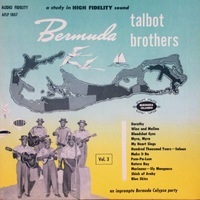 The Word: The beloved Talbot Brothers occupy a niche of their own in calypso, even Bermudan calypso. So popular, their records sold and sold (although some are rare); the group even pressed older recordings under their own label so they could continue autographing and supplying vast numbers of happy tourists at their shows, which were many! We try to have as much of the whole discography available as possible, and their are often several copies to choose from.
The Talman and Sutton reissues (early, 1960s) are well worth having in addition to the original 10" LPs. The later editions have new artwork and formatting, and in some cases a different track or two, and the general rule is the condition or sound will be better, although you may be able to get at least one or two of the rare 10" LPs in top shape here. Finally, don't miss the final efforts, including the fun Ross Talbot solo LP.
Links: are to artists bio/discog pages in the Hyp Records guide:

Images: accurately represent items but are not always the exact copy listed/purchased
Discount: ALWAYS try to buy more than one item at a time
---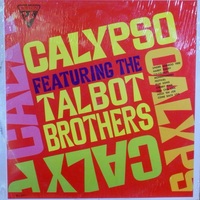 Talbot Brothers of Bermuda: Calypso Featuring the Talbot Brothers; Sutton SU-271; sealed $25 -- calypso; nearly as scarce 12" LP on budget label reissues inexpensively and in higher fidelity (better shape, at least) their rare, first, Bermuda 10" and adds four more by another artist; My Buddy's Chick, Out the Fire, Razor Razor, Man Smart [Woman Smarter], Bermuda Buggy Ride, [She's Got] Freckles [on her But She is Nice] (note that the track list on the Sutton jacket is incorrect, so note the correct tracks here)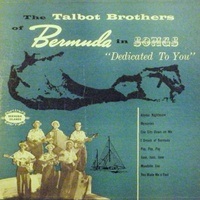 Talbot Brothers of Bermuda: Songs Dedicated to You 10"; Bermuda LP-100; deep groove AUTOGRAPHED E-/E- $45 (or E-/V+ $30, specify) -- calypso; one of their rarest LPs if not the earliest; the Talbot Brothers fan with any of their other records should jump at this chance; Atomic Nightmare, Memories, [Tattooed Woman] She Sits Down to Me, I Dream of Bermuda, Pay Pay Pay, Jane Jane Jane, Mandolin Jive, You Made Me a Fool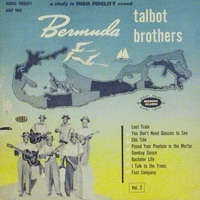 Talbot Brothers of Bermuda: The Talbot Brothers Calypso 10" (jacket: "Bermuda"); Audio Fidelity AFLP-903; deep groove E+/E $30 (or E/E- $20, specify) -- rare, early, wonderful LP (only the 3rd LP on the label), great, classic essential; please note that while the jacket art is very similar to their one 12" LP on the label it is NOT the same set!!!; yes, it's different songs and you absolutely need both records!!!; Last Train, You Don't Need Glasses to See, Ebb Tide, Pound Your Plaintain in the Mortar, Goombay Dance, Bachelor Life, I Talk to the Trees, Fast Company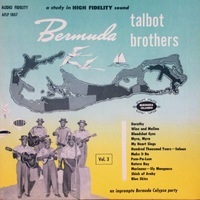 The Talbot Brothers: The Talbot Brothers Bermuda Calypso Party (Vol. 3); Audio Fidelity AFLP-1807; c.1957; E+/E+ $25 (or E/E $20, specify) (or E/E- $15, specify) -- calypso; "an impromptu Bermuda Calypso party"; their first hi-fi, 12" LP!!!; not easy to find and definitely not a reissue of the previous 10" LP (repeated, nearly identical jacket art but all different songs!!!); Dorothy, Wine and Malina, Bloodshot Eyes, Myra Myra, My Heart Sings, Hundred Thousand Years--Saloon, Make it Do, Pum-Pa-Lum, Nature Boy, Marianne--Sly Mongoose, Shiek of Araby, Blue Skies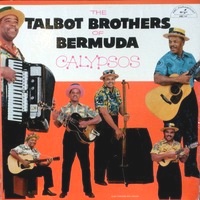 Talbot Brothers of Bermuda: Calypsos; ABC-Paramount ABC-156; 1957; deep groove E+/E $25 -- all great and essential for both "Atomic Nightmare" (fantastic original) and their cover of the best original calypso by the Charmer (a.k.a. Louis Farrakhan), the legendary "Is She Is or Is She Ain't" (no other known cover of this great song, itself a collectors item); Atomic Nightmare, Scratch Scratch Me Back, Bermuda's Still Paradise, Is She Is or Is She Ain't, Back to Back, Calypso Cha-Cha, You Can Go, The Soldier Song, Bermuda Affair, Gonna Cut You with the Razor, Nora Nora, Sager Boy, Give an Ugly Woman Matrimony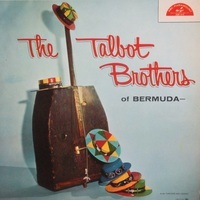 Talbot Brothers of Bermuda; ABC-Paramount ABC-214; deep groove E+/E+ $25 (or E-/E- $15, specify) -- second of their terrific pair of LPs for the label--essential!; jacket features the famously autographed, well-travelled, long-lived meat-packing-case string bass; Old Uncle Joe, It's My Destiny, See What You Do, Out'a Me, Sunset in Bermuda, Ol' Ti' Cat-o'-Nine, Don't You Call Me Boo Boo, When We Married Be, You Can't Tell the Old from the Young, So Near So Far, The Riddle Song, Bermudian Blues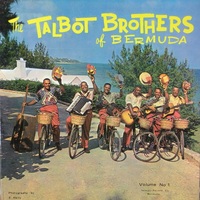 Talbot Brothers of Bermuda: Vol. 1; Talman; AUTOGRAPHED N-/E $15 -- calypso, Bermudan; first of their three self-produced reissues, in this case signed by the whole group; Bermuda Buggy Ride, Freckles, Out the Fire, She's My Buddy's Chick, Razor Razor, Foolish Man (a.k.a. You Made Me a Fool), Atomic Nightmare, Jane Jane Jane, [Tattooed Woman] She Sits Down to Me, Mandolin Jive, Man Smart-Woman Smarter, Remember Bermuda (a.k.a. Memories)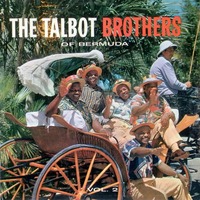 Talbot Brothers of Bermuda: Vol. 2; Talman; E/E- $15 -- second of their own-label records reissuing the great, early Audio Fidelity material but always with a change or two; great jacket photo of the group in a "Bermuda Buggy Ride"; Last Train, You Don't Need Glasses to See, Ebb Tide, Pound Your Plaintain in the Mortar, Bachelor Life, I Talk to the Trees, Fast Company, Dorothy, Wine & Malina, Bloodshot Eyes, Nature Boy, Marianne, Blue Skies, Yellow Bird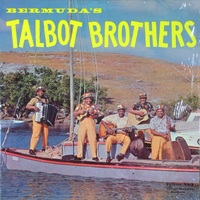 Talbot Brothers of Bermuda: Vol. 3; Talman; N/N shrink $40 (or AUTOGRAPHED N-/N- $35, specify) (or AUTOGRAPHED N-/E+ $30, specify) (or E-/V+ $15, specify) -- collectors take note!; this is their rare, rather different and adventurous, final LP!; on Talman, it's their own mono issue of the only stereo/gatefold LP they ever made (which also is rare); this edition even has an added track, "Going Back to Bermuda" (so you need this version at least for that, the liner notes, and the unique photo of them playing on a small boat); Run Fast, Loose Me Now, De Mongrel, 13 Kids, De Penalty, Waiting for Mary Jane, The Marriage of Melda, Too Much of the R. & R., 'T Was a Woman, Oh My Son, San Domingo Gal, Going Back to Bermuda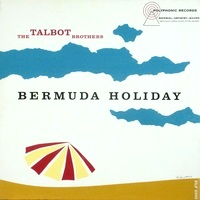 Talbot Brothers of Bermuda: Bermuda Holiday; Polyphonic FLP-2001; gatefold E/V+ $20 -- collectors take note!; this is their rare, rather different and adventurous, final LP!; mono version (this is their only stereo recording but not in this case) and with some wear, priced accordingly; Run Fast, Loose Me Now, De Mongrel, 13 Kids, De Penalty, Waiting for Mary Jane, The Marriage of Melda, Too Much of the R. & R., 'T Was a Woman, Oh My Son, San Domingo Gal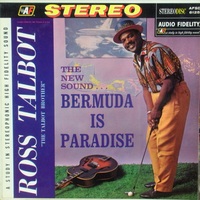 Ross Talbot: Bermuda is Paradise; Audio Fidelity AFSD-6125; 1964/1961-64; AUTOGRAPHED E+/E- S $25 -- we've always loved finding this tremendous bonus for the Talbots fan, and since it doesn't turn up as it used to it's very sweet each rare instance it appears now; could become your favorite Talbots work, as it "modernizes" with some wonderful surprises, such as bossa and even a couple of twists composed for the Kennedys(!)--these sound like great rare 45s!!!; Bermuda is Paradise, I Found a Home, It's My Destiny, Golf Time in Bermuda, Calypso-Cha Cha Cha, Scotch & Soda, Sunset in Bermuda, Cognito at Midnight, Castro-Twist, Child Don't You Call Me Boo Boo, Short Skirts & Polly Pants, This is Bermuda
© Hip Wax