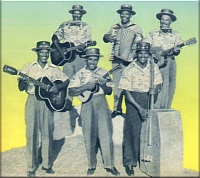 The Talbot Brothers --Archie (leader, guitar, harmonica), Austin (guitar, harmonica), Roy (bass), Bryan ("Dick," tipple), Ross ("Blackie," electric guitar), and cousin Cromwell Mandres ("Mandy," accordion) -- are the world's most famous calypso group, ambassadors of calypso for countless tourists visiting Bermuda. The mother and father were a church organist and dancer, respectively, which accounts for a very musical upbringing.
They started part-time in 1941, and by 1947 were playing the hotel circuit regularly. The Talbots toured the U.S. in 1953, and by 1957 were appearing on television with Ed Sullivan. Archie, who began his musical career in 1922, composed "Bermuda Affair" for the movie of the same name. Almost more famous even than the band is Roy's "dog house," the group's string bass. Made from a meat-packing crate with a single fishing-line string, it bears the signatures of Babe Ruth, Bing Crosby, Tommy Dorsey, William Holden, Eddie Duchin, and many other celebrities. Their last album together was recorded in 1961, with outside help on the writing.
Buying: The Talman reissues (given away or sold at performances in the 1960s and 1970s) are a good start, particularly if in top shape; two offer material not previously released on LP. Most of the original 10" & 12" LPs are classics.