Africa subpage: Guy Warren LPs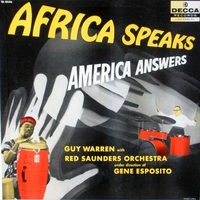 The Word: Born in Ghana, the future groundbreaker of African-jazz drumming did a stint in the U.S. Army (OSS) before becoming the first African host of a BBC Radio program in 1951. At this time he played and presumably recorded a little in England, most notably with Kenny Graham & his Afro-Cubists. After holding the BBC DJ post for a couple of years (he had been a local Ghanese radio jock in the 1940s), he moved to the US and joined Gene Esposito's Chicago-based jazz band. The result was one of the most impressive debut LPs in jazz, especially as it stands as one of the first and best Afro-jazz LPs. By 1959 he was headlining New York's African Room, and the New York jazz world took notice.
Warren moved back to Ghana in 1974 after a very distinguished career making important records that moved beyond the earlier-recording Thurston Knudson and gave direction to later stars Olatunji and Fela Kuti. His influence on Art Blakey (and Sabu, by extension) was enormous, as was his impact on many top stars of jazz. He appears on a Ginger Baker LP with Fela, and his later career was one of awards finally recognizing his tremendous influence on American jazz and its developing relationship to and awareness of traditional (and contemporary) African drumming. Warren did not record many records but they are all fantastic, varied, and from a time when it was hardest to make an impact on an indifferent record-buying public. Today everyone who wants to still can discover his greatness.
Further below: Guy Warren trade wants
Links: are to artists bio/discog pages in the Hyp Records guide:

Images: accurately represent items but are not always the exact copy listed/purchased
Discount: ALWAYS try to buy more than one item at a time
---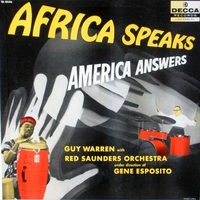 Guy Warren w/Red Saunders & Gene Esposito: Africa Speaks, America Answers!; Decca DL-8446; 1956; E+/E- $60 (or E+/V+ $50, specify) -- African jazz; a legend!--the first African-jazz 12" LP; famed in jazz circles for the leading Chicago musicians but it's really the debut of Guy Warren, and it's terrific (big influence on Art Blakey and others); Africa Speaks, Ode to a Stream, Duet, Eyi Wala Dong (which later became "That Happy Feeling"), Monkees & Butterflies, Jazz as I See it, Invocation of the Horned Viper, Chant, My Minuet, The High Life, The Eyes of a Fawn, Fr-Ed-To-Ne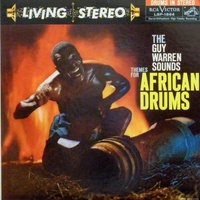 The Guy Warren Sounds: Themes for African Drums; RCA Victor LSP-1864; 1959; N-/N- S $35 (or E+/N- S $30, specify) (or E/N- S $25, specify) (or E-/E S $20, specify) -- African/drums; "Drums in Stereo"; the classic that inspired Art Blakey's Afro-Drum Ensemble (this has the original "Love, the Mystery of"--a masterpiece covered on Blakey's superb "The African Beat" as well as Randy Weston's theme) and established Ghanese master drummer Warren as the leading Afro-jazz drummer of the UK and the US (where he headlined NYC's famous African Room--Blakey often went to see him perform); in Africa he recorded with Fela and Ginger Baker; wonderful liners and a sensational jacket (with a real photo of Warren on the back as opposed to the cheesy jacket face) round out a favorite Victor LP; perfect starting point for this idiom (along with the Knudson records, it's absolutely essential--YOU NEED THIS!); Ballad for Giraffes, Waltzing Drums, Blood Brothers, Love--The Mystery of, The Talking Drum Looks Ahead, The Lady Marie Drum Suite, My Story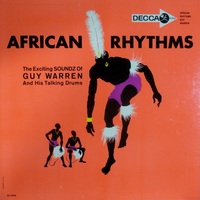 The Exciting Soundz of Guy Warren & his Talking Drums: African Rhythms; Decca DL-4243; deep groove cutout E+/N- $50 (or E/E- $35, specify) (or E-/V+ $25, specify) -- African-jazz/drum master's third US release is not as well-known as the other two but just as great, and rarer; awesome sound!; Side 2 is the "Third Phase," an African Drum Symphony (also the title of a UK LP which may be the same--anyone have it or know?); evidently it was supposed to be a Columbia LP but it never materialized and Decca no doubt didn't promote it much it at all (the fools); Side 1: That's How She Walks, Hail the Soundz, My Anthem, Aesop's Fables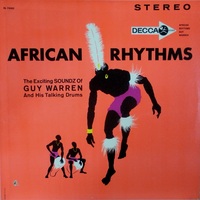 The Exciting Soundz of Guy Warren & his Talking Drums: African Rhythms; Decca DL-74243; sealed S $90 (or 1st/cutout N-/N- S $75, specify) -- rarer stereo!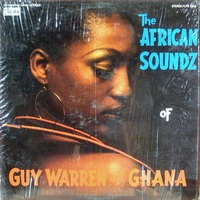 Guy Warren: The African Soundz of Guy Warren of Ghana; Fiesta FLPS-1646; N/E- shrink S $90 -- rare LP (has sold for $300), it's closer to high life than earlier work but definitely one for all Guy Warren fans to get very excited about (as the wild liners suggest); brief scratch-tick at very end of first track seems to be the only noticeable flaw, and it's very tolerable at the price; African Dance No. 1, African Dance No. 2, African Sunset, African Dance No. 3, African Dance No. 4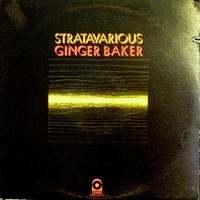 Ginger Baker (with Fela Kuti & Guy Warren): Stratavarious; Atlantic/Atco SD-7013; 1972; cutout E/E+ S $25 (or cutout E-/E* S $20, specify)-- Afro-Beat/percussion; three Afro-Beat giants together!!!; great record affordably priced (it's still the only original Fela LP you can still find at entry-level price, but don't expect that to last forever, particularly once Ginger Baker and Guy Warren fans figure out that they need it too); Ariwo, Tiwa (It's Our Own), Something Nice, Juju, Blood Brothers, Coda
Wanted in Trade:

Kenny Graham & his Afro-Cubists discs (UK; with Guy Warren or even without)

Guy Warren: Emergent Drums; 1963 (UK)

Guy Warren: The Divine Drummer; 1978
© Hip Wax