Sabu with Art Blakey

The sessions with Blue Note house drummer Art Blakey provide an early indication of Sabu's talents as both performer and composer-arranger-conductor. The incredible power of "Message from Kenya" and "Star of Africa" indicates the exotic workouts to come, while Sabu's leadership of a five-man sub-group of Latin percussionists on Orgy in Rhythm foreshadows his subsequent albums as leader. (See other sources for more on Art Blakey's long and illustrious career.)
[One Sabu track, recorded Nov. 23, 1953]



Message from Kenya -- Sabu, conga; Art Blakey, drums.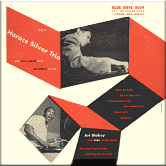 The incredible "Message From Kenya" led to Sabu and Blakey's further collaboration, particularly "Star of Africa" and the two-volume Orgy in Rhythm session four years later.
From Leonard Feather's liner notes: "The story of 'Message From Kenya,' Art tells us, was first told to him by Moses Mann, a Nigerian drummer who worked in this country with Pearl Primus. The evocation, voiced dramatically in a mixture of Spanish and Swahili, tells of a hunter whose cries celebrate the news that he has captured more game than any other hunter in the village, in order to convince the girl he loves of his prowess. The ritual comes vividly to life as Sabu and Blakey develop a study in rhythmic variety and dynamics with exciting crescendos and diminuendos."
"Message From Kenya" also appears on two 12" LP reissues:
Horace Silver Quintet and Spotlight on Drums; BLP-1520
Various Artists: Blue Note Gems of Jazz; BLP-2001
Buddy de Franco Takes You to the Stars; GNP Vol. 2; 1954 10" (Vogue LDE-077)
Despite misleading labelling, Sabu plays only on the last track, "Star of Africa." As with "Message from Kenya," the drum duet (actually a chant) departs significantly from the rest of the session. The rest of the quartet and choir join in at the end, but for the most part it is another exotic workout between Sabu and Art Blakey.
Personnel (of the Buddy de Franco Quartet with Herman McCoy's Swing Choir):
Buddy de Franco, clarinet
Kenny Drew, piano
Eugene Wright,
Art Blakey, drums
Herman McCoy's Swing Choir, voices
Gloria Wood and Loulie Jean Norman, additional soloists
Sabu Martinez, conga, bongos, and chanting on "Star of Africa"
Side 1:
Handful of Stars - 3:35
Star Sapphire (Buddy de Franco) - 2:50
Stella by Starlight (Victor Young) - 3:40
It Wasn't the Stars (Matt Dennis) - 3:20
Side 2:
Stairway to the Stars (Frank Signorelli) - 3:06
Star Eyes (Don Raye, Gene de Paul) - 3:45
Star of Africa (trad. Nigerian chant) - 5:15
Orgy in Rhythm Vol. 1; Blue Note BLP-1554; 1957
Personnel: Art Blakey, Sabu Martinez, Art Taylor, Jo Jones, "Specs" Wright, Carlos "Patato" Valdez, Jose Valiente, Ubaldo Nieto, Evilio Quintero, Herbie Mann, Ray Bryant, Wendell Marshall
Recorded in one take, March 7, 1957 at 9:00 p.m. with no rehearsals or score -- the way it should be. "Sabu directed the [five-man] Latin rhythm section and was a dynamo thoughout, singing, chanting, playing sticks on bongos, blowing whistles, etc."
Buhaina Chant -- vocal by Sabu
Ya Ya -- "Art says that 'Ya Ya' is the best thing he ever made."
Toffu -- vocal by Art Blakey
Split Skins
Orgy in Rhythm Vol. 2; Blue Note BLP-1555; 1957
Amuck
Elephant Walk -- vocal by Sabu
Come Out and Meet Me Tonight -- vocal by Sabu
Abdallah's Delight
Note: The LPs were issued in mono and electronic stereo only. The CD reissue is the first release in true stereo, although one track remains mono-only, as recorded.
Drum Suite; Columbia 1002; 1958
Personnel: Art Blakey, Sabu Martinez, Candido, Ray Bryant, Oscar Pettiford, Charles Wright
Side one's Drum Suite, by the Art Blakey Percussion Ensemble (including Sabu), was recorded in one take; side two is by the Jazz Messengers.
The Sacrifice (Blakey/Martinez) -- with authentic Swahili chant
Cubano Chant (Bryant)
Oscalypso (Pettiford)
"The Sacrifice" also appears on:
Various Artists: Jazz Party; Columbia/CBS S-52736
Holiday for Skins Vol. 1; Blue Note BLP-4004; 1960/1957
Personnel:
Art Blakey, drums, chants
Philly Joe Jones, drums, tympani, chants
Art Taylor, drums, gong
Sabu Martinez, bongo, conga, chants
Ray Barretto, congas
Chonguito Vicente, congas
Victor Gonzalez, bongo
Andy Delannoy, maracas, cencerro
Julio Martinez, conga, tree log
Fred Pagani Jr., timbales
Donald Byrd, trumpet
Ray Bryant, piano
Wendell Marshall, bass
Austin Cromer, chants
Hal Rasheed, chants
Joe Goldberg's liner notes mention "Sabu's calvary-like entrance on Reflection and quote the following from an interview with Blakey:
"As the record [Holiday for Skins] played, he [Blakey] found himself imitating on the chair arm a complex rhythm figure of Sabu. 'Listen to that! He can really play! That's American! That's what we have to offer. I hear we're sending ballet over to Russia. They're the masters of ballet, and we're sending them ballet. They don't have jazz. We have jazz.' He pointed to the phonograph. 'They would go for that.'"
The Feast
Aghano
Lamento Africano
Mirage
Holiday for Skins Vol. 2; Blue Note BLP-4005; 1960/1957
O'Tinde
Swingin' Kilts
Dinga
Reflection