In 1956, from the day when he took his last injection of heroin, Sabu had to struggle three months to be free of physical dependency on the poison. It was a hard time not only for him but also for his mother. She stayed home from work to be at his side, day and night. It meant that she often had to go hungry, because without her salary there was no money in the household. She fed him hot soup, massaged him to calm his nerves, wiped up his vomit, and attended without complaint while he nearly destoyed the apartment during fits of rage. She shouted to him: "Mi hijo [my son], don't give up, you are my soul!"
But today, from his flat in Täby, north of Stockholm, Sabu says: "To be free from physical dependence is just the beginning of a heroin fight. It took me two years to conquer the psychological complications."
Sabu had lost contact with reality. The heroin had driven him into a strange shadowland and now he had to face it. He had to learn to put value on his family and work; and --most important-- he had to stare truth in the face: his seven-and-a-half-year "heroin trip" still hung like a black shadow over his life. His wife had left him. He had lost his children's affection and respect (he left others to provide food, shelter, and clothing). He used to be one of the world's best conga players, but it was so long since he had worked that many had forgotten him. Orchestra leaders, who normally would have let him sit in for regulars out on sick leave, hesitated to engage him.
"I was standing in front of a double 'No' [meaning catch-22]," says Sabu. "I couldn't get jobs with non-users of heroin because they were afraid of a relapse. And I couldn't take jobs with addicts because I'd stopped."
Two old friends and colleagues lent a helping hand. Art Blakey convinced TV and record producers to let Sabu participate in shows and records. Tony Bennett arranged several gigs and gave him large sums of money. And when Sabu didn't have work as a musican, he polished silver at a restaurant in the Empire State building. With the help of his two friends and his own effort, he did get by financially. But it was not enough. He had to build a new life for himself and his family. He left New York and returned to Puerto Rico.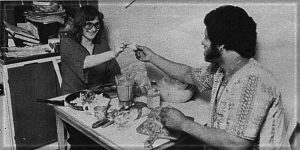 He found a new inspiration to work on the tropical island. His comeback in the music world was not hard. He created a band of his own, the Sabu Martinez Combo, and played at all of the best hotels on the tourist island, together with some of the biggest names in show business: Xavier Cugat, Billy Daniels, and Tony Bennet, among others.
With every new engagement came proof that he conquered "Lady Heroin." Eventually he began to brood over his past and to wonder how far he would have gone had he never touched heroin or other narcotics. But reflection always ended with him saying to himself: "I've got to live for the present and future and not look back at past evil. But not forget it."
Sabu has 24 children; his wife Pirkko came up with the 24th a couple of months ago. The eldest daughter, Margie (26), often puts him up, and sons René (21) and Johnny (22) live in Sweden. Johnny currently is performing at Berns in the Lill Lindfors show. Sabu's mother still lives in Puerto Rico with one of his daughters. He has been married seven times. Four of the children were born in the first marriage, but most of the 24 resulted from out-of-wedlock liaisons.
The reason Sabu came to Sweden was that he met Stockholmian Agneta Brogestam during her visit to Puerto Rico. Connections with Lill Lindfors led to his working with her during his first eighteen months in our country. He has travelled and played in the country but also has managed to play in West Germany, France, Finland, Denmark, and Spain.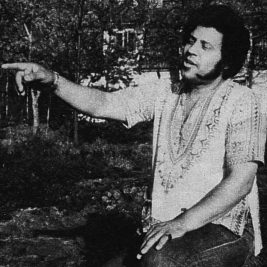 Life has taught him to be indulgent of wrongdoings and shortcomings in others. But he cannot help but get mad over words of jealousy and racism. "It is pure unconsciousness," he says. "Even in Spain, where they speak my mother tongue, people have said to me, "How can a blackey like you have it so well when we have to work so hard for our bread?"
Jealousy and racism have made him move around often in Sweden. He lived in Hedemora, Piteå, and Gothenburg before settling down in the Stockholm area. Recently he felt forced to move from Vidja --in the southern suburbs-- when two neighbors took action against him. He thinks he knows who was behind it. He thinks it is the same man who shot his (Sabu's) dog with a shotgun.
To avoid further conflict he moved to Täby.
He is wise and experienced enough not to judge a whole society based on a couple of people's actions. He says with conviction in his voice, "I have found a home in Sweden and I hope Sweden will find a good citizen in me!"
-- by Karl La Corbiniere, interview conducted June 27-8, 1976
This article was published originally in Fib Aktuellt (a Swedish men's magazine), no. 27, June 28, 1976 and is reprinted here by permission.
Author (Swedish): Karl La Corbiniere
Translator (Swedish-English): Robert Widegård
Editor (English): Hip Wax