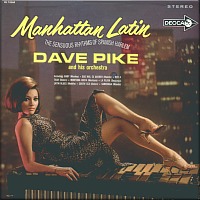 Dave Pike is a class act, unafraid to try any style, at least for an album, and usually succeeding wildly at it. His earliest LPs and session work are classics and mostly hard to find. Then as he "freaked out" in the late 1960s and early 1970s, he laid down some monster cuts of psychedelic soul jazz, James Brown covers, funky-sitar beats, and more that still enjoy new favor in the nightclubs of the subsequent century. There are not that many soul-jazz and funk vibraphonists of great note, but Dave Pike is the first name in hip vibe records.
Born in 1938 Detroit, he first played piano and drums, even joining the Detroit Junior Symphony Orchestra at age eleven. Having moved to Los Angeles, Pike in 1954 discovered the vibraphone at a drum shop. This became his chief instrument, seconded by the marimba, which he played early on with Mexican bands and later on his albums. He played rock and Latin in his early days, and later this experience lent his music great versatility as well as popular appeal. Playing always with great earnestness, humor, and even earthiness, he can be heard chanting along with the tunes on several LPs.
Pike began to gig with such jazz stars as Elmo Hope, Buddy DeFranco, and Paul Bley by 1956. By 1958 Pike had moved to San Francisco to be closer to New York musicians, and in 1960 he made the move to New York. Siz years of stints with globetrotting Herbie Mann exposed him to some of the world's farther-flung music. In 1966 he moved to Germany, where the newly formed Dave Pike Set quickly became the leading jazz act. Pike's usually thematic albums are recognized as seminal jazz and soul-jazz classics, and at least one cut has reached immortal status among disc jockeys.
Buying: Always snap up Dave Pike LPs.