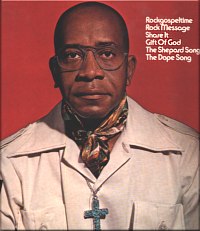 Gospel Funk is a very specific subset of funk. Everything that applies to funk ("deep funk," "hard funk," "rare grooves," etc.) applies as well to that portion of gospel music that is so funky as to be nearly indistinguishable from its secular counterpart. As with all things "soul," it's not about crossover dreck with a white, Beatles-esque backbeat (bad Motown wannabes). And it's certainly not to be confused with goofy, "white gospel" records that attempt to attract youth by covering soul hits. No, the real thing is just that: southern-fried, sun-dried, sweat-drenched, speaking-in-tongues religion -- as performed by African Americans at the peak of the Age of James Brown Enlightenment.
The church and the people of the period were inseparable, and that's the reason for the many great singers and shouters. There are the chief legends of gospel funk, such as the Violinaires and the crazy masterpiece by Rev. Carlton "King" Coleman (former DJ with earlier records produced by James Brown), but a few others are right up there; still others are at least worth including. The first LP by the Voices of East Harlem, for instance, is widely known if overrated; and Edwin Hawkins Singers' "Oh Happy Day" remains the all-time #1 hit single. Besides the great funky tracks on gospel albums, there are myriad gospel-funk tracks on funk and soul-jazz (Blue Note, Prestige, etc.) LPs. And there are the singles. And of course there are the well-known soul singers who famously juggled the secular and religious (Marvin Gaye, Al Green, Aretha Franklin..).
Buying: Gospel funk appears throughout soul-jazz, soul, and funk records. As with other deep, rare funk, you want to cultivate an U.S. source who appreciates it and can get it. Gospel funk is a "final frontier" that hasn't been picked up on much abroad.