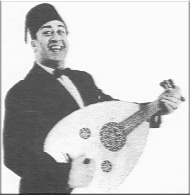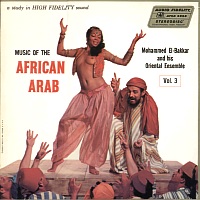 Mohammed El-Bakkar was an established, international star long before the famous Audio Fidelity sessions. He had a couple of hits in Egypt in the 1930s, chiefly "Malk el Hob" and "Ya Halawt Bint el Nile." He acted in, produced, and directed some 32 movies in addition to appearing on numerous television and radio programs. His list of command performances includes Egypt's King Farouk and Farouk's successor Major General Mohammed Naguib, Saudi Arabia's King Ibn Saud, and the Shah of Iran. He became a U.S. citizen in 1951 during his sixth U.S. concert tour. For two years he starred in the Broadway hit "Fanny," sharing the stage with belly-dancing star Nejla Ates.
A tenor, El-Bakkar arranged and conducted the "Music of the Middle East" series. Writing credits are shared with Sidney Frey, Audio Fidelity's musical director, but obviously it is the work of El-Bakkar. Note that violinist Hakki Obadia appears on all tracks and edited the master tapes. (Obadia had always accompanied El-Bakkar; his association with Eddie Kochak presumably followed El-Bakkar's death.) The music is essentially authentic but not stuffy; traditional instruments and singing are brightened by occasional touches of humor (which is itself traditional, apparently). Adding further appeal are the enticing jacket art and liner notes. The "Music of the Middle East" series is indispensable for the fan of Egyptian or oriental music in general. It captures a greatly talented star at both his mature peak and the peak of the recording industry. The music is ancient and time-proven but with modern ideas, and Audio Fidelity's production values were very high.
In 1979 Ray Rashid released a remastered recording made earlier in 1957. Doomed by the advent of stereo, it emerged more than two decades later as essentially a seventh volume in the series (a "prequel"). An Arabic Party with Mohammed El-Bakkar is from the first US recording session, made when Albert Rashid (father to his then young son Ray, both the leading US importers of Arabic music, based in Brooklyn, New York) brough El-Bakkar to Audio Fidelity. But the label soon pushed to release the very first commercial LP recorded in stereo, thus it wanted all its new recordings in stereo. So the original mono-only 1957 set was "canned." But young Ray Rashid never forgot it. As an adult, and having command of the family business, he put the separate mono tracks through modern multi-track remastering, plus added such touches as additional percussion (he's a drummer). The LP is now a major collectors item.