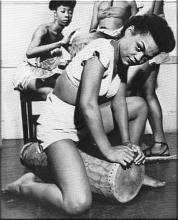 Eartha Kitt's life is well-documented in no fewer than three autobiographies (can a fourth be long in coming?). Suffice it to say that Orson Welles' famous appellation of "the most exciting woman in the world" was apt when applied and may be yet defensible. Far from just "Catwoman" with a singing past, Eartha created a tempest on stage, in movies, on records, in politics, and even on television. As with Josephine Premice, she got her start with the Katherine Dunham dance ensemble, where she worked with James Dean.
Her recording career began with a string of hits for Victor. Most of the backing is standard orchestral mush, but it serves to set off her unique voice in its young prime. From RCA she joined David Kapp's label, the genesis of which followed his termination from Victor as a consequence of having signed an unlikely new artist...Eartha, of course. As revenge, they re-recorded her RCA hits with a slighty hipper backing. The rest of her recording career finds her in different countries, labels, settings, and times. Material ranges from the wry cocktail entertainment of her live act, to exotic souvenirs from her travels and facility with a great number of languages, to a "soul sister" album (from about the time she pissed off President & Ladybird Johnson and became blacklisted for years).
Buying: Eartha Kitt is as fantastic as a self-described "sophisticated cotton picker" could be, and almost all her records are well worthwhile. So too are her three autobiographies.
Photo: with Katherine Dunham group, from Thursday's Child (Duell, Sloan, and Pearce; NY; 1956)