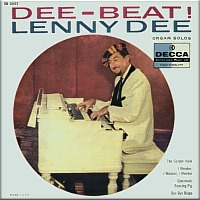 The records of organist Lenny Dee epitomize the virtues of "thrift-store pop." Here was a largely self-taught military man with an acute pop sensibility. More so than any other of the most accomplished Hammond stars, Dee could transform any tired ballad into something catchy, and effortlessly. From Vaudeville-era chestnuts to the great mod hits, Dee never faltered. In the 1970s, however, as the advent of the synthesizer and other signs of the times dampened enthusiasm for pop organ, a dubious use of strings failed to enliven covers of top-forty mush. He did go on to super-organs and synthesizers.
Dee got his start playing banjo as a child, followed by piano and accordion in the Illinois and Florida of his youth. Three years in the U.S. Navy led to organ instruction at the Conservatory of Chicago, courtesy of the G.I. Bill. Hotel gigs in the South and an engagement at Nashville's Plantation Club led Red Foley to sign him with Decca. It was believed he could play anything, even using the organ to imitate the instruments and very styles of superstar jazz musicians.
Forever identified by the smash single "Plantation Boogie," Dee recorded his basic organ boogie at least four times, under various titles. The final arrangement, as "zany" and peppy as even organ records get, stands as a frenetic, jukebox classic known to most rock fans. Indeed, the standard slogan "organ solos with instrumental accompaniment" on his albums meant no less than a typical studio band of guitar, bass, and drums, only led by organ (which could supply further percussion and other simulations). There are the obligatory ballads, but clearly Dee favored fun, uptempo rockers over the "rinky-dink" organ steretypically associated with skating rinks.
After decades of hit albums, tours, and broadcast appearances, Dee settled down at his home in St. Petersburg, Florida. (Though very much a southern musician, Dee was not hindered by provincialism or other limitations.) Fortunately, most of his albums are ubiquitous in the places where older LPs are very easily affordable. Dee albums remain one of the purest, quilty-pleasure, pop goofs going. No one developed and exploited the pop potential of the Hammond quite as reliably and extensively as Lenny Dee.
Buying: The earliest, mono LPs are essential. Golden Organ Favorites (with "Plantation Boogie"), Songs Everybody Knows, and the Christmas album are sleepers not to be missed. Continue after Relaxin' at your own risk (some think well of his cover of "Also Sprach Zarathustra").