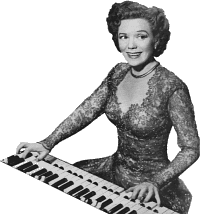 The First Lady of the Organ, Ethel Smith, may be responsible for many sales of household organs in the 1950s. Her appearances on television and in movies, in addition to many hit albums, no doubt inspired many others. Her rendition of "Tico Tico" stands as the definitive piece for pop organists to demonstrate their "chops."
Smith studied piano and organ at the Carnegie Technical Institute in Pittsburgh, Pennsylvania. While singing on a Hollywood set, she discovered the newly developed Hammond electric organ and took to it instantly. Her real break came at the Copacana in Rio de Janeiro, where she was mastering and playing South American rhythms. The head of a tobacco company invited her back to New York to star on the "Hit Parade" radio show. After a year at that, she began a rigorous film, public performance, and recording career.
The Ethel Smith sound is distinguished by much more than extraordinary ability and pioneering the Hammond electric. Most of her male peers lacked her innate, Raymond Scott-ish or cartoonish, way with children's themes and other jaunty pop ditties. She was truly "bright and breezy." In addition to Latin and Brasilian rhythms, pet themes included driving tunes about locomotives, marches, parades, etc. She seemed to be much happier uptempo. Appropriate sound effects make their appearance, and on a late cover of "Taste of Honey," guitar adds a modernizing touch.
Buying: The 10" LPs can be skipped in favor of the 12" LPs (the 8000 series are reissues, mono-only). Except for the obviously dull waltz-only records, all are worth checking out.