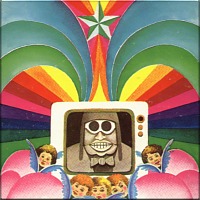 Like Sabu Martinez, the enigmatic Mort Garson touched down on only a handful of records, but what varied and splendid wonders they are! In his specialty, occult Moog, Garson's work is unrivalled; Ruth White was the only other to make more than one occult-Moog LP. Unfortunately, most of Mort Garson's greatest records came late in his career; the liners yield little if any insight into the man behind the music.
Garson collaborates with "word man" Jacques Wilson in many of his finest moments, particularly the legendary rarity, Wozard of Iz. Though a product of its times, the socio-political satire hold up incredibly well, in part because it resembles the children's story only its hallucinatory, archetypal vision. Both music and ideas are timeless, including one masterpiece of narrated electronica for the 21st century, "Leave the Driving to Us." The zodiacal LPs by the pair also are well worth investigation.
Garson explored electronic occultism on his own, the chief product being Black Mass/Lucifer. One of the top handful of pop Moog records, this one nails the sinister and exciting to a degree the lurid horror films of the day never matched. Breakbeats galore, intense synthesizer, hip original themes, a unifying concept, and enough scariness for real satanists make it ideal for adults on Halloween. The RCA LP offers more occult Moog, and his electronic reading of the "Hair" soundtrack (one of at least two!) is close enough. Finally, his collaboration with performance-artist "Z" takes "squeaky-bedsprings records" to their logical synthesized endpoint.
The trail of Mort Garson does not run cold looking further back. He made a few easy-listening records very much like the better, similar records by Les Baxter. Garson also has production credits on records by vocalists and other artists, including Mel Torme, Doris Day, Ed Ames, and Leslie Uggams. He wrote, arranged, and directed for many years on many labels in many styles. But his triumph is singles (45s). The Big Gamehunters' late exotic-rock masterpiece ranks as best-of-breed; it even has deep, funky bass.
Who really is/was Mort Garson? What prompted the studio nerd to drop the baton and cook up works of monstrous vision using a revolutionary new instrument? We want to know.
Buying: The zodiac records are easiest, and most of the rest can be found with some effort. "Wozard" is extremely difficult to find, and many people are looking.