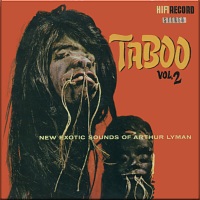 Prolific yet exotica's best-kept secret, Arthur Lyman deserves credit for more than making bird calls a definitive characteristic of exotica. Though hardly the first to imitate jungle birds, he did strike gold one night as vibes player for the first Martin Denny Group. The audience (bored, drunk?) loved his caws and shrieks so much that it became a requested feature of the act. But Lyman soon struck out to form his own group, just after the first, classic Exotica LP (monaural) was recorded. Denny formed a new group and, at Liberty's insistence, re-recorded Exotica in stereo. (The version with Lyman is superior, however.)
The apprentice may not have surpassed the master in sales, but Lyman's career had some important differences that have been overlooked. First, Lyman albums are consistent -- all are good if not always great or even necessary. There may be less experimentation, humor, and fun, but also there is less dreck. Lyman never seemed eager to move beyond exotica entirely. He was a reverent, progressive part of Hawaiian music as well as a competent jazz player; most of his records feature at least one jazz tune. Alone among pre-1970 exotica artists, Lyman actually had breakbeats (yes, funky drum-kit breakbeats) on a couple of LPs.
Like Denny, Lyman interpreted most of the great Les Baxter exotica tunes. When he worked with Gene and Neil Norman at GNP, Baxter produced part of at least one Lyman album. Later, Martin Denny brought Lyman out of retirement, and Denny, Lyman, and third exotica star (and vibes player) Gene Rains all were performing again in 1990s Hawaii. While all of these artists played exotica, including African, Latin, and Japanese tunes, only Lyman kept up his momentum with hipper 1960s styles, such as mod jazz and boogaloo.
Most of the Lyman albums were recorded in the geodesic Henry J. Kaiser aluminium dome. The beauty of its sound is readily apparent from the Arthur Lyman records. Vibes are among the most sensitive instruments to record well, and these records really shine. Even the mono issues of Lyman records have greater clarity and depth than most audiophile stereo records on other labels. The albums simply are wonderful sonic values.
Buying: Lyman LPs, all available in stereo, often languish even at low prices. All but one or two have at least one great track. Some of his best work came late, in the late 1960s and 1970s. Originals in the Life series have red labels through at least L-1024; subsequent originals are gold (SL-1027-30), then silver (SL-1031), and thereafter a deep lemon yellow. Later reissues are first a lighter lemon yellow and then pale beige.