Lloyd McNeill Items for Sale
Please see the Lloyd McNeill page at the Soul Patch (Hyp Records Guide) for further information, photos, and discography. This page is limited to items available. Those who have all the LPs already please note we now offer the wonderful Black Line book.
All items created and privately pressed by Lloyd McNeill except as noted.
EXCLUSIVE: [Spiritual] soul-jazz flute records--original stock! We are very pleased to offer the very limited stock kept by the flute master himself all these years; all-original, self-produced, private-press, soul-jazz legends at irresistible prices (less than the typical $80-150 price for used copies); every fan of jazz, flute, or Andrew White (McNeill's longtime DC cohort and co-producer) should have these records!


Lloyd McNeill: Treasures; Baobab 1; 1976/1975
Lloyd McNeill, flute

Dom Salvador, piano

Cecil McBee, bass

Brian Brake Portinho, drums

Ray Armando, percussion
Griot
As a Matter of Fact
Salvation Army
You Don't Know What Love Is
Comment: Very much in demand now thanks to sampling (or use) of "Griot" which you can listen to now on YouTube. We consider it a natural pair with Tori; both are highly recommended.
Availability/terms: The remaining original stock of fewer than 100 copies, acquired sealed directly from Lloyd McNeill, is sold as new but opened by us (N/N shrink). We have opened each just to check quality, as a scant few copies had a slight warp and have been removed from sale. All copies offered here have been checked and are guaranteed to play properly (whether they lie perfectly flat or have a subtle wave that doesn't affect play), which really is even better than sealed. Rock-bottom price: $60 + s/h (less than the used price elsewhere).
Also available: one spare Treasures jacket, perfect/in the shrink; inquire/order


Lloyd McNeill: Tori; Baobab BE-654; 1978
Lloyd McNeill, flute
Dom Salvador, Buster Williams, Victor Lewis, Howard Johnson, Dom Um Romao, John La Barbera, Amaury Tristao, Nana Vasconcelos w/thanks to Andrew White & others
O Mercado (Brazilian Market)
Tori (in 3 parts)
Tzigane
Sambinha
Time Still/Passaro--Pifaro (Flute Bird)
Tranquil
Comment: Sampled illegally by a Philly DJ several years ago. Same vintage as Treasures but a little funkier (good for DJs) and as yet not as well-known to collectors and fans.
Availability/terms: Sealed original stock, very few left! $60 + s/h.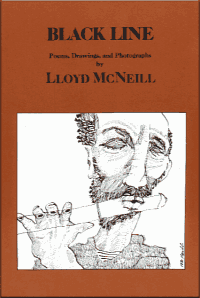 Lloyd McNeill's Black Line
A book of poems, photography, and drawings (pen & ink, brush & ink) by Lloyd McNeill. Also it provides brief biographical information and exhibit history current up to its publishing date of 1983.
Like his records, Black Line is entirely self-produced (private press) by and under the direction of Lloyd McNeill. 64 pages.
Comment: New, delightful, great value, highest recommendation!
Availability/terms: 1 only, signed, $50 + $5 s/h (US) unless part of LP order.
The Lloyd McNeill Quartet: Asha; Asha One; 1969
All compositions, poem, & jacket art by Lloyd G. McNeill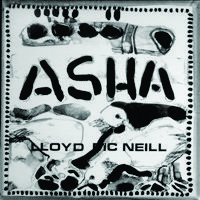 Lloyd McNeill, piccolo & flute
Gene Rush, piano
Steve Novosel, bass
Eric Gravatt, percussion
Paul Hawkins, Latin percussion

Second press in b/w jacket (new artwork). Back features photo of McNeill & text "This is a reissue"
Asha
As a Matter of Fact
Two-Third's Pleasure
Dig Where Dat's At!
St. Margaret's Church
Effervescence
Warmth of a Sunny Day
Comment: There is a contemporary reissue available, but this is the only version with this artwork. McNeill issued it himself, way back when, from the unaltered original masters.
Availability/terms: 1 only. Condition: N-/N-; $150.
© 2007 Hip Wax