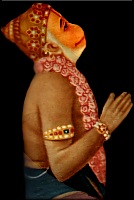 It's easy to organize a FREAK-OUT PARTY, all you have to do is relax your mind and let things happen. Digging wild psychedelic colors, swinging with way-out sounds, grooving on yourself, grooving on everything at once. LOVE.
To set the scene for the party, spray pop bottles or an old chair with DAY-GLOW PAINT in bright colors, then light the whole room with DAY-GLOW light (you can buy these in any hardware or art-supply stores). This will make everything glow with weird luminous psychedelic colors. Guaranteed to blow their minds right away.
You can really turn your guests on with a mind-blowing light show with two things you probably have in your house right now: a TV set and a see-through kaleidoscope (not the kind with colored glass in the bottom). First put a rock and roll record on the phonograph. Turn on your TV and make the image jump in time to the music by turning the vertical knob all the way to the left or right. Now point the kaleidoscope at the TV screen. This is a guaranteed TRIP. Now play the same record at another speed. YOU ARE NOW FREAKING OUT. Enjoy it.
TURN ON yourself and your guests to an ancient Indian chant which brings ecstasy and peace of mind. When the chanting begins on the A side of this record join in. It will really BLOW YOUR MIND, a guaranteed trip into another dimension of consciousness. George Harrison has said of this chant (International Times No. 13) "...saying Krishna, Krishna, Krishna, Krishna...it's not the words you're saying, it's the sounds...sounds are vibrations and the more you can put into that vibration, the more you can get out...these vibrations that you get through yoga, cosmic chants...it's such a buzz, it buzzes you out of everywhere." These are the words:
HARE KRISHNA HARE KRISHNA
KRISHNA KRISHNA HARE HARE
HARE RAMA HARE RAMA
RAMA RAMA HARE HARE
Wear bright really out-of-sight combinations, things that look strange together.
GIRLS! This is a chance to wear something exotic and fantastic that you wouldn't get a chance to put on. Perhaps spray an old pair of shoes with DAY-GLOW and wear DAY-GLOW tights to match. Bright oranges and greens, goofy jewelry, peacock feathers as earrings and a super mini-skirt.
GUYS! The idea is to look cool and mysterious, so wear mocassins, prayer beads, or Indian bells, psychedelic buttons, and groovy mod clothes. If you really want to blow your guests' minds, paint your face in wild colors. It's a chance to use some way-out make-up effects. Paint flowers on your arms and wear a mystical PSYCHEDISK on your forehead. Hypnotize your friends with its hallucinating (sic) effect.
Psychedelic Top Ten

Buddah
Samuel Taylor Coleridge
Santa Claus
Sitting Bull
Ravi Shankar
Spiderman
Sgt. Pepper's Lonely Hearts Club Band
Hieronymous Bosch
Lewis Carroll
Dr. Hoffman (discovered LSD)
Ajax White Knight commercial
Invite your grooviest friends, people who really swing, and enjoy exploring new and exciting experiences. BLOW YOUR MIND, FREAK OUT, etc. on pieces of colored paper, then glue them on to a piece of tinfoil and fold. This will let them know what kind of scene it's going to be. Ask everyone to bring things they really dig: records, candy, people, flowers, books on flying saucers, kooky things. Tell them it's a costume party and to come in their most out-of-sight clothes. Tell them it's going to be a happening; they'll get the message.
Try out some psychedelic words on your guests:
vibrations
acid head
be-in
blow your mind
bad trip
digger
freak out
guru
Hobbit
macrobiotic
mandala
raga
swami
turn on
flash
By now your guests should be really grooving with your head. Get everyone involved in way-out conversations. Read your horoscopes. Compare the personalities of people born under different signs.
Some other FREAK OUT conversations:
Did you know that Marilyn Monroe owned a jewel from Tutenkamen's tomb?
Should we give America back to the Indians? (Ask this seriously.)
What is the sound of one hand clapping?
How many Emmett Grogans are there? (one of the Diggers)
Side 1: Acid Rock

I've Got a Zebra -- She Can Fly
Play Your Game
Girl from Nowhere
Flora's Holiday
Love Supreme Deal
Side 2: Meditations

Prana
Electric Buddha
Hare Krishna
Parable
The Unfolding: How to Blow Your Mind & Have a Freak-Out Party LP © Audio Fidelity AFSD-6184; 1967